Reading Time: 7 minutesIt can be a distressing experience to lose data, especially photos that have sentimental value. In fact, in today's digital age, it's easy to forget that photos do not last forever. Although SD cards have become handy tools to store photos, they are prone to malfunction without warning.
But it doesn't have to be that way. No one should let go of memories because of technological glitches. The good news is that it possible to recover deleted photos from an SD card without much know-how.
Why Photos May Be Deleted from an SD Card
Digicams, smartphones, and drones all use SD cards to store photos and videos. SD cards are popular due to their user-friendliness and ability to store large amounts of data. However, SD cards are also notorious for malfunctioning with people often reporting photos that go missing without any logical explanation.
There are several reasons why this can happen:
🤷‍♂️ Accidental deletions: Generally, human error is the root cause of most accidental deletions. When handling many photos, it's easy for people to mix up files and delete the wrong images. Besides human error, SD cards themselves can delete photos too. How is that possible? If you use the same memory card on multiple devices, read/write issues can corrupt files and prompt deletions.
💽 Improper handling: Improper handling of SD cards can also cause unwanted deletions. For example, the sudden removal of an SD card may prompt data loss.
🦠 Viruses: Malware and viruses target SD cards too, which can result in the deletion of data depending on the maliciousness of the program.
How to Recover Deleted Photos from an SD Card on a Computer
Whether you're on Windows or Mac, a desktop is the best option available to recover deleted photos from an SD card.
But unlike restoring deleted photos as is traditionally done on computers, the process for an SD card looks a bit different. An effective way to restore deleted pictures from an SD card for free is to use a tool like Disk Drill.
Here's the step-by-step process:
Download & Install Disk Drill.
If you're a Windows user, head over to Disk Drill's download page to grab a copy of the software. Although we are focusing on recovering photos, the tool can also help you retrieve videos, audio, documents, and more.Once your download is complete, install the program.
Connect your SD card to the computer.
To link an SD card to your computer, you have two options. First, either connect your device (such as a camera) that contains the memory card directly to a PC or use an SD card reader. Once connected, launch Disk Drill. The program will display both internal and external devices, including your SD card.
Run a scan to find lost photos.
Disk Drill has two scan types ─ quick scan and deep scan. A quick scan is recommended to recover photos from an SD card, but this option only works if your photos were deleted without any formatting. Otherwise, a deep scan is advised to retrieve deleted photos from an SD card if it has already been reset. To begin the search for lost data, either click the "Search for lost data" button on the bottom right or right-click your SD card on Disk Drill and find the same option from the drop-down.Once you hit scan, Disk Drill will begin the search for recoverable data. Remember to be patient to allow the tool to thoroughly search for retrievable files from your card.Note that Disk Drill organizes recoverable data by providing file type overviews.
Select the files you want to restore.
Once the scan is complete, the program will provide a breakdown of all the files it can recover.Click on "Review found items" to get a broad overview of all recoverable files.To speed up the recovery process, Disk Drill lets you filter by file type so that you can focus only on the photos you want to restore.To optimize the process further, Disk Drill also lists the chance of recovery of each file next to it in the "Recovery chances" column. Images with the "high" label are generally restorable without issue. However, if the chance of recovery is "low", there's no guarantee Disk Drill can retrieve that image.
Recover deleted photos .
After selecting the files you wish to restore, simply hit the "Recover" button at the bottom of the screen to begin the process of recovering deleted photos from your memory card.Select a suitable destination folder (feel free to create a new location if needed for easy access) and hit "Okay".Sit back and relax as Disk Drill works its magic to bring your memories back to life.Once the process is complete, you'll have all your photos back in a folder of your desired choice.
How to Recover Photos from an SD Card Without a Computer
It's not convenient to always have to connect to a PC to recover deleted photos from a memory card. Fortunately, there are multiple ways to recover photos from an SD card on an Android phone.
Method 1: Check Internal Memory or Storage
By default, Android phones store photos and videos in internal memory. Data deleted from the system is first sent to the "Recycle Bin" for 30 days. So, if you've lost your data recently, this is the first place to check for easy recovery.
Open the default photo gallery app on your phone and click the "Albums" option. Here, you should see a folder named "Recently Deleted". If it's been less than 30 days since you lost your photo, your file will still be visible here. To get them back, simply select the ones you want to recover and hit the "Restore" option.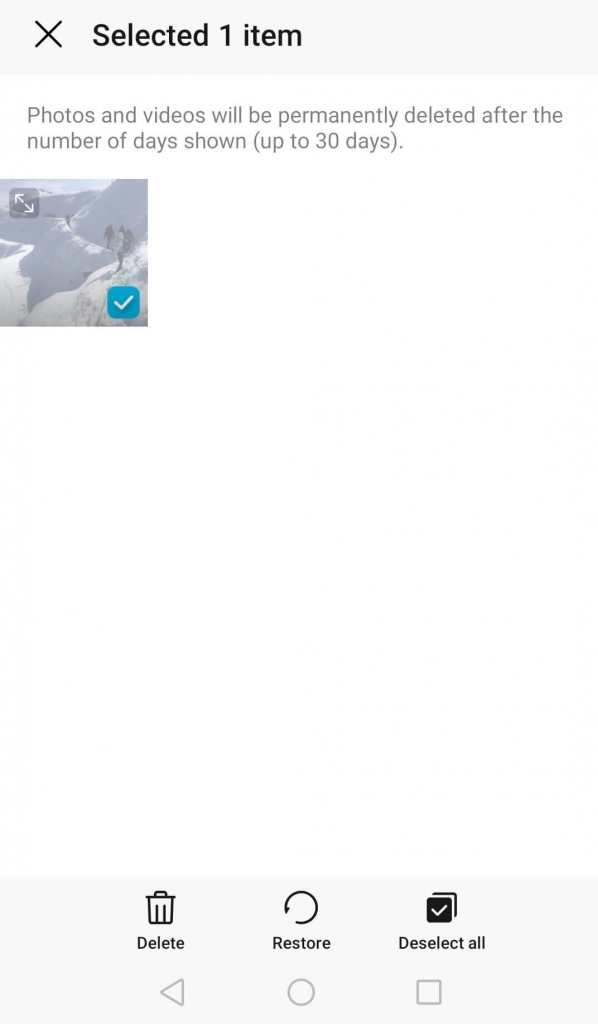 However, if more time has elapsed, you'll have to use the help of a third-party app (as we'll see in a few moments).
Method 2: Use Backups such as Google Drive
If you have a Google account, your photos and videos are also automatically saved onto the cloud besides internal storage if the "Back up & Sync" feature is enabled. So, if you've recently lost your files and want to secure your data long-term, cloud storage is the way to go.
Note that this method only works for files deleted within the previous 60 days.
Here's how you can restore photos from Google Drive:
Open Google Photos on your app.
Select the Library option on the bottom right.
Locate the trash folder.
Select the images you want to retrieve and click restore.
It's a good idea to restore these images onto a cloud service like Google Drive to ensure you don't ever lose them again.
Method 3: Use a Data Recovery App
To retrieve photos lost for more than a few months, an alternative option is to use a third-party application such as Disk Digger.
To begin using it, download it from the Google Play Store.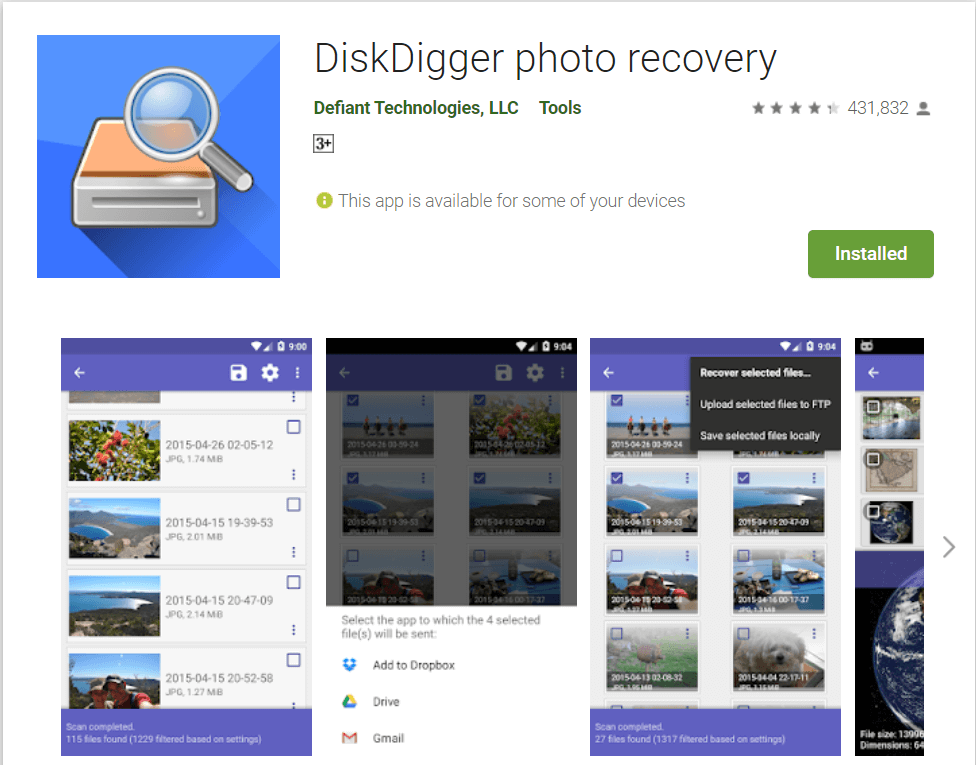 Disk Digger has a free basic scan and paid version. Generally, running a basic scan is enough to recover lost data as it does not require phones to be rooted.
Here's how to use the app:
Step 1: Open Disk Digger and select "Start Basic Photo Scan". The app will begin scouring your phone for recoverable photos.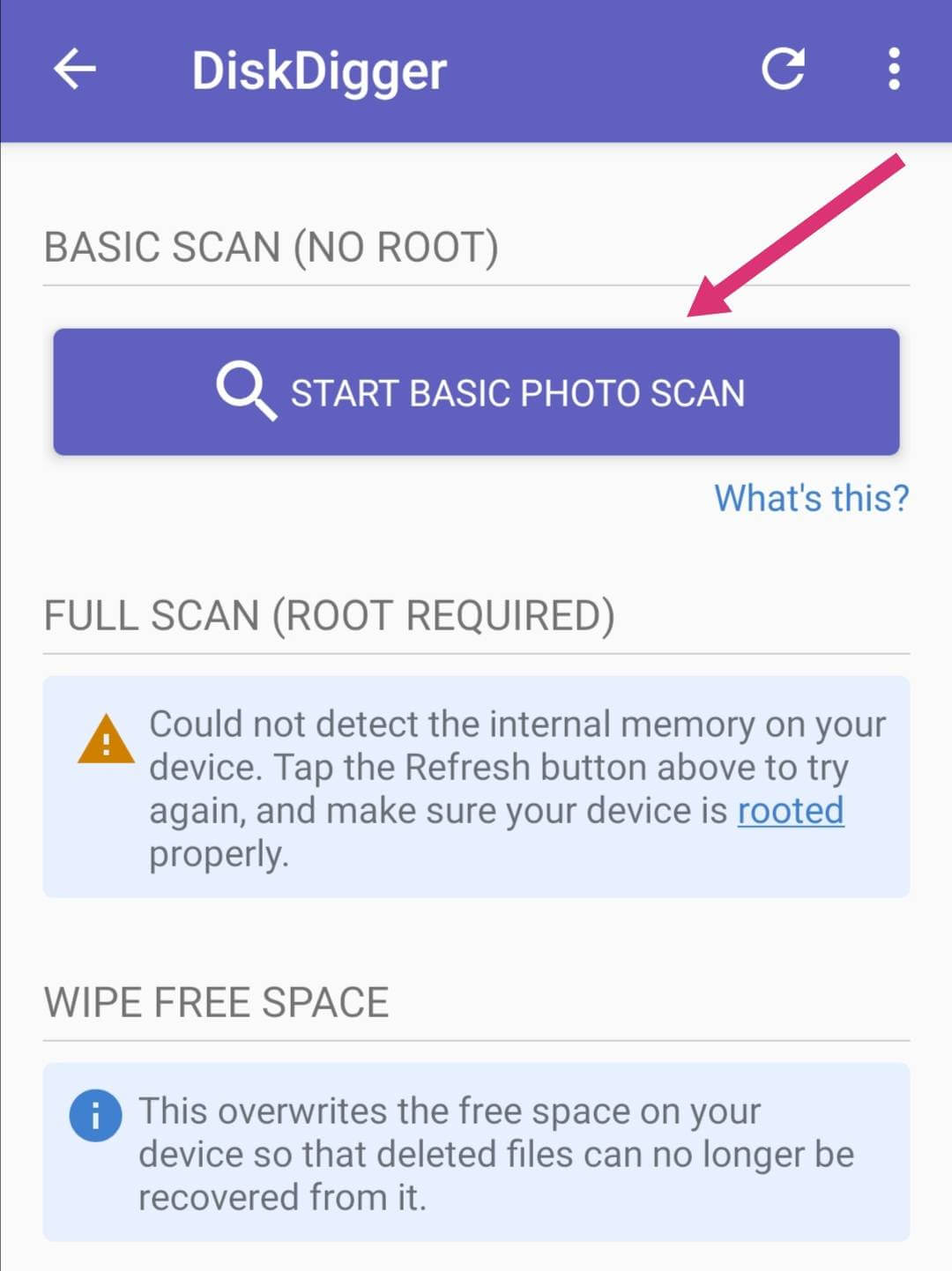 Step 2: Click on the thumbnails of each photo you want to recover and then hit the "Recover" button.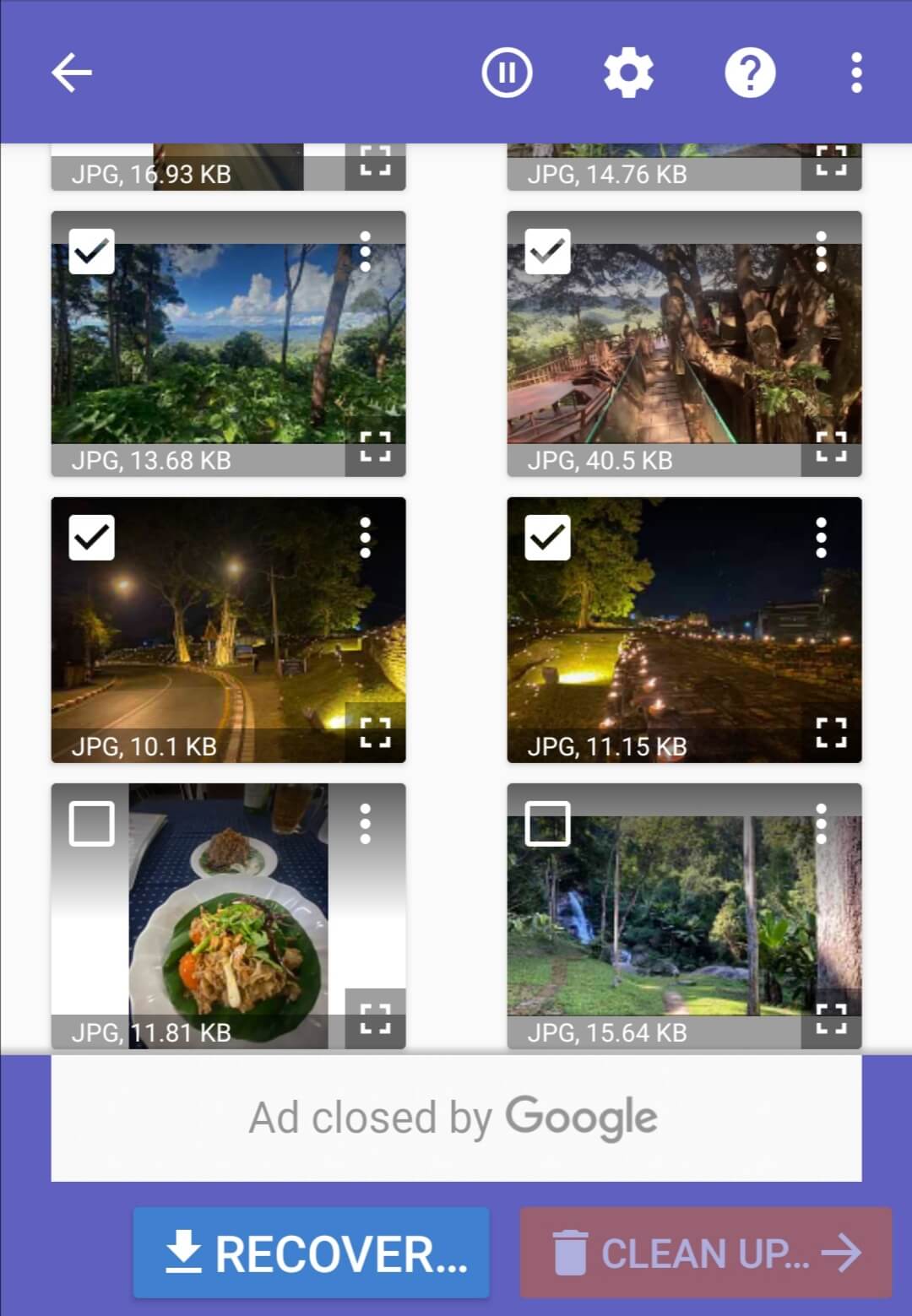 Step 3: The app will then prompt you to select where to restore your photos. To reduce the chance of losing your photos for a second time, it's a good idea to back them up on a cloud service such as Google Drive.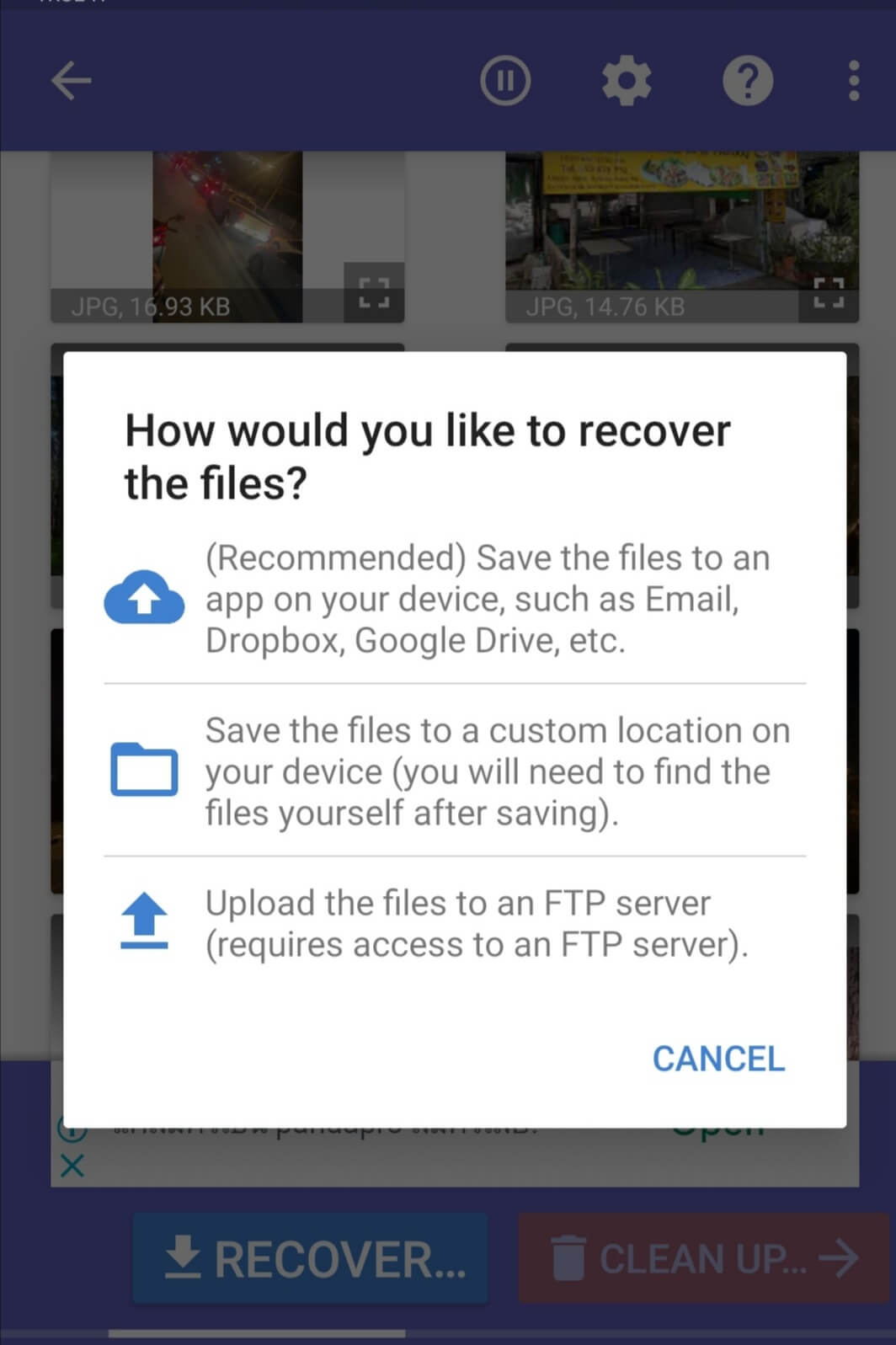 Step 4: Select the first option to get a list of apps to where you can send photos. If you're logged into the Google platform, Disk Digger will ask you to select a location to send the photos.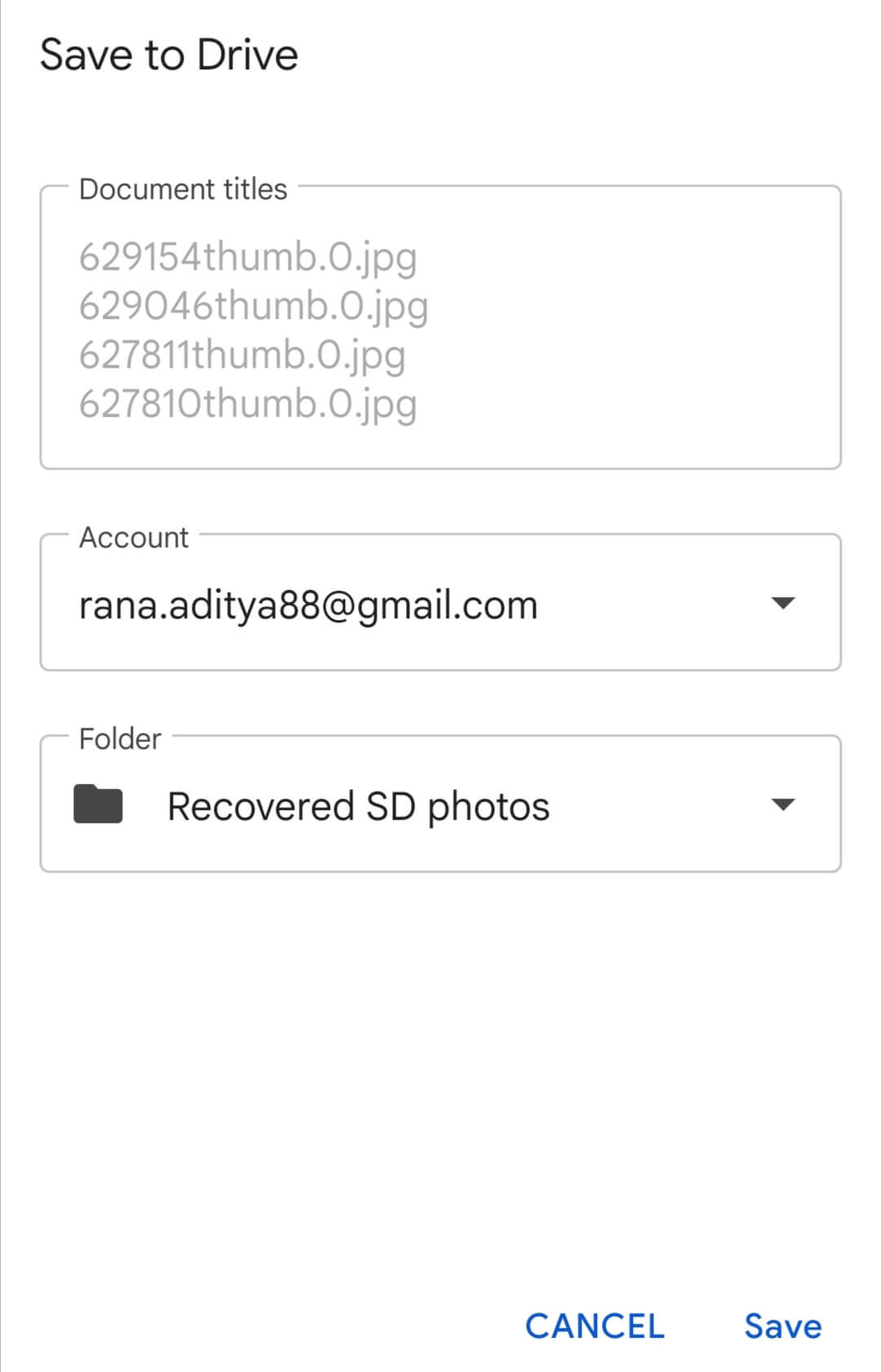 Step 5: Hit "Save" and you're all done! Browse over to the folder on Google Drive and your deleted photos will be there.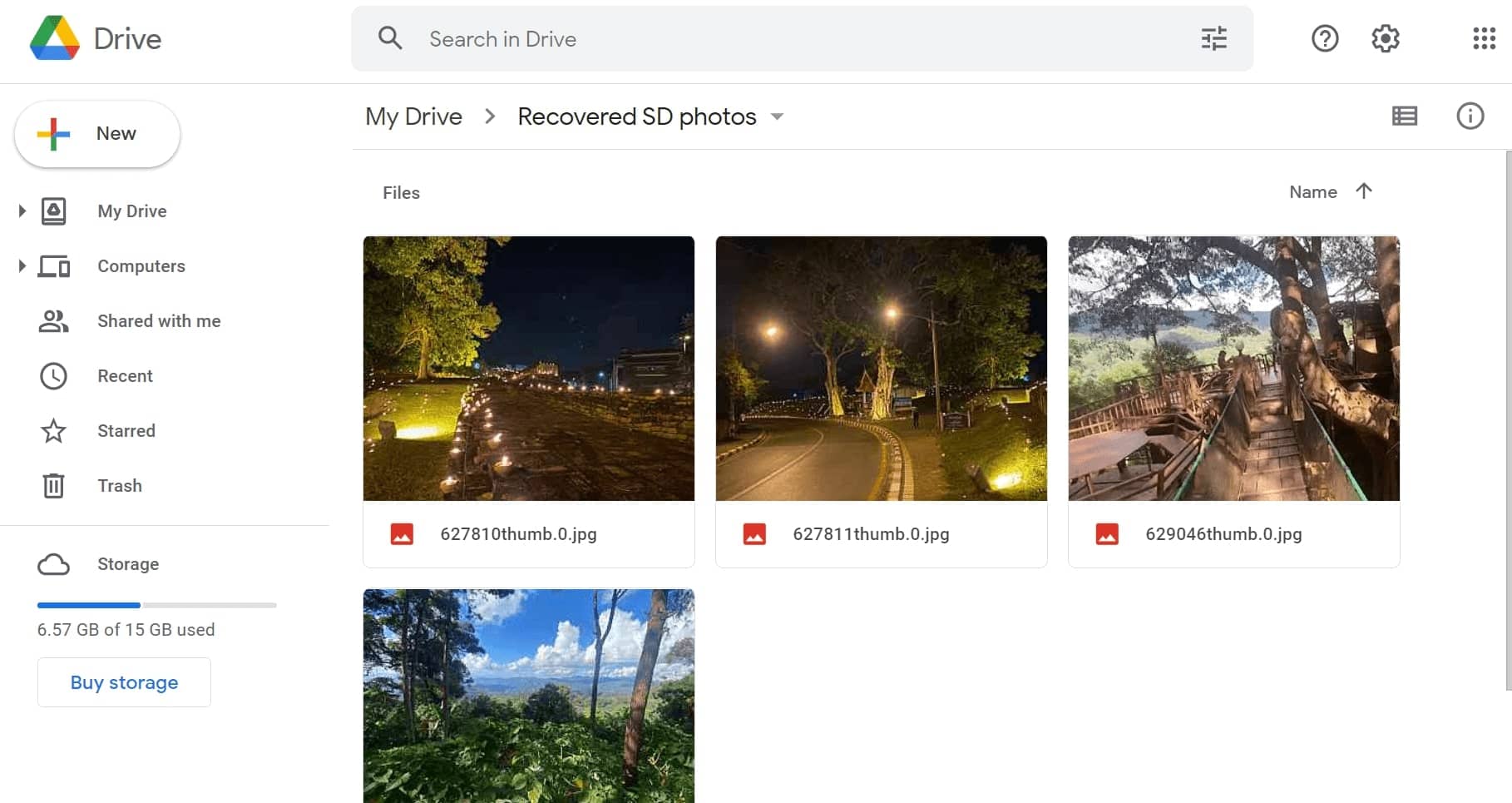 FAQ
Although recovery software on a computer is the best way to recover deleted photos if you don't have access to one, you can try a data recovery app such as Disk Digger on an Android device.
Yes. Photos stored on an SD card are not permanently lost after accidental deletion or data corruption. You can easily recover these files if no read/write (overwriting of the device with new files) function has happened since photos were deleted.
SD cards used in Android devices are no different to those used in cameras, so you can use data recovery software to restore deleted photos. If you have access to a computer, eject the SD card from your phone and insert it onto your PC and use a tool like Disk Drill. If you want to stay in the Android environment, you can use an app like Disk Digger to achieve the same results.