Reading Time: 8 minutesStoring information in a digital format creates numerous challenges. There are many threats to our data's integrity and overall wholeness, from malware attacks to system crashes, human error, and more. It's crucial for companies and individuals alike who rely on their digital archives for day-to-day operations to have the correct data restoration tools at their disposal so they can deal with these problems before they negatively impact operations.
The market is saturated with many recovery tool options. Some have more functions and cover a wide range of recovery demands. Others specialize in providing comprehensive solutions for specific problems. There are many options in terms of functionality, price, and features to choose from. Let's delve into what Wondershare Recoverit has to offer.
What is Wondershare Recoverit?
Feature
Detail
Recovery Speed
6.6MB/s
Platforms
Windows, macOS
Free Trial
100MB Limit
Support
DOC/DOCX, XLS/XLSX, PPT, PDF, HTML/HTM, JPG, TIFF, PNG, GIF, WMF, RAW, VVI, MOV, MP4, MPG, AIF, WAV, MP3, PST, EMLX, ZIP, RAR, etc
Pros
Wondershare data recovery application can recover almost any type of file in any file format.
Will recover lost files and even severely damaged files.
The app supports multiple languages.
Friendly user-interface.
Cons
It may not work when trying to recover overwritten data.
The free version has a low data cap.
Main Recovery features
Several considerations are made to determine Wondershare's overall usability, specifically in terms of its ability to recover data.  Let's look at what makes Wondershare Recoverit an appealing option for its users.
The latest version provides a straightforward interface, more stable preview and recovery with a more extensive preview window, and a faster scan and recovery process.
Fast, free and secure download for macOS and Windows from the website and is fully compatible with older versions of Windows – 8/7/Vista/XP.
The application provides 24/7 free online tech support. The support team is responsive and resourceful, often resolving user complaints in under 24 hours.
Wondershare recovers all file types, including documents, graphics, video, audio files, email, etc.
It supports recovery of 1000+ File formats, including DOC/DOCX, XLS/XLSX, PPT, PDF, HTML/HTM, MOV, MP4, MPG, AIF, WAV, MP3, PST, EMLX, ZIP, RAR, JPG, TIFF, PNG, GIF, WMF, RAW, VVI, and more.
Retrieves data from all data loss scenarios, including emptied recycle bin, accidental deletion, disk formatting, partition loss, external device corruption, virus attack, system crash, bootable problems, and so on.
The data recovery solution also restores data from all storage devices after Windows system crash or booting problem, including hard drive, SSD, micro card, memory card, laptop, desktop,  RAID, USB drive, camera, camcorder, music player, external disk, video player, iPod, SD card, Zip drive, floppy disk, mobile phone and so on.
It uses an advanced data recovery algorithm with intelligent scan and deep scan technology. You can also benefit from video fragment technology to restore videos.
Recovery Performance or How to Recover Data
Wondershare Recoverit is easy to set up on your PC or Mac. Once set up is complete and the application launched, it is easy to see why it is one of the most commonly used recovery software. The user interface is very user-friendly, and in four simple steps, the average pc user can restore any lost file.
Step 1: Select the Location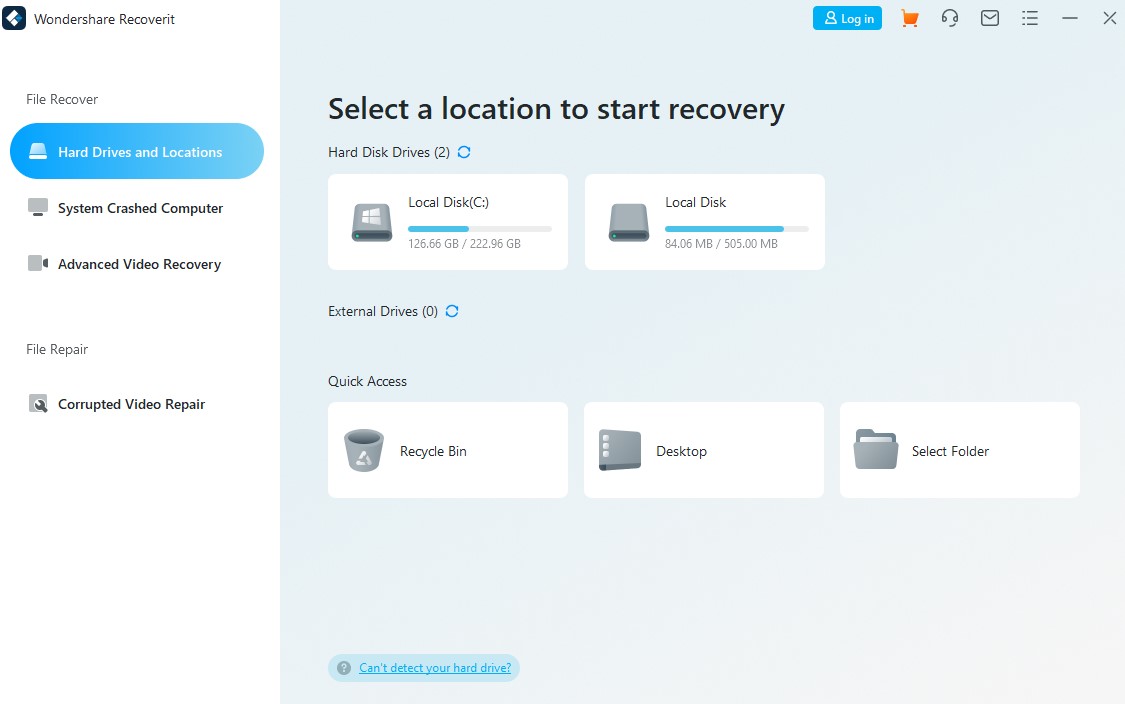 Using the Recoverit interface, find and open the exact previous location of the deleted file. Under the "Hard Disk Drives," you can select the drive you want to operate on. Now click on "Start" for the scanning process to begin.
Step 2: Scan the Location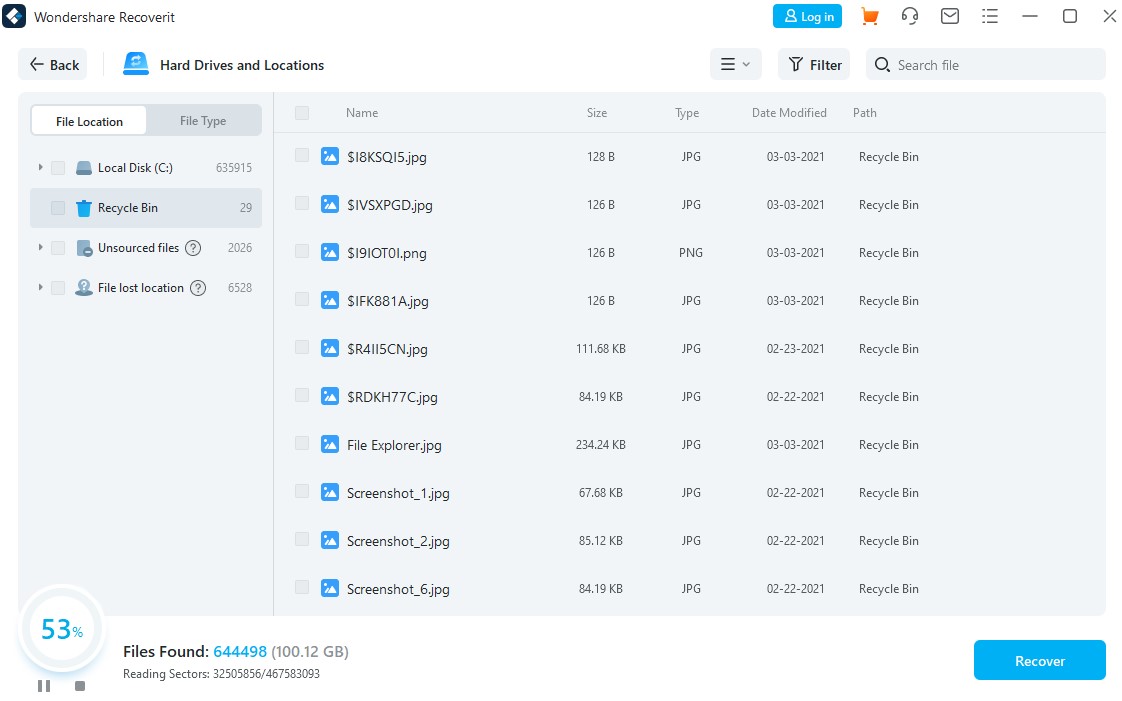 The size of the data present in the disk can affect scanning time. The faster the connection, the quicker the disk will be scanned. Recoverit offers real-time file display and flexibility to selectively extract the files you need while skipping over others to speed up scanning time.
Step 3: Preview and Recover Files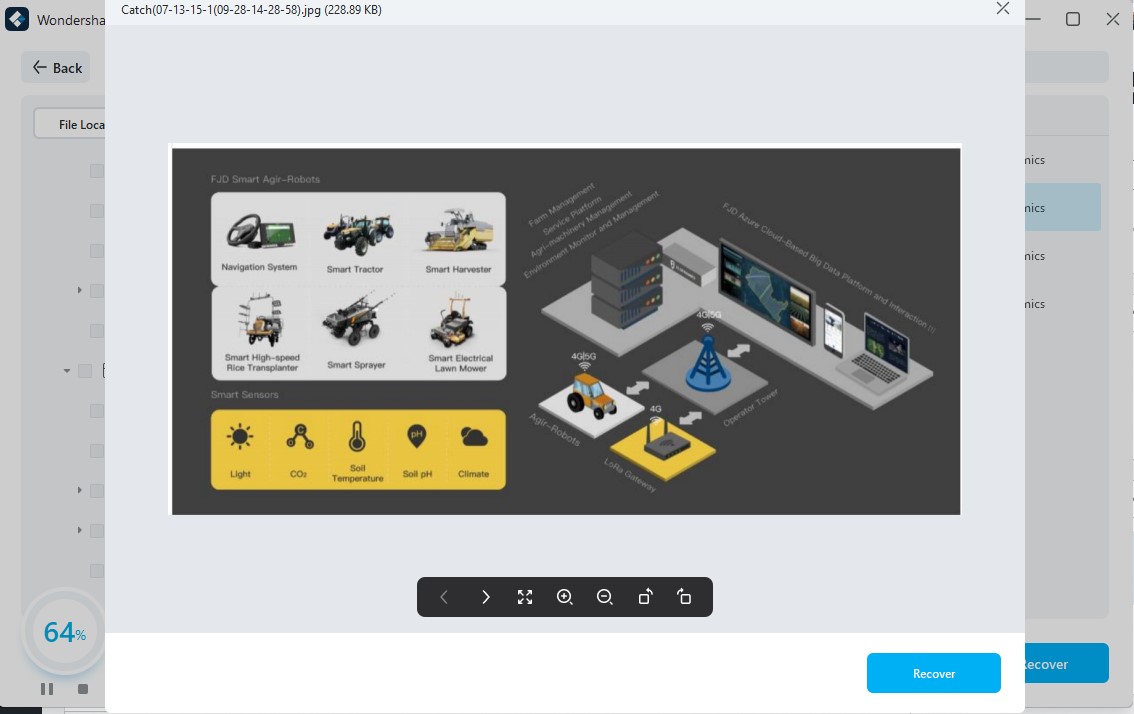 Recoverit will reveal the file for you in the form of thumbnails. Click the "Preview" button to obtain all relevant information about your file. Recoverit supports various files, including images, documents, videos, and emails.
Step 4: Recovering Your Files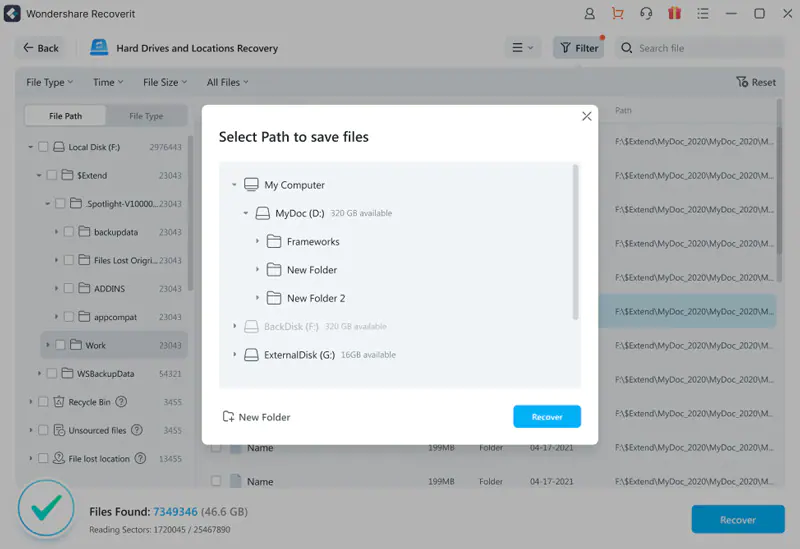 Once you have reviewed all the files, you can simply confirm your selection before retrieving them. Select the "Recover" button. This will enable you to retrieve all of your lost data.
Interface and User Experience
Recoverit 10.0 has upgraded its interface for the optimal user experience. This time, the new version brings a new VIS. More importantly, the sections in each tab are designed according to different scenarios. You can get a quicker and easier entrance to recover your lost data from other storage devices.
Security and Privacy
Wondershare ensures that the User's data processed by Wondershare or reasonably suppliers and partners operating outside the EU are treated securely and protected against unauthorized access, loss or destruction, unlawful processing, and any processing inconsistent with the purposes set out in their privacy policy.
Pricing and Plans
Prices for data recovery software vary depending on the operational demand and features required by the user. The number of computers sharing the software also affects the price. For Wondershare Recoverit, there are three pricing plans. Billing for each plan is annual, and the features support a lot of common use cases. Here is an outline of each plan:
Essential Plan – $69.99
Recover unlimited files for 1 PC
Restore 1000+ file formats
Recover various devices
Deep scan & file preview
Support all loss scenarios
Free remote technical service
Standard Plan – $79.99
Recover unlimited files from crashed PC
All Recovery Features Essential Plan +
WinPE Support
Create bootable media
Computer crash recovery
Solves blue screen of death
Premium – $99.99
Recover Unlimited files for 2 PCs
All Recovery Features in Standard Plan +
Computer Crash Recovery
Advanced Video Recovery
Corrupt Video Repair
Support
Wondershare offers 24/7 Support for its customers through instant live chat and email.
What Customers have to Say About Wondershare Recoverit.
Wondershare Recoverit has an average review rating of 4.2 within a sample size of 5 review sites. A 4.3 rating on g2 shows that it is relatively popular among business users. At the same time, Handy Recovery – 4.5, Trust Pilot – 4.2, TechRadar -4.2, and Trust Radius – 4.0 support the idea that an overwhelming majority of users find the software excellent for their needs.
"Best Data Recovery Software I have encountered!"

The ease of use is incredible! Literally, plug and play! Works with Windows and Mac. With great results and comparable time. I have yet to encounter a drive or situation with nothing recoverable and in working with my clients that have improved results already by 500%. If I could say MORE than this is the best software for data recovery without proving it to you myself, I would!

– Justin B

MSP/CSP Residential & Commercial
"Best data recovery tool ever used."

Wondershare Data Recovery is the best data recovery tool I have ever used in my life. It allows me to recover a vast range of file formats in a nutshell. Data recovery solutions are generally used to recover accidentally or system-deleted files, corrupted, deleted, or formatted partitions or data on crashed hard drives.

– Karen P

Senior Software Architect Engineer
" Recovery program available for both Windows."

Wondershare Data Recovery is a reliable and flexible data recovery program available for Windows and Mac. Its ability scans drives, devices including internal and external, for deleted files of any type and tries to retrieve them. Whether due to a corrupted hard drive or permanent deletion from the recycle bin, this program will try and get the files back for you.

– Louis V

System Engineer
One of my favorites I can not miss this program in my support tools. Even when hard drives have bad sectors, recovering information deleted by mistake between them documents, images, music, and more is essential.

– Rafael N

Technical Support Analyst

Information Technology and Services
"The best tool to get back your lost and deleted data.."

Wondershare Data Recover all data types perfectly with all kinds of digital storage media, including hard drive, computer, smartphone, SD card, and more. It allows you to get lost data back by accidental deletion, damaged storage device, system crash, or any other situation.

– Charles D

Forensic Analyst
"Shame about the price to recover files, but it works!"

You can download it for free, search for your files and once you find them and get ready to recover them, that's when it hits you with the price. The price is not unfair, but it's a shame that it's not a transparent cost from the start.

– Matt H

Small-Business
"Is adequate, could be brilliant."

This product works as it is advertised. We recently decided to upgrade our workstation computers. When one lady in the office "accidentally" deleted her files from my documents folder and her recycling bin, she was distraught. We scanned this hard drive with this software and pulled it right up. We were also impressed with the "backup" features of the program. This software was very agile and helpful in several respects.

The program is so slow. It could be much faster, and there aren't enough customizable search fields. Such as just searching in this folder or what folder. The UI is a tad busy and confusing.

– Jamison M

Advertising Sales Executive

Broadcast Media
"Recovers your accidentally deleted files."

A simple program recovers as many files as possible with a single mission.

It has a friendly graphic interface and is comfortable to use. Your recovery assistant makes everything easier to explain and guide you in following the steps. It has two types of scanning (standard and deep), which differ in the time it takes the program to perform the work and the number of files you can recover.

Like many programs of this type, it fails to recover 100% of lost or damaged files, and even some files are thrown out of format or corrupted. It does not work correctly for files that take some days due to the overwriting on the disks.

– Anonymous

Administrator in Executive Office
The Competition with the Other Tools
Wondershare Recoverit is an industry leader when it comes to data recovery success rate as well as ease of use. Its closest competitor, Disk Drill by Cleverfiles, can do just about as much as Recoverit's essential plan because of the similar deep scan features. The free version of Disk Drill provides a higher data cap at 500MB compared to Recoverit's 100MB. The one-time billing of Disk Drill makes it the cheaper option for most users.
When pitted against Wondershare, reviewers noted that Disk Drill met their needs better. The quality of ongoing product support is also reportedly better with Disk Drill. As reported by reviewers, the Frequent feature updates add to Disk Drill's appeal over its competitors. This explains why Disk Drill holds a substantial market share in the Data Recovery Industry, though not the cheapest option.
Final Verdict
Wondershare Recoverit is a valuable tool for a wide variety of applications. It is easy to use, and the free version offers users a chance to test out the speed and efficiency of the software. The one drawback for most is the size limit of data handled in the free version. Overall, it proves to be an industry leader in data recovery operations on most storage devices and PCs.
FAQ