Reading Time: 7 minutesYou've just downloaded a movie and are preparing for a film night. Everything is ready, but you can't seem to find it. Even worse, it seems that the whole folder is missing, and it was filled with important documents! If you've encountered this scenario, you don't need to worry, as there are many ways in which you can solve this problem.
By following these methods, you will be able to easily recover deleted Downloads files or even a whole folder.
What is a Download Folder?
Think of it as your lifeline to the internet. Everything that you've found online and deemed worthy of downloading will make its way to this folder. This includes things like podcasts, movies, music, books, and more. If you find that your Downloads folder is missing, you won't be able to access any of these files.
How Downloads Folder may be Deleted
In most cases, we are talking about one of these 4 scenarios:
❌ You've accidentally deleted Downloads folder
🦠 PC is infected with malware
⚠️ You've experienced hard disk failure
🔨 You have corrupted software
Luckily, there are many ways to recover deleted folders on Windows 10.
However, in some cases, the Downloads folder is still available, but you've just unpinned it from the Start menu and File Explorer. This is easily fixed, with the method outlined below.
Restoring the Downloads Folder on Windows 10
Visit C:\Users\*User name*\Downloads
Right-click on Downloads and select Pin to Quick AccessThe Downloads folder should immediately become visible in the left corner of File Explorer.
If this didn't yield any results, or you've restored an empty folder, it's time to go onto the next step. Now, the question is: "How do I retrieve files from my downloads?".
3 Ways to Recover Files Deleted From Downloads Folder
Option A: Data Recovery Software
One of the best ways to restore downloaded files is by using a premium recovery app. I recommend using Disk Drill, as it has served us well in the past. This is a user-friendly and powerful software that can retrieve 400+ file formats, from the popular to the obscure.
Most importantly, I've found that Disk Drill has a very high success rate. You can test this out for yourself without committing, as there is a free trial that lets you recover 500 MB of data.
Here is how to recover deleted downloads folder with Disk Drill.
Download and Install the Software.
Run Disk Drill. You should pick C drive, as this is where the Downloads folder is located by default. Make sure that you didn't select Logical Volumes though, as this option will show fewer results.
Choose All Recovery Methods. This option will give you the best results, as it is a combination of 4 separate scanning modes.
Initiate the Scan. When you are ready, select Search for lost data. Keep in mind that it will take a while until this scan is finished since it's very thorough.
Browse Through the Files. After the scan is done, click on Review Found Items.Disk Drill will present you with a huge amount of data, which can seem scary at first glance. However, you can easily navigate through them by using the search bar. You can find it in the top right corner.Another useful feature is Recovery chances, which offers 3 probabilities: high, average, and low. With it, you can easily decide whether you want to try and save a file, or switch to another one with better chances. This will speed up the whole process.
Restore Downloaded Files. Tick the boxes tied to the files that you need. If you aren't sure that you have the correct documents, you can use the preview function by going to the View > Preview panel. When you make sure that everything is right, click Recover. Browse to the folder where you wish to save them and click OK to start the recovery.
Note: Due to potential problems, Disk Drill won't allow you to restore the files back to the original drive. However, you can easily move them after the job is done.
Option B: Windows File Recovery
Now, let's check how to recover deleted Download files with a free tool from Microsoft.
1. Go to Microsoft Store and Install Windows File Recovery
2. Open Windows Powershell. Powershell is a command-line app that makes it possible to run Windows File Recovery. To start it, right-click on the Start menu icon and pick Windows Powershell (Admin).
3. Pick your Scanning Mode. Windows File Recovery offers 3 types of scans: Default, Segment, and Signature. The first one works just like a quick scan, and Segment mode will do a deep scan. If you want to search for specific file types, it's best to use Signature mode. For our purpose, we will cover the first 2.
3.1 Default Mode. First, we have a standard option that works reliably well on non-corrupted NTFS drives. Rather than scan the full disk, we will go through a specific file path that's associated with a Downloads folder. To do this, just write:
winfr C: E: /n \Users\*YourUserName*\Downloads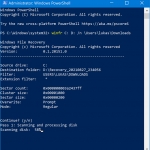 But, what does this mean exactly?
C: marks a drive that contains our Downloads folder
E: stands for another drive where you will restore downloaded files (this can also be D:, F:, etc.)
/n gives you the option to filter results by giving a specific file path
Now, hit enter and confirm the scan by typing y.
When the scan is finished, all of the found files from your deleted downloads folder will be gathered on E: drive.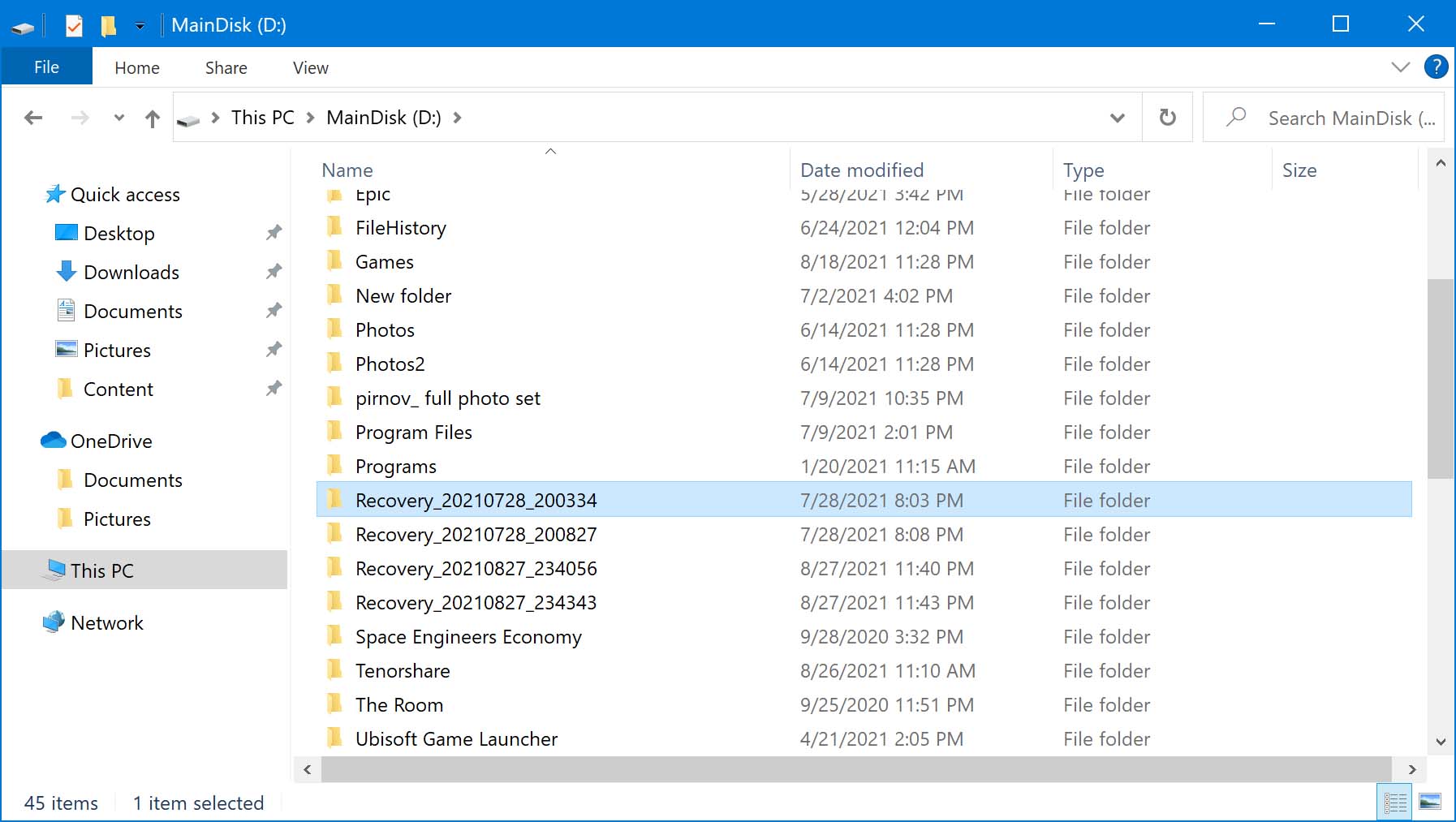 3.2 Segment Mode. If the results were not satisfying, now is the time to try a more thorough scan. To do this, we'll just need to make a small adjustment and write the following line in Powershell:
winfr C: E: /segment /u /n \Users\*YourUserName*\Downloads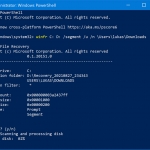 /segment marks a recovery method that's based on file record segments
/u restores files from Recycle Bin
Option C: Using System Restore
Another way to restore deleted Downloads folder on Windows 10 is by using this backup feature. If turned on, it will take snapshots of files stored on your computer and create restoration points. With them, we can roll back unwanted changes and retrieve our files.
Note: Before proceeding, we highly recommend that you create a system backup. This way, in case something unexpected happens, you will be able to easily restore your data.
Here's how you can access System Restore.
Right-click on Start and select Search.
Type in "System Restore" and choose the first result.
Click on System Restore. This will start wizard, which will present you with backup points if they are available.
Pick a Restoration Point. If there are multiple points, just select the latest one. Click Next and then Finish, and your computer will revert to the previous restoration point.
Although we have covered the most important methods, this is by no means a definitive article. Here are the top 10 ways to recover deleted files on Windows 10.
FAQ