Reading Time: 4 minutesQuite a few people still use Picasa, even though Google discontinued the program way back in 2016. As such, many users are unable to locate their Picasa Web Album photos. In this article, we'll take a look at the various ways you can recover lost Picasa photos, right at home.
What Is Picasa Photo Editor?
Picasa was essentially a cross-platform photo organizing, viewing, and editing tool. It also had a companion photo-sharing website. While the name Picasa, is synonymous with Google, since the corporation popularized the photo application, it was actually developed by a company called Lifescape.
The first version of Picasa was released in 2002. Lifescape was later acquired by Google in 2004, and they decided to offer the application as freeware. Picasa gained immense popularity, but Google decided to retire the application in 2016 and focus its efforts entirely on the web-based Google Photos application.
The main features of Picasa are: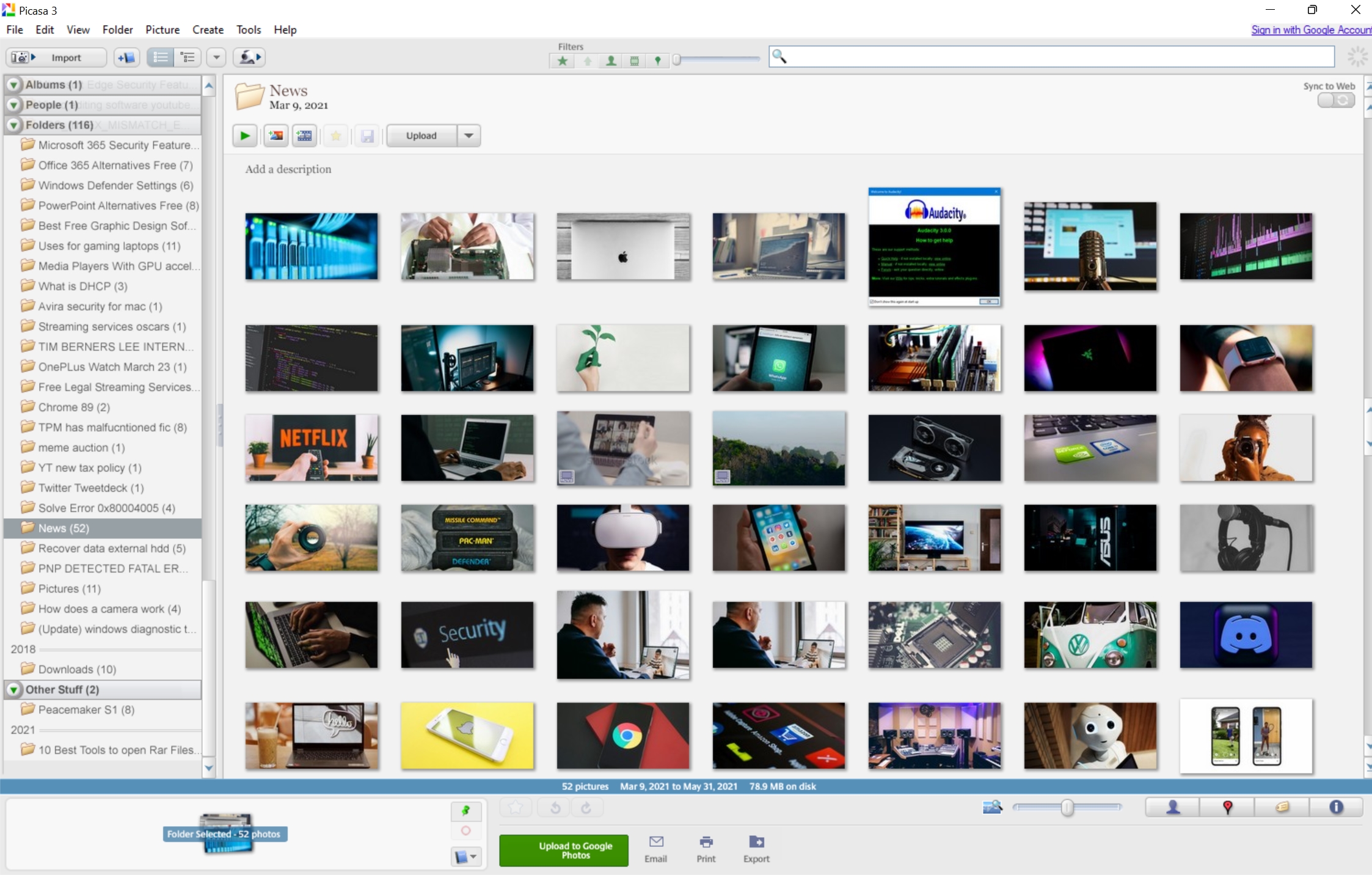 Photo Organization and Editing

: After installing Picasa, it automatically detects all the images stored on your computer and displays them on a single interface. You can also manually import photos to the application. Users can also view their photos in the form of a slideshow or timeline. Picasa also comes with basic photo editing capability, such as cropping, red-eye reduction, and adding text to the images.
Searching and Filtering

: Picasa tracks the keywords of an image using an .ini file. Additionally, there is a search feature that supports live search and displays information like tags, filenames, captions, and other metadata. The search bar is always visible.
Backup

: Picasa has an in-built backup feature that you can use, to create backups using Backup Sets. The backup can be copied to other devices, and you can restore your pictures using a simple .exe application that is bundled with the Picasa photo backup. You can also manually access the photos in the folder.
As mentioned earlier, Picasa was discontinued in 2016, and replaced by Google Photos. But, you can still download the application from websites such as FileHippo and install it on your computer. However, online features such as the Picasa cloud photo storage feature (Picasa Web Albums) aren't available anymore.
Where are Picasa Photos Stored?
Many users think that Picasa stores their photos and that "Picasa deleted my photos", but the truth is, the application doesn't modify the location of your photos in any way. It merely displays them in a more cohesive manner. So, local photos will be stored in their original locations unless you explicitly delete or move them using Picasa.
However, if you are looking for photos that were stored on old Picasa Web Albums, you can find them on Google Album Archives. In most cases, your photos will have automatically migrated to Google Photos.
How to Recover Old Picasa Photos
Depending on what caused your Picasa photos to be lost, there are three ways you can safely recover them:
Method 1: Restore From a Picasa Backup
A prerequisite for using Picasa Backup to get old Picasa photos back, is for you to have created a backup in the first place. Here is a step-by-step tutorial on how to restore a Picasa backup:
Open the folder containing the backup. It will be the same name as the Backup Set.
Launch the

PicasaRestore.exe

app in the folder.
Select where you want to restore the photos to.
Click on

Restore

on the next window.
Picasa will restore your photos.
Method 2: Restore Photos Using Google Photos
Most of your pictures that were stored in Picasa Web Albums will be available in Google Photos, the replacement for Picasa. If they're not, Google also created an Album Archive that can be accessed using this link.
To restore your photos, simply visit the Google Photos website, login using your Google credentials, and scroll down to find whatever photos that may be missing. You can also use the official Google Photos Android and iOS apps to get old Picasa photos back.
Method 3: Restore Photos Using Data Recovery Software
Now, if you were unable to retrieve your missing Picasa photos using the two methods listed above, it's likely that they were permanently deleted from your computer. Depending on how much time has passed since deletion, and whether you've extensively written new data to the disk, you can use third-party data recovery programs to recover your data.
Disk Drill is one such program. It's easy to use, and comes with a free trial of up to 500 MB of data recovery for Windows users. It also has a capable filter feature that you can use to sort recoverable data. Finally, you can also use Disk Drill to recover photos directly from a camera, such as Canon photo recovery. To recover Picasa photos using Disk Drill, follow these steps:
Download Disk Drill.
Run the setup file and follow the on-screen instructions to install the program.
Launch Disk Drill.
Select your storage device and click on the

Search for lost data

button.
Wait for Disk Drill to finish scanning.
Click on the

Pictures

option on the scan complete screen.
Select the photos you want to recover, then click on the

Recover

button.
Select a recovery destination and click

OK

.