Reading Time: 11 minutesThe latest version of Disk Drill features a revamped UI, support for more file formats, and a slew of other improvements. In our in-depth review of Disk Drill 5, we'll thoroughly test its data recovery capabilities, and take a look at the numerous other features that the program offers.
Disk Drill for Windows: An Overview
Before moving on to the main features of Disk Drill for Windows, let's take a look at the basic characteristics of the tool and how it fares in these parameters:
| | |
| --- | --- |
| Latest Version | v5.0.731 |
| Price Range | $89 (Pro), $499 (Enterprise) |
| Supported Windows Versions | Windows XP, Vista, 7, 8, 8.1, 10, 11 |
| Number of Supported File Types | 400+ |
| Supported File Systems | FAT16 / FAT32, exFAT, NTFS / NTFS5, HFS / HFS+, APFS, ReFS, ext2 / ext3 / ext4 |
Like previous iterations of the program, Disk Drill 5 too, has added support for even more file formats. This means that the program can recognize and preview even more file types, in addition to the 400+ already supported file formats. Disk Drill is already compatible with a wide range of file systems including APFS, which none of Disk Drill's primary competitors (Recuva, EaseUS Data Recovery, Stellar Data Recovery, and Recoverit Data Recovery) support.
| | | | | | |
| --- | --- | --- | --- | --- | --- |
| Parameter | Disk Drill | Recuva | EaseUS Data Recovery Wizard | Recoverit Data Recovery | Stellar Data Recovery |
| Recovery speed | Fast | Average | Fast | Fast | Slow |
| Phone support | No | No | Yes | Yes | Yes |
| Email support | Yes | Yes | Yes | Yes | Yes |
| File signatures quantity | 400+ | 50 | 1000 | 1000 | 200 |
| RAW devices scan | Yes | No | Yes | Partial | Partial |
| File preview | Yes | Partial | Partial | Partial | Partial |
| Tutorials built in app | Yes | No | No | No | No |
Main Features of Disk Drill
Disk Drill comes with a whole host of features that allow you to recover all your data in a user-friendly way. Some main features of Disk Drill include:
User Interface
Disk Drill has always had a simple UI that makes all types of users feel right at home. Improving on this, Disk Drill 5 features a new modular interface that displays all its main features on the same window, without looking cluttered. The new UI, designed in accordance with Microsoft and Apple's design guidelines, now supports Dark Mode, making it more comfortable in low light conditions.
By default, Disk Drill 5's redesigned UI places you on the Storage devices screen, under Data Recovery. Data recovery scans are as simple as selecting a drive or partition, and then clicking Search for lost data. Users can now see detailed information about the selected partition or drive by checking the information bar on the right, under Search for lost data.
The navigation bar on the left, lets you filter what you want to see–Hardware disks, Logical volumes, Other, RAIDs, or Recent sessions. Under Extra tools, you get access to features like S.M.A.R.T. monitoring, Data Protection, and Drive Backup.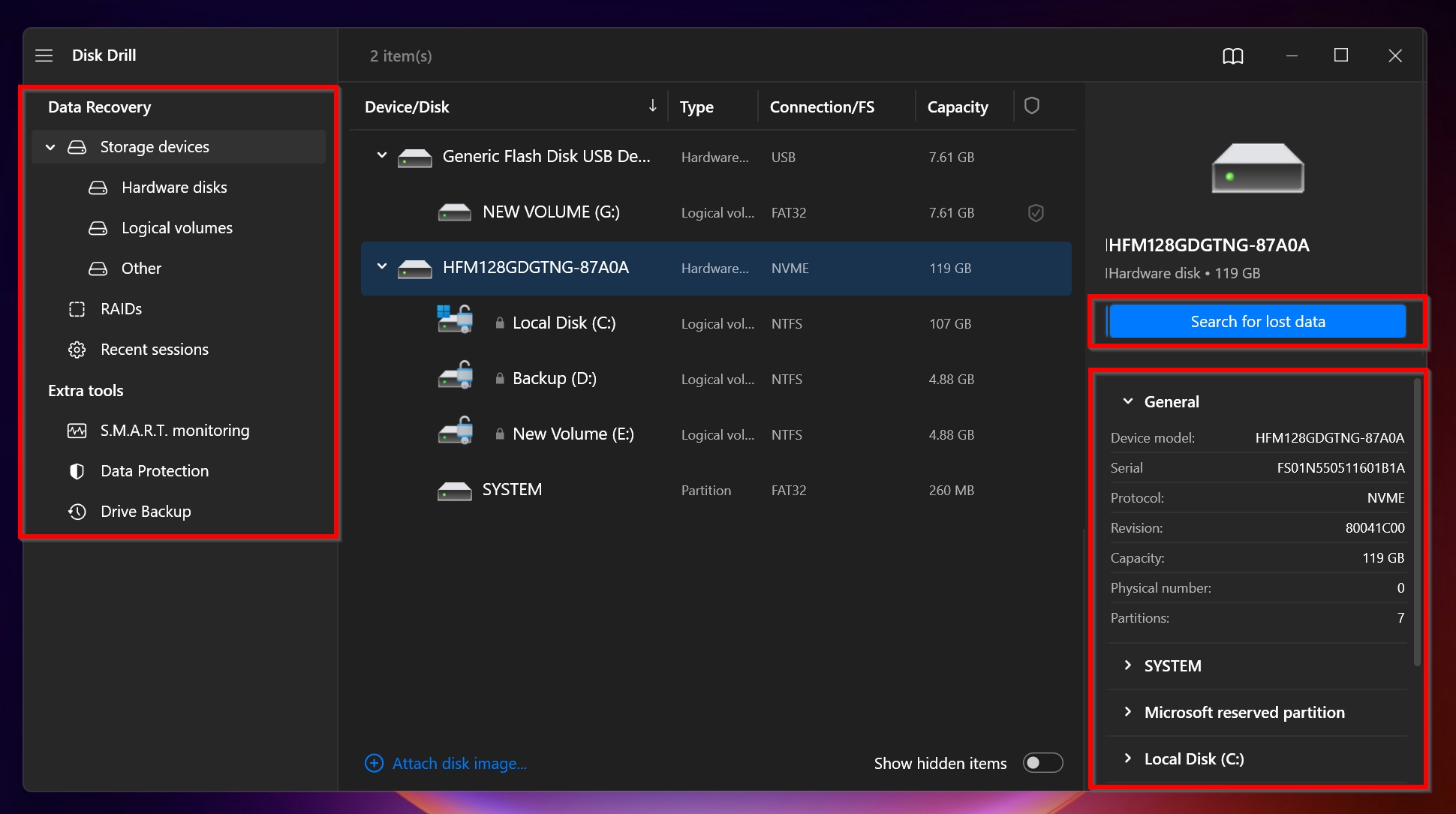 Data Recovery
The primary purpose of Disk Drill is data recovery, and the program excels at it. Disk Drill's scan speeds are fast, and the program does surprise you with the amount of recoverable data it discovers in each scan.
Another important aspect of the data recovery process in Disk Drill, is the ability to access previous scans in the future. Simply access saved scans using the Recent sessions option under Data Recovery. Furthermore, the scans can be paused and resumed at any time.
After the scan is over, you can preview the files and confirm whether they're completely recoverable. Disk Drill clearly displays the recovery chances next to each file type.
On the file recovery screen, there is an extensive filter feature that allows you to filter files by: minimum file size, time frame of the deletion, and recovery chances. You can also opt to view the recoverable files in the Windows Explorer.
Byte to Byte Backup
One of our favorite, and most useful features of Disk Drill, is the byte-to-byte backup feature. This feature lets you create a disk image of the selected storage device, right down to the byte level. You can then scan the created disk image for lost data.
Scanning disk images is a good practice, as it prevents further damage to the data loss affected storage device. Repeated scans cause unnecessary stress to the storage device, resulting in further data loss.
Here's how you can use the byte-to-byte backup feature:
Open Disk Drill.
Click on the Drive Backup option under Extra Tools.
Select the storage device you want to create a disk image of. You can select individual partitions as well.
Click on the Byte-to-byte backup button at the top.
Now, choose a directory to save the disk image. You can modify various parameters like file name and file format. Ensure that the Format option is set to Bytes.
Click OK.
Disk Drill will begin creating the image. It may take some time, depending on how large the image is.
To scan the created disk image for recoverable data, simply go to Data Recovery> Attach disk image. Locate the disk image, and it will be added as a virtual disk in the data recovery screen.
Disk Drill Cost and License Tiers
While Disk Drill is free to download and install, if you want to recover more than 500 MB of data, you will have to purchase a Pro license.
Here is a breakdown of the pricing plans for Disk Drill:
| | | |
| --- | --- | --- |
| Disk Drill Basic | Disk Drill Pro | Disk Drill Enterprise |
| Price: Free | Price: $89 (+$29 for Lifetime Upgrades.) | Price: $499 (+$99 for Lifetime Upgrades.) |
| Recovery up to 500 MB | Unlimited Data Recovery | Unlimited Data Recovery |
| 1 user | 1 user with up to 3 simultaneous activations. | 10 users with unlimited activations. |
Out of all these plans, Disk Drill Pro is the most value for money. If you need to recover a small amount of data, then you don't need to purchase a license at all, since the free version offers data recovery of up to 500 MB.
How to Download and Install Disk Drill
You can download and install the Disk Drill recovery app for Windows, as you would any other program.
Before you proceed with the installation, keep in mind the system requirements for Disk Drill–a system running Windows XP or above with a minimum resolution of 1280*720.
Here are the step-by-step instructions:
Open your browser and download Disk Drill for Windows.
Run the downloaded setup file.
Click on

Yes

when presented with the User Account Control prompt.
In the installation wizard, click

Install

. You'll need admin privileges to do so.
Disk Drill will begin installing.
After the installation is over, simply click on

Launch

or

Close

.
How to Use Disk Drill for Windows 11
To make things easier, we'll go through the step-by-step instructions for data recovery using Disk Drill.
We'll take two data recovery scenarios: a USB drive, and an internal HDD.
Scenario 1: USB Drive
Open Disk Drill using the desktop shortcut.
Ensure you're on the Data Recovery tab.
Select the partition or storage device you want to recover data from. In this case, it's the USB drive. You can also choose to scan a disk image by clicking the Attach disk image option.
Click on Search for lost data to begin the scan.
Upon scan completion, you can either click on Review found items to view all the recoverable files, or you can directly click on a file type (such as Pictures) to view only those files.
On the recovery screen, hover your cursor on a file, then click on the eye icon next to the file to see a preview of the file. This is especially useful when recovering images and videos. Additionally, Disk Drill will clearly display the recovery chances for each file, next to it. To recover a file, simply select it using the checkbox next to its name and click Recover.
Choose a recovery location for the files. It's advisable to choose a storage device other than the one that was scanned. Selecting the same storage device can overwrite other missing data. Click on Next.
Disk Drill will recover the selected files to your desired location. You can view them in Windows Explorer, by clicking Show recovered data in Explorer button.
Scenario 2: Internal HDD
Launch Disk Drill.
Select the affected partition or the entire internal HDD on the Data Recovery tab.
Click on Search for lost data and wait for Disk Drill to finish scanning the selected drive. The entire process shouldn't take long.
Once the scan is over, click on Review found items. Again, you can choose to click on a particular file type to filter out the results.
Select the files you want to recover and click on the Recover button.
Choose a recovery location for the files. Note how Disk Drill displays a warning sign next to the partition that we just scanned. Click on Next and wait for Disk Drill to finish saving the selected files.
Additional Features of Disk Drill
In addition to data recovery and backup, Disk Drill also comes with many nice-to-have features that are quite useful. These features include:
Data Protection Feature
Disk Drill comes with a Recovery Vault, that stores data for a predefined period of time. It acts like an additional security measure, should you accidentally delete files from the protected folders.
The best part is that the feature is completely free, and it offers instant file recovery.
To use the Recovery Vault, follow these steps:
Open Disk Drill.
Click on Data Protection under Extra tools.
Simply switch the Recovery Vault switch to ON.
In the Recovery Vault, use the Add and Delete options to modify the folders that are protected.
Save and Load Scan Sessions
The scan and load feature works well if you're short on time, and you want to recover your data later. Once you perform a data recovery scan using Disk Drill, the app automatically saves the session, so you can get back to it later.
In essence, you don't need to perform the scan again. Simply, choose the scan session from under the Recent sessions tab. You can also manually save a session, by clicking the Save session as option on the Review found items screen.
Disk Drill 5 comes with a brand new cross-platform scan session management feature that essentially lets you load a saved scan session from a Mac computer, on a Windows PC, and vice-versa. You can effectively start a scan on one computer and finish it on another one.
S.M.A.R.T. Monitoring
S.M.A.R.T. stands for Self-Monitoring, Analysis and Reporting Technology and most modern storage drives come with this technology. It automatically detects and attempts to repair imminent hardware and software failures.
Disk Drill lets you check the S.M.A.R.T. status of your storage device easily. All you need to do is:
Open Disk Drill.
On the left side of the screen, click on S.M.A.R.T monitoring, under Extra tools.
Now, select the drive, and Disk Drill will display the detailed S.M.A.R.T. info about your drive on the right. You can navigate through the various attributes using the keyboard and even copy individual attributes for online sharing.
RAID Recovery on Windows
RAID arrays provide better speed and more data redundancy to users. However, they're not immune to data loss. Furthermore, it can be even trickier to recover data from RAID configurations that focus more on speed than data redundancy.
Here, Disk Drill's RAID data recovery feature proves itself quite useful. Users simply need to connect a drive from the RAID array to the computer and scan the connected drive. The scanning process is the same as for a regular drive. However, you need to perform it from the dedicated RAIDs tab under Data Recovery.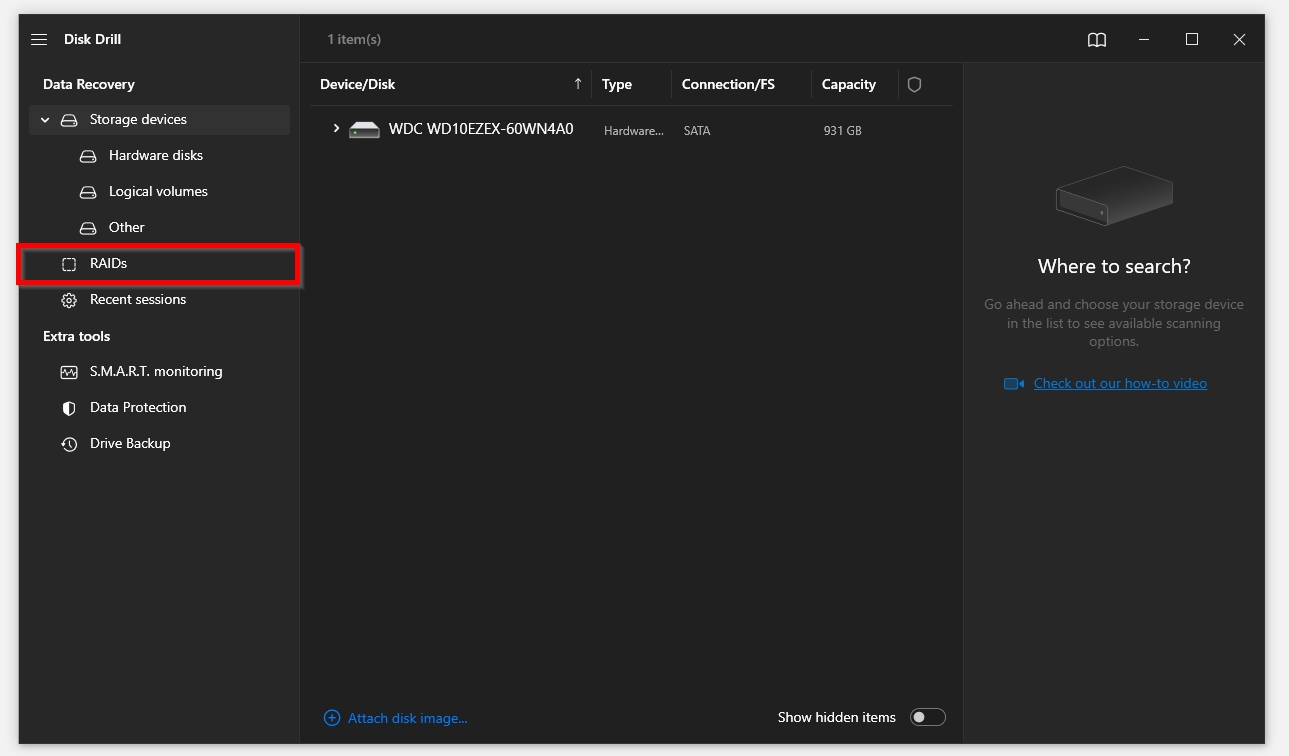 Verdict: Disk Drill
Recovering lost data using Disk Drill for PC was a pleasant experience. There were no technical hiccups whatsoever. The UI deserves a special mention for being welcoming, and the built-in tutorials do a stellar job in helping new users find their way around the application.
All in all, both new and experienced users need not look anywhere else for a capable data recovery solution.
We're nitpicking, but if there is a lot of recoverable data, then full scans may take a while to complete. However, this is the case for most data recovery programs.
Pros
An easy-to-use interface that is not riddled with technical jargon.
Full-fledged file preview.
Support for numerous devices and configurations, including RAID, and the ability to scan virtual drives.
Advanced filtering feature for recoverable files.
Free trial of up to 500 MB of data recovery.
Useful goodies such as data protection and disk backup.
Wide compatibility across Windows and macOS.
Cons
Slow scanning speed.
Doesn't run on Linux.
No phone support in case of an emergency.
The scan needs to be over or manually paused if you want to recover data.
FAQ