Reading Time: 8 minutesThe folder is such a necessary inclusion to any OS. Organizing files of similar types into a folder makes file management quite efficient. With all its highs, the "folder" has certain lowlights as well – its deletion puts all the hosted content at stake.
What if you deleted an important folder on your Windows PC? The onset of file manipulation technologies has given birth to powerful data recovery tools that can help you recover deleted folders in no time.
Once you realize the absence of specific folders on your computer, minimize the usage of your PC. Using your computer increases the chances of your deleted folders getting overwritten – which makes data recovery impossible.
This article equips you with the necessary know-how to recover deleted folders. Moreover, we have touched upon debated topics like restoration of the "Downloads" and "My Documents" folders.
4 Methods to Recover Deleted Folders
Please stick with us to unravel the four methods to recover deleted folders. We have also included essential information like when to use a particular approach – topped with an actionable list of steps for you to get started right away.
Previous versions comprise file or folder copies made by Windows Backup or copies that Windows saves from a restore point. You can utilize previous versions for file and folder restoration – especially when you accidentally deleted or modified them. Using previous versions, you can either open, restore a previous version, or save at a different location.
Method #1: Restore a Previous Version of the Folder
The CTRL+Z command is so popular while editing on Microsoft Office. You can seamlessly undo mistakes and correct them.
However, it isn't the same when it comes to folder recovery. This is where restoration to previous folder versions can do wonders. This technique works if Windows has conducted a recent backup on your system. Also, you must know the location of the folder before it got deleted.
Here's how you can get started:
Search for "This PC" on the search bar and open it up.
Navigate to the folder that had the now-deleted folder. For the sake of simplicity, let's refer to this folder as the root folder.
Right-click on this folder and click on "Restore Previous Versions."
Double-click on one of the previous versions of the root folder containing the deleted folder. (For instance, if the folder got deleted today, choose a folder version from yesterday)
Now, drag the folder to another location like another folder or your desktop.
Pro-Tip

If you can't remember a folder's whereabouts, you can still search by typing a part of the folder name in the Computer folder.

On a side note, here's a comprehensive guide on how to recover deleted files on a Windows PC.
Method #2: Backup and Restore
The ol' Backup and Restore is a classical approach to retrieving deleted folders and even individual files. Here's how you can get started:
Note
Backup and Restore isn't a maintained feature anymore – on Windows 10. However, the feature is still available for use. Moreover, Microsoft may decide to scrape on this tool in future releases.
Search for "Backup and Restore" in the Control Panel.
Click on Restore my files, and follow the subsequent steps.

Click on the "Browse for Files" button.

Now, select the files that you would like to restore.

Click on the "Add Files" option.
Click the "Browse for folders" option.
Now, select the folders that you would like to restore.

Click on the "next" button.

Check the "in the following location" option (highly recommended).
Now, select the browse button and choose a destination for saving the restored files and folders.

Keep progressing through the wizard by pressing on the OK << Restore << Finish buttons.
There you go! Now you'll be able to access those deleted files and folders.
Note
This is quite self-explanatory: If you haven't set up a Windows Backup routine, the Backup & Restore technique is futile. Read further to learn how you can set up an automatic Backup instance in a matter of minutes.
Here's how you can configure automatic backups on your Windows 10 PC:
Head over to Settings <<  Update & Security << Backup
As marked in the screenshot, click on the "Go to Backup and Restore" option.

Now, click on the "Set up Backup" option.

Select the destination for storing the automatic backups. In this case, we have selected the F: drive. Then, click on the Next button.

Now, select the "Let me choose" option.

Our Recommendation: You can go ahead with the "Let Windows choose" option as well. However, if you want to ensure that all your target files and folders do get backed up, the "Let me Choose" is the ideal choice.

Check the items you would like Windows to Backup. Also, check the "Include a system of drives: System Reserved, (C:)" option. Now, click on Next.

Click on the "Change Schedule" option.

Select the "Run backup on a schedule" option: Determine the date, frequency, and time when you would Windows 10 to backup your PC.

Now, an initial backup of your PC gets created, following which incremental backups get generated based on the specified schedule.
Method #3: Recycle Bin
The idea of a recycle bin is so ingenious. The concept of "trash" in computing refers to files that have been deleted by a user but aren't yet permanently deleted.
Quick Tip
The shortcut Shift + Delete permanently deletes files. As a result, these files don't leave a trace on the Recycle Bin.
Here's how you can recover deleted folders from the renowned Recycle Bin:
Click on Start (the Windows logo in the bottom left corner) and search for "Recycle Bin."

Open the Recycle Bin.
Select the folders you would like to restore. You can multi-select items almost anywhere on Windows by control-clicking the items. Hold the Ctrl key pressed while clicking on random files.
Click on the "Restore the Selected Items" button.
The restoration function of Recycle Bin undeletes a folder in Windows to the same location where you deleted them.
Here are the top 10 best methods to recover deleted files in Windows 10.
Method #4: Data Recovery Software
If all of the above techniques failed, don't give up just yet. Data Recovery Tools can rescue your deleted folders. Moreover, in case you are wondering how to recover a permanently deleted folder, data recovery tools are your only option.
One standout tool was Disk Drill. Here's a quick guide on how you can get started:
Download, install and launch Disk Drill.
Choose the Target Location and Type of Scan
Select the disk that last had the deleted folder; The default recovery sequence – "All recovery methods" (highly recommended) comprises all possible recovery methods to find and recover as much data as possible. However, you can opt for more limited scans like a partition scan.

Scan for Lost Folders
Click on the "Search for lost data" button. This triggers the scanning algorithms to find your deleted folders.

Select the Folders for Recovery
Once the scanning procedure terminates, you can check the files and folders for recovery; Click on the "Recover" button.

You can use the left pane filter option to drill down further the search results for restoring a particular kind of file – be it Pictures, Video, Audio, Documents, or Archives.
Select the Destination
Now, you must select a destination for saving your recovered files. Ensure that you choose a location from a different disk than that contained the deleted folders. As a result, you minimize the probability of overwriting.Click on "OK."
Well, those are the four methods of restoring deleted folders on your Windows 10 PC. In some cases, users may seek some exclusive techniques for recovering particular folders. We have addressed such recovery scenarios in the following sections.
How to Restore the Downloads and My Documents Folders
Browsers like Firefox, Chrome, and Internet Explorer saved downloaded content by default to your computer's Downloads folder. In the File Explorer, under "This PC," there's a subsection called "Downloads."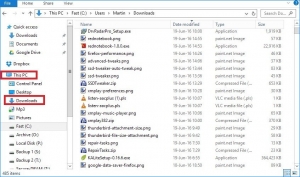 The My Documents folder is the default storage location for all saved documents. Be it Microsoft Powerpoint presentations or PDF files, the My Documents folder is the first suggested save location.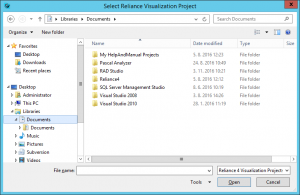 Users often complain about the missing "downloads" and "My Documents" folder icons or the folders altogether. Here are a couple of ways on how you can restore the deleted Downloads folder on your PC:
Using Data Recovery Software
Use a tool like Disk Drill to restore deleted folders.
Use the search feature to manually search for the "Downloads" or "My Documents" folders.
Now, follow the usual procedure of restoring a file (as mentioned earlier).
Use the desktop.ini file to restore the default icons
In the start menu, search for "Run" and open it.
Type shell: downloads (without quotes) and hit Enter. This opens up the Downloads folder.
This method is applicable for all user folders in the  "C:\Users\%USERNAME%" folder, except for the %USERNAME% folder. As a result, you can restore the My Documents icon as well using the same technique.
In the folder options, click on the "view" tab.
Under the "Advanced settings" section, check "Show hidden files, folders, or drives" and uncheck "Hide protected operating system files."

Now, download this file "desktop.zip," which contains the "desktop.ini" file. A desktop.ini file determines how a folder gets displayed on Windows. While being usually hidden, such files are discoverable in any folder. They contain critical settings and information about that root folder, like the display icon or its localized name.
Extract the desktop.zip file to reveal the "desktop.ini" file.
Now, right-click on the desktop.ini file and select "Properties." Under the "General" tab, select the "Unblock" button and click "OK."
If there's no "Unblock" button, skip ahead to the next step.
Replace the "desktop.ini" file in "C:\Users\%USERNAME%\Downloads" with your newly extracted file, and then exit the folder. %USERNAME% is your username.
Open an elevated CMD window, and key in the following command:

attrib +r -s -h %USERPROFILE%\Downloads /S /D


Close Command Prompt and restart your PC.
Throwing Light on Windows 7 & 8
This article covered the four primary folder recovery techniques, including:
Previous versions
Backup and Restore
Recycle Bin
Data recovery software
Fortunately, all of these methods are applicable for Windows 7 & 8 users as well.
Interesting Read: How to Recover Deleted Files in Windows 7 (In 3 Easy Steps)
Key Takeaways
A deleted folder isn't the end of the world. Windows offers some nifty native data recovery methods like rolling back to previous versions, restoring a backup point, and the Recycle Bin.
Moreover, several reliable third-party applications can help you recover deleted folders. On the other hand, even specialized folders like Downloads and My Documents are retrievable using data recovery software.