Reading Time: 9 minutesYou've decided to completely reinstall your Windows in the last-ditch effort to speed it up and solve various errors. Now, you might be wondering how to recover lost files after factory reset on Windows 10.
Luckily, there are ways to restore your important documents. One of the best options to do this is by using professional data recovery software. However, you will have to act quickly as your files can easily get overwritten. Here are all of the methods that can help.
What Does a Factory Reset Do?
But first, let's take a slight detour to understand how this process works. Basically, Windows 10 Reset will remove all of the 3rd party apps and settings, while giving you the option to keep some of your personal files. It's very similar to reinstallation – the only difference being that you don't need to have Windows 10 on a DVD or USB drive.
When you do a full reset, this is what happens:
Your PC will restart, booting into the Windows Recovery Environment.
If there's anything that you want to keep, Windows RE will start scanning your disk for these files.
After they are located, the process of erasing and formatting partitions will start.
Lastly, a fresh copy of Windows 10 can be installed.
Note: Keep in mind that once reset, you will have to download all of the drivers and OS updates.
Why Should I Do It?
While doing a Reset can be a bit tedious, it comes with numerous benefits. For one, doing a factory reset will fix corrupted system files and solve all errors caused by 3rd party apps.
Aside from the performance boost, you might do a Reset due to privacy concerns. We are living in an age where everything is monitored, and our OS constantly gathers our personal information. In case of malware and spyware infestation, this data can be stolen and used for nefarious purposes. Because of all of this, some experts recommend using factory reset every 6 months.
How to Factory Reset on Windows 10
If you are convinced, you can follow these steps to return your computer to the default settings.
Right-click on the Start menu icon and select Settings.
Go to Update & Security > Recovery > Reset this PC. Select Get Started to start the factory reset.
Now, you can choose to keep some of your files or completely wipe out your disks. We will go for a full factory reset so pick Remove Everything.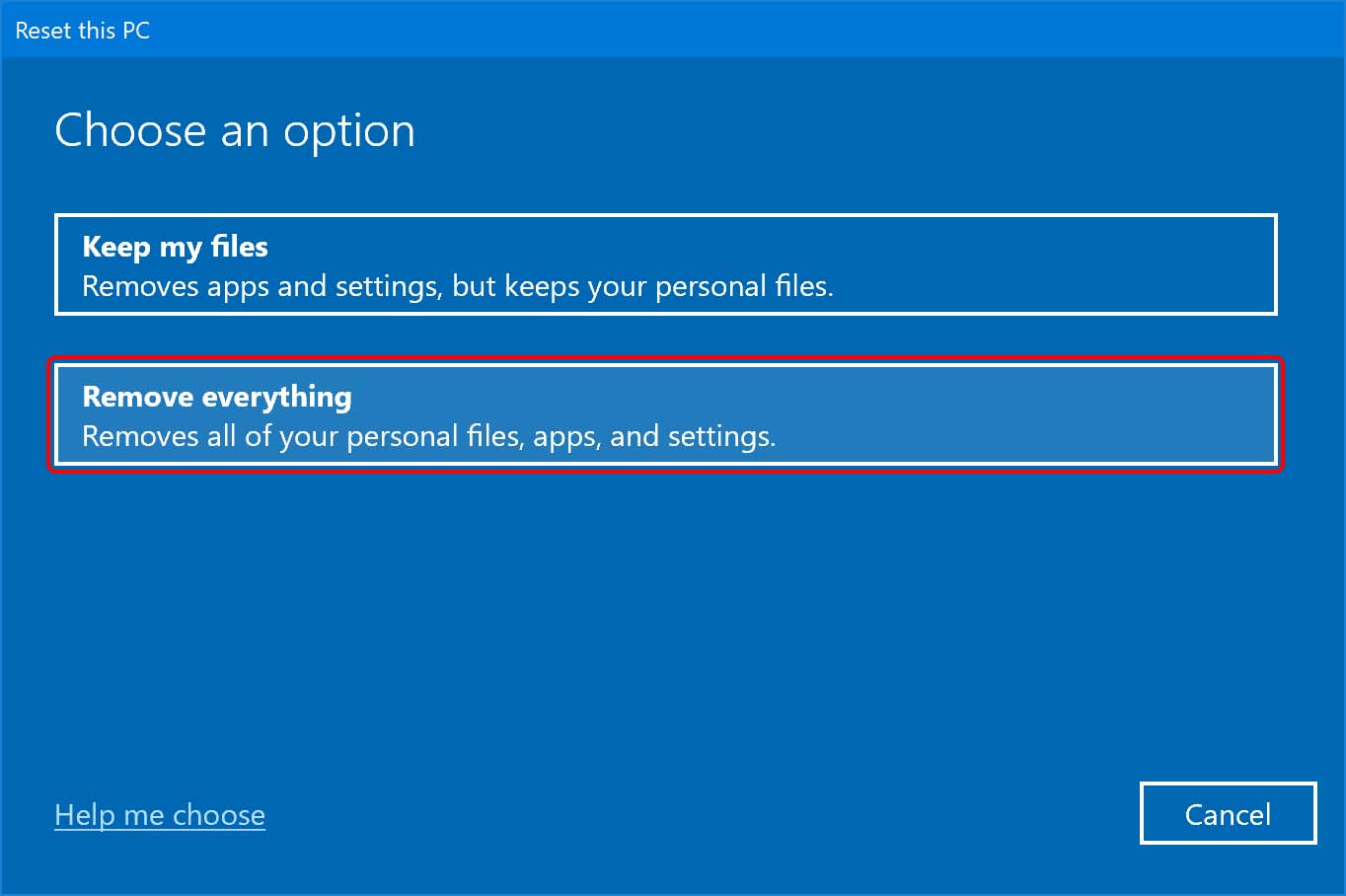 In Change settings, you can tweak more options, such as removing files from Windows drive or every disk available. Once you are satisfied, click on the Confirm button.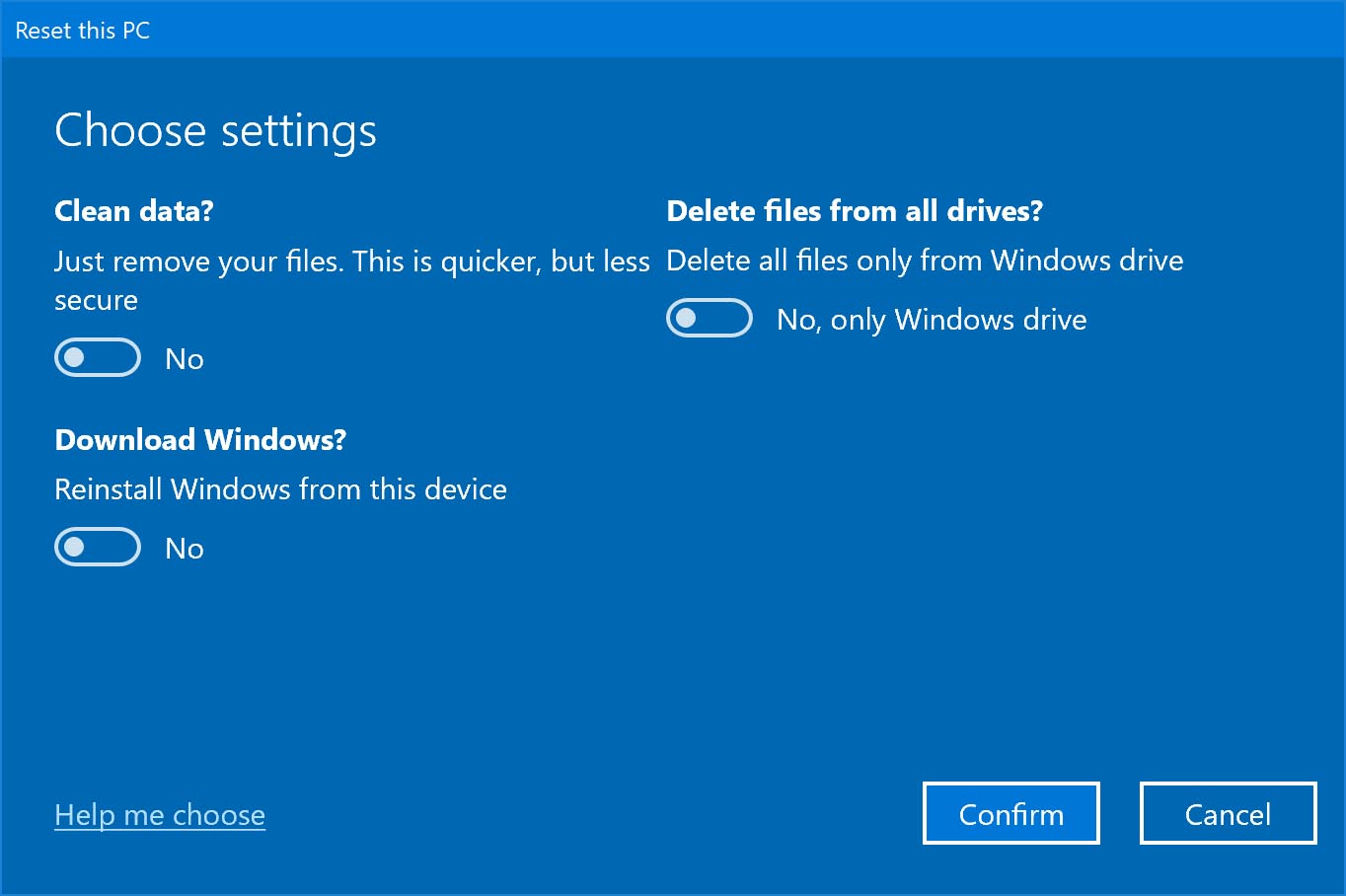 To make sure that everything is set up okay, click on Show me the list of drives that will be affected.
Lastly, click on Next > Reset to start the factory reset.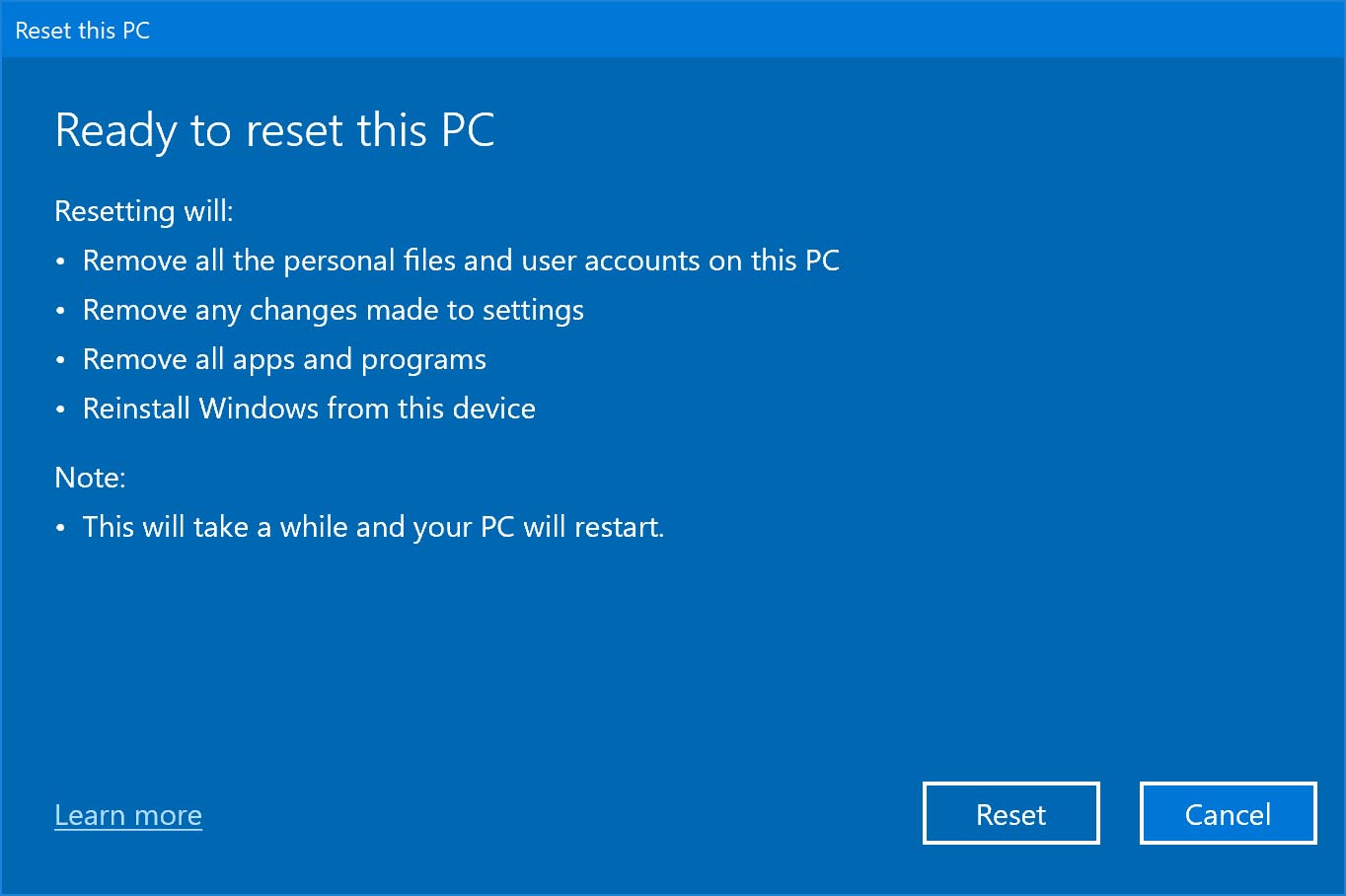 Windows 10 can be reinstalled via Cloud download or Local reinstall. We recommend that you go with the first option, as it's quick and convenient. You also don't risk reinstalling a corrupted version, which would prolong this process.
Now, let's see how you can start recovering files after factory reset.
Ways to Recover Files After Windows 10 Reset
To keep things simple, we will present you with the 2 options. One of them is a paid app that is very convenient and will do the work for you. You can also do recovery for free, by using one of the native Windows tools.
Option A: Using Data Recovery Software
There are a lot of premium apps on the market that will find your lost data. However, not all of them are going to be worth your money. We've tested many of them and finally boiled it down to 1 that we can wholeheartedly recommend.
Disk Drill was created by CleverFiles in 2010 and quickly became one of the most well-known data recovery solutions. The answer to its success is simple – it is easy to use, works quickly and has a high recovery rate. In part, this is thanks to the support for over 400 file formats. The app comes with a free trial (up to 500 MB), so you can easily test it before committing.
This is how you can recover files after factory reset with Disk Drill.
Visit CleverFiles and download Disk Drill.
Install and launch the app. Disk Drill has a convenient user interface from which all features are quickly accessible. Its tools are separated into 3 categories: Data Recovery, Drive Backup, and Data Protection.
Choose the hard drive that contained lost files. Clicking on Data Recovery will immediately show every disk that can be scanned by Disk Drill.
Pick your preferred scanning method. For recovering files after factory reset, you should choose an All recovery methods scan. 
Start Scan … by simply clicking on Search for lost data in the right corner.
Select the files that you want to retrieve. Since Disk Drill may find hundreds of GB of data, you may feel a bit overwhelmed. Luckily, you can simplify your search and filter files by date or size. Use the Preview function to make sure that you've selected the right file. Once you are satisfied, click Restore.
And Disk Drill isn't just used to restore data after factory reset. With it, you can also recover deleted partitions on Windows 10.
Additionally, Disk Drill has many useful tools that can prevent your problems from recurring. S.M.A.R.T. Monitoring will constantly scan your disk to find signs of impending drive failure. Data Backup will create copies of your important files which you can recall if something unpredictable happens.
Overall, this is very reliable software for data recovery. However, this is a premium product, and you will have to pay nearly $120 for a pro version with lifetime updates.
Alternatively, you can use a free tool from Microsoft's app store to restore data after a factory reset . Although Windows File Recovery may repel some users due to its command-line interface, this is a powerful software that will give you results quickly.
This is how you can recover files after factory reset with Windows File Recovery.
1. Run the app
Right-click on the Start icon and select Search. Type in File Recovery and the app will pop up on the top of the search bar. Make sure that you select Run as administrator.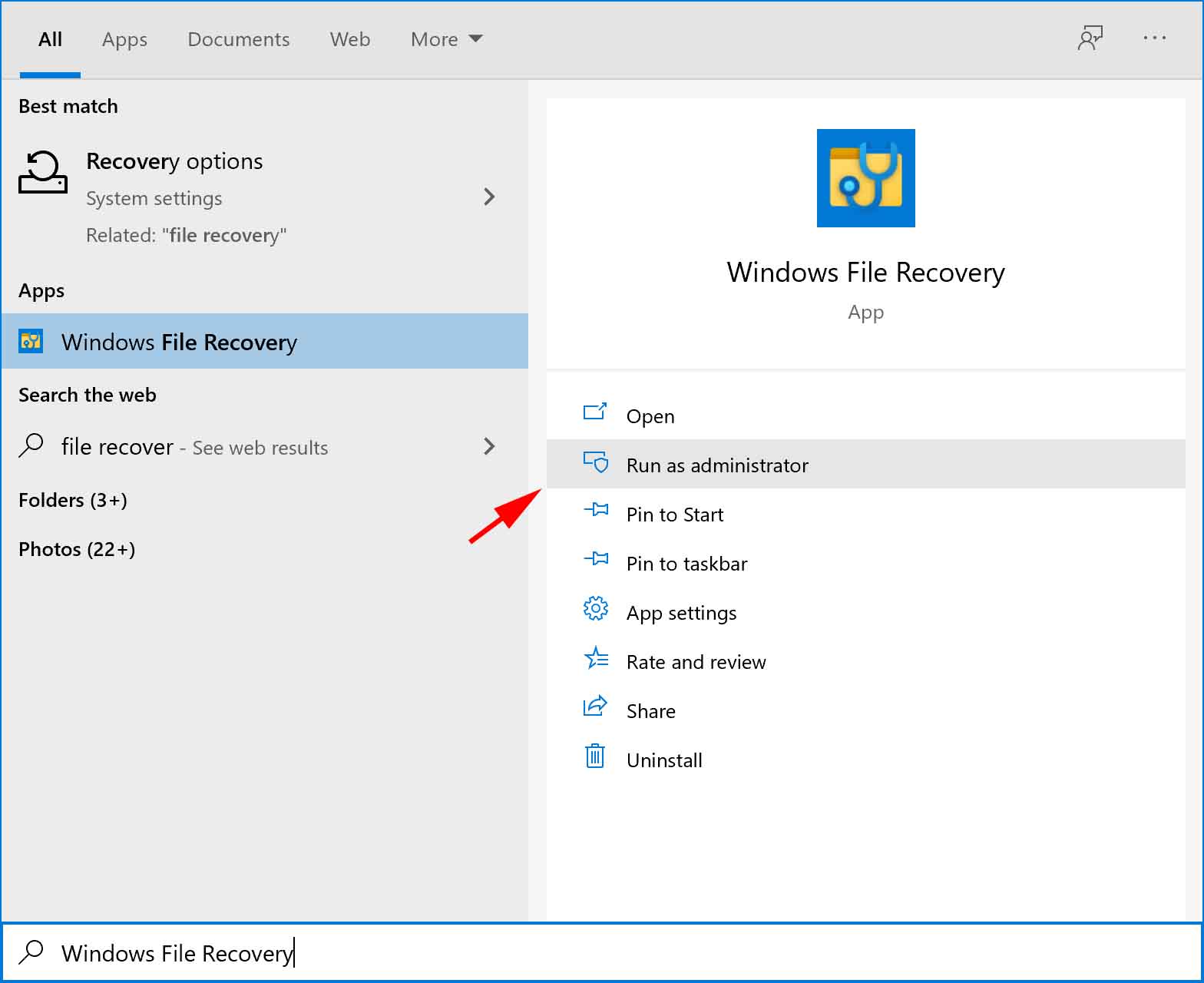 2. Select Scan Mode
Windows File Recovery lets you pick between 3 modes: Default, Signature, and Segment. Default works like a Quick scan, and Segment mode presents you with a more thorough and slower approach. Signature mode will let you scan through the drive by file type. This includes ASF, MP3, MPEG, JPEG, PNG, ZIP, and PDF. For our purpose, we will focus on Default and Segment modes.
2.1 Using a Default Mode
Let's say that you wish to restore only one type of file from the whole drive. To do this, you would write something like: winfr C: D: /n *.docx
C signifies the main drive where your Windows is installed
D is a drive to which all restored files will be transferred (you can also use  E:, F:, G:, etc.)
n is a switch used for filtering search
* can be replaced with a specific file path, which will speed up the scan: winfr C: D: /n \Users\Admin\Documents
.docx stands for Word document, but you can use any other file extension
In practice, it would look something like this: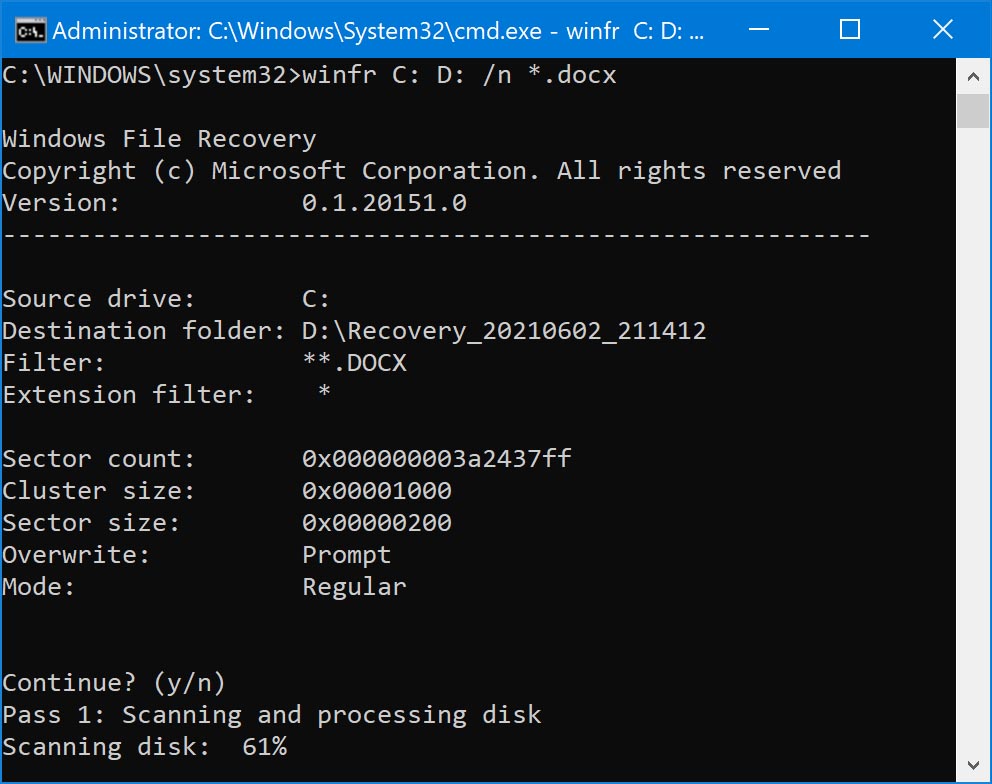 Now, hit Enter to confirm the command and type in "Y" to start the scan.
Since the full path wasn't specified, the scan will take a bit longer. As mentioned, the recovered files will be saved on another disk with a specified date and time.

To search for multiple file formats simultaneously, just add more switches. If I wanted to locate all of the PowerPoint, Excel, and Word files, I would simply write: winfr C: D: /n *.pptx /n*.xlsx /n *.docx
2.2 Working With a Segment Mode
If you are like Bono and still haven't found what you are looking for, it's time to start a deep scan. The process is nearly identical, you will just have to add /r to your command so that it looks like this: winfr C: E: /r /n *.mp3
This time, we will use File Recovery to find all lost mp3 files and move them to the E: drive.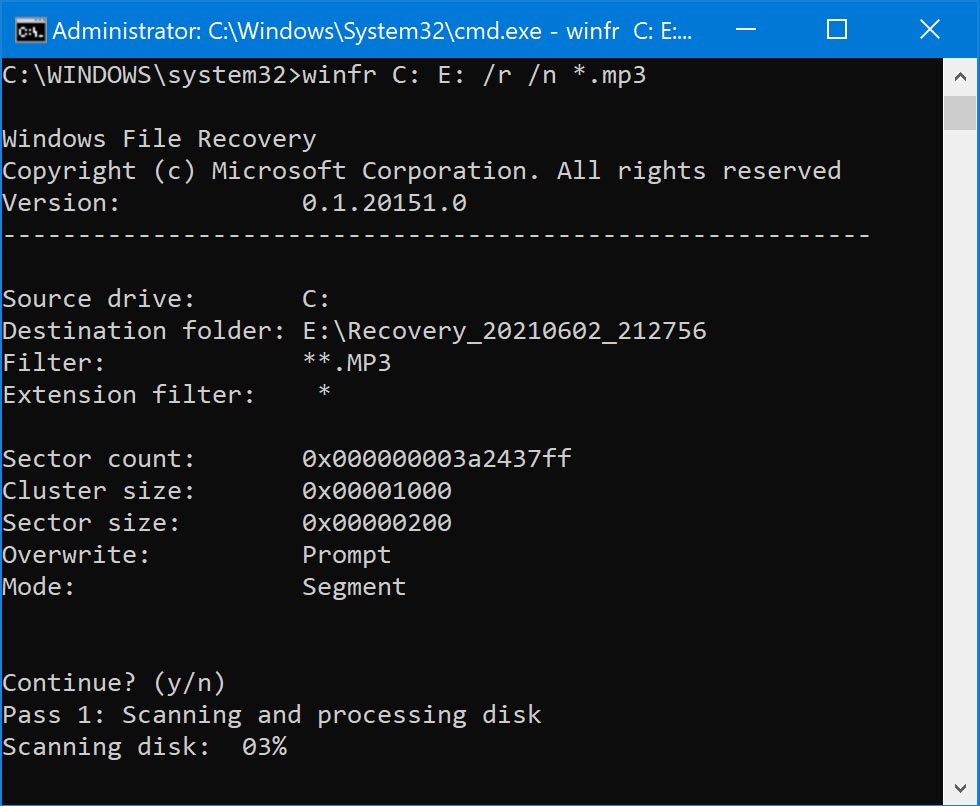 Luckily, the Segment search gave us some results.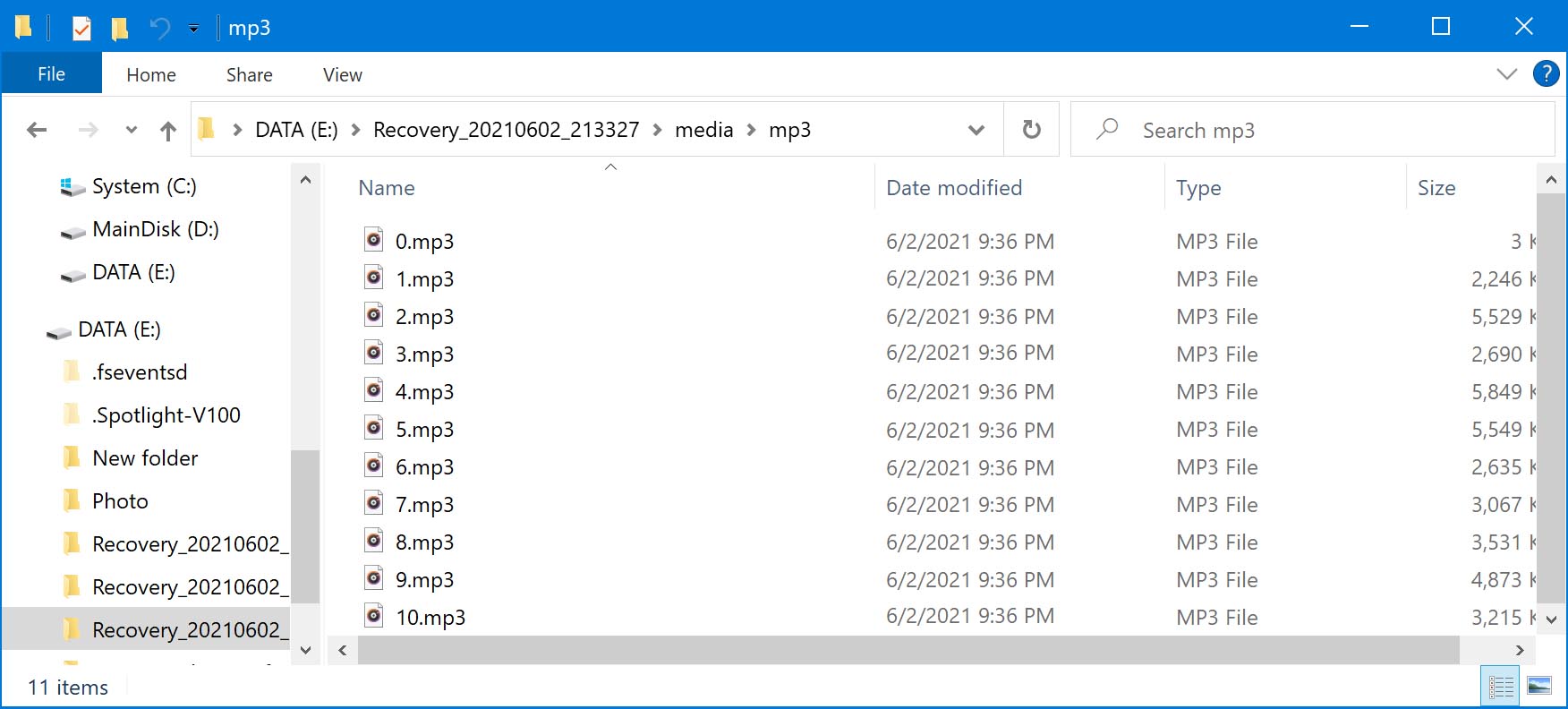 Although it can look a bit frightening to beginners, using Windows File Recovery is pretty straightforward. And we have just skimmed the surface of what these powerful tools can do. For example, they can also be used to recover deleted files from the Recycle Bin.
Note: To run successfully, Windows File recovery requires that you have at least May 2020 update. To make sure that you have the latest version installed, go to Start > Settings > Update & Security > Windows Update > Search for updates.
Option B: External Backup
It's always a good idea to create a copy of your important files. It's even better to store them in a different location, like USB, an external SSD, or maybe cloud storage. This can be done with File History – Microsoft's native backup tool. Once set, it will make copies of your documents every hour.
1. How to Set up File History
To create a new backup, visit Start > Settings > Update & Security > Backup. Click on Add a drive and select a location for your backups.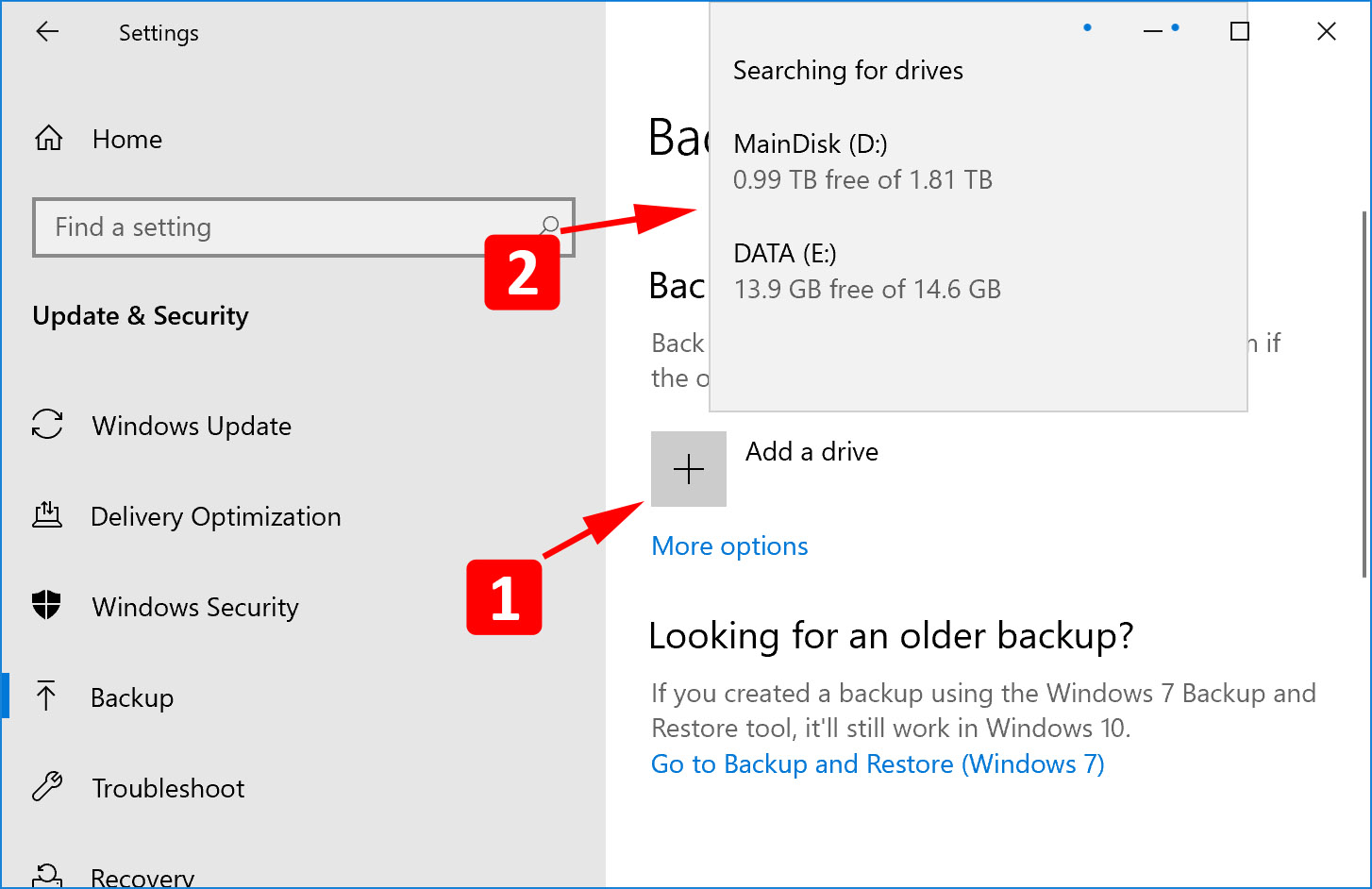 2. Restore files and folders with File History
Once you are set, this is how to get your files back. First, right-click on Start and select Search. Type in "restore files" and click on Restore your files with File History.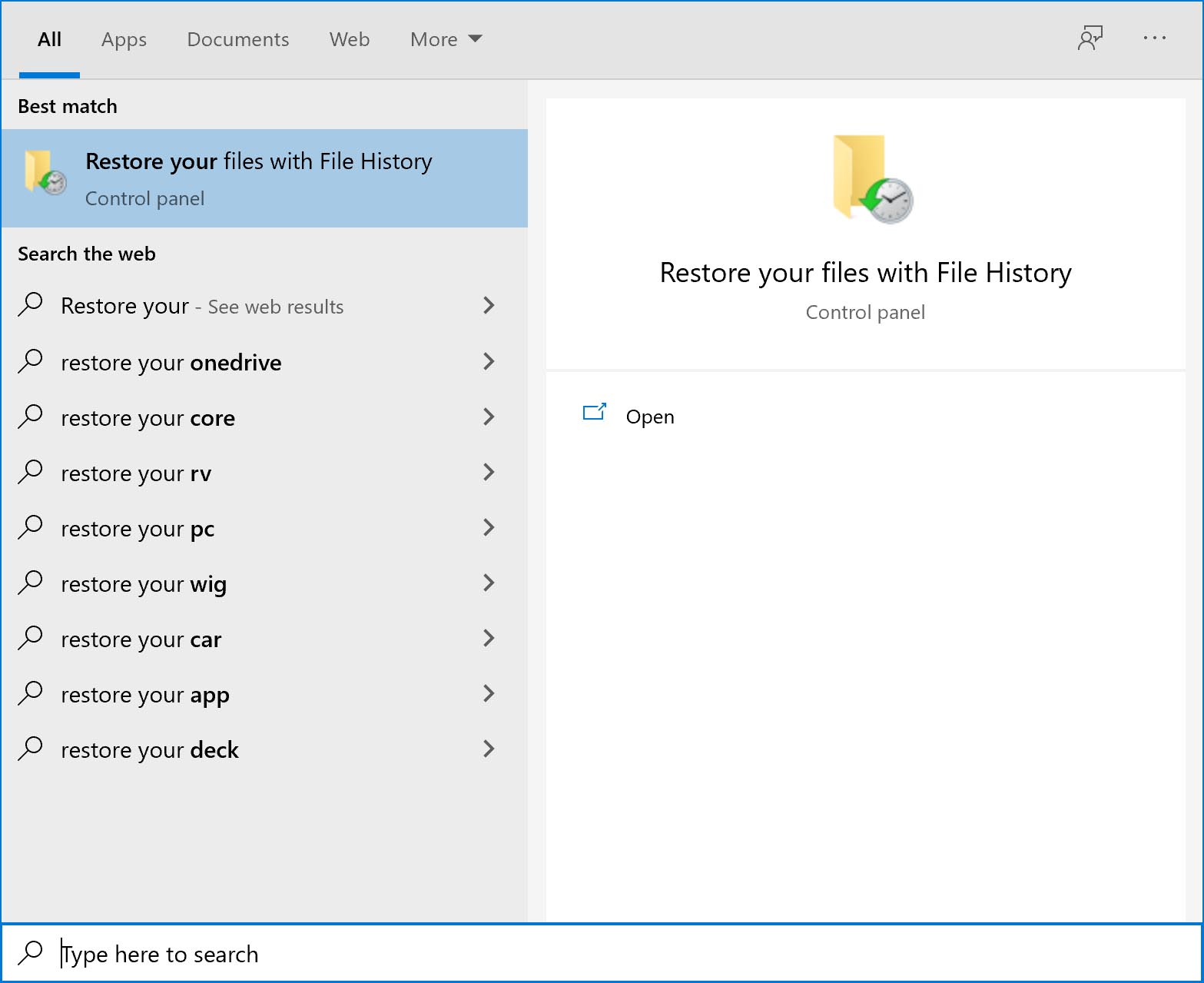 Locate the file that you wish to restore and use the arrows below to browse through different versions.
Once you find the right version of files you want to recover, right-click on the green Restore button. This way, you can specify where you want to restore your files.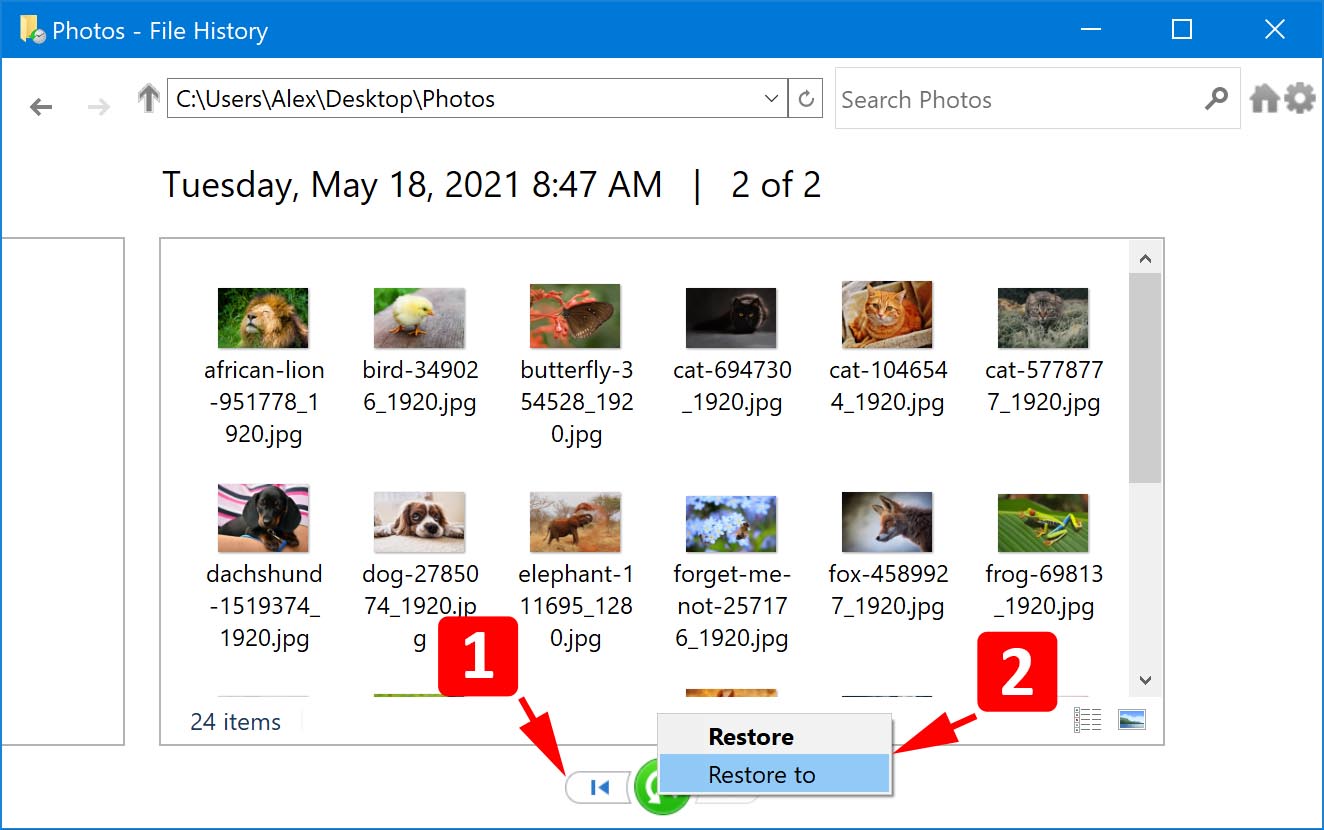 Note: File History by default will only backup files stored in Desktop, Documents, Pictures, Music, and Videos folders. So, if you need to back up other folders you need to add them manually.
FAQ