Reading Time: 8 minutesTucked into a tiny corner of your desktop, the Recycle Bin is an extremely nifty little thing. Every time you delete a file in Windows, it is sent to the Recycle Bin. The great thing about this is that if you have accidentally deleted a file, it can be restored quickly.
Even in the case that you have emptied the Recycle Bin, it might still be possible to retrieve your files. If you have accidentally lost a file and sent it to the Recycle Bin, we will walk you through recovering it in this article.
How Does the Recycle Bin Work?
All of the files and folders on your hard drive can be accessed only because they have associated references and metadata. This information allows you to locate your file and then open it. Normally, these references are stored in the same location as the files. It is important to know how the Recycle Bin works. This will help you understand how to recover deleted files from the recycling bin.
Simple Deletion
When you simply delete a file by pressing the Delete key or right-clicking the file and selecting Delete, Windows does not move the file itself. Instead, it moves the reference to the Recycle Bin. Even though you cannot see the file on the hard drive anymore, it is still there. Only the reference has moved, making the original file invisible and inaccessible.
By default, the reference to the deleted file stays in the Recycle Bin for 30 days. This can be changed from Windows Settings. After this time limit is up, files in the Recycle Bin are removed automatically. You can recover items deleted from the recycle bin quickly.
Shift-Delete or Permanent Deletion
So, if simple deletion does not remove your files, what does? Windows does have a permanent deletion alternative which can be handy if you are sure you don't want your files back. Permanent deletion is great to get rid of confidential files or to make space on your hard drive quickly. Sometimes, if you are simply deleting very large files, Windows might prompt you to permanently delete them.
The option to permanently delete files can be accessed by selecting the files to delete and then pressing Shift + Delete, or Ctrl + Shift + Del. This will prompt a notification asking you whether you really want to delete the chosen files. It is difficult, if not impossible, to recover files deleted from recycling bin.
Where can I Find the Recycle Bin?
Generally, a shortcut to the Recycle Bin is placed on the Desktop. Double-click its icon (it looks like a trash can) to open it. If you cannot see the shortcut, you can try any of the following:
Option #1: Use the Search Menu
Click on the Search menu on your taskbar and type "Recycle Bin". Open it from the Search results.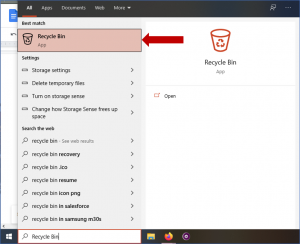 Option #2: Make the Recycle Bin visible from Windows Settings
Open the Settings app using the shortcut Windows logo key + I.

Select Personalisation, and then from the left sidebar, click on Themes.
Click on Desktop Icon Settings visible on the right side.

A dialog box will appear, allowing you to select icons you want to see on your Desktop. Checkmark the box next to "Recycle Bin".
Go back to your Desktop and double-click the icon to open the Recycle Bin.

Once you open the Recycle Bin, you will be able to see if the files you deleted are in there. Follow the instructions below to restore your files.
How can I Recover Data from the Recycle Bin?
If you have simply deleted your files, worry not. It is possible to recover your files in no time. We will now cover the possible situations you might encounter. By the end of this section, you will be ready to retrieve your lost files.
| | | | |
| --- | --- | --- | --- |
| Solution | Precondition | Situation Supported | Accessibility |
| Direct restore | Files are simply deleted and sent to the recycle bin | Recover files visible in the Recycle Bin | Easiest |
| Windows Backup | Backup settings are enabled | Recover files to the last backup point | Medium |
| Data Recovery Software | Files are not yet overwritten | Recover all kinds of files | Easy |
Method #1: Restore files visible in the Recycle Bin
If you see files in the Recycle Bin, you haven't emptied the bin. These files are easy to recover.
In the window, you can see the name of the file, its original location, and other parameters. If you have a lot of files in the bin, this can help you narrow down to the file you want.
Here's how you can get started:
Step #1: Select the file(s) you want to restore.
Step #2: Right-click on the files.
Step #3: Select Restore.


Step #4: If you want to restore all files, click on the Recycle Bin Tools menu at the top, then select Restore all items.


Method #2: Restore files from an empty Recycle Bin
Are your deleted files not in the Recycle bin? If you don't see any files the Bin might have already emptied the files. Or, you might have recently emptied the recycle bin yourself. This is slightly difficult to resolve, but there are two possible methods to help you recover emptied recycle bin
Option #1: Using Windows Backup and Restore:
If you have set up Windows Backup and Restore, you've already won half the battle. Backup and Restore creates images of the files on your PC at regular intervals so that you can get your files back.
Here's how to retrieve files using Backup and Restore.
Step 1: Click on the Search bar on your Taskbar and type "Control Panel".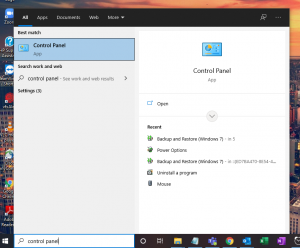 Step 2: Open the Control Panel, search and open Backup and Restore.
Step 3: Select Restore my Files and a dialog box will open.
Step 4: Head over to Browse for Files, and select the files you want from the new window.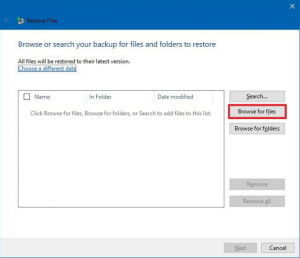 Step 5: Select the Next button, then select a suitable location to save the files to.
Step 6: Progress through the Wizard to retrieve your files.
Backup and Restore is not maintained actively on Windows 10 anymore. However, you can configure it easily, as seen in our article here.
Option #2: Using a data recovery tool
If these methods did not work for you, don't lose hope. Unfortunately, it is not possible to undo recycle bin empty actions. This is when Data Recovery Tools can help retrieve deleted files from recycling bin. They work on many different file types and can help you recover data even when it is permanently deleted. Investing in recycle bin recovery software can often get you out of a tricky situation with regards to file loss.
If you need recovery software, an excellent tool is Disk Drill. It is a lightweight yet powerful program with algorithms that are optimized to find and restore files. It also has a version that helps you with free recycle bin recovery.
Here's how you can set it up to recover files from the Recycle Bin:
Step 1: Download Disk Drill from their website. Install it with admin privileges and then launch it.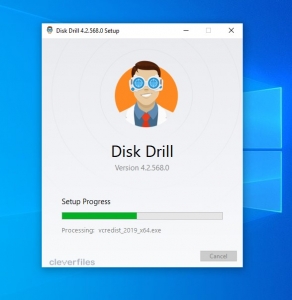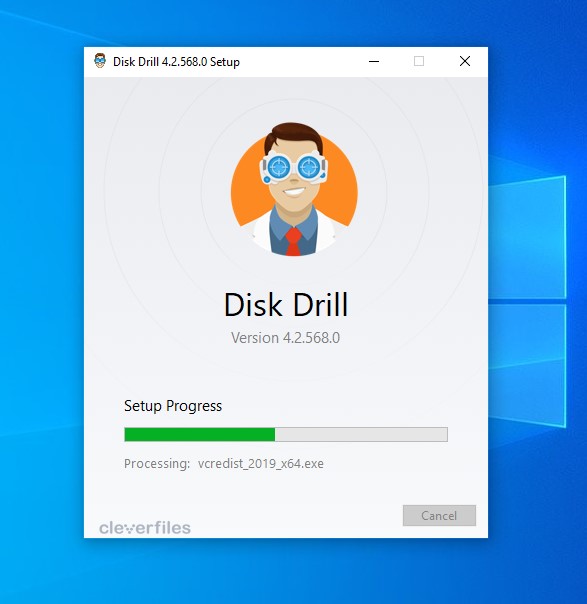 Step 2:  To recover deleted files from your Recycle Bin, choose the computer's primary hard drive.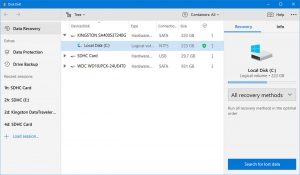 Step 3: Select the type of scan you want. Generally, running "All recovery methods" gives the best results. However, this can be time-intensive, hence the program offers limited options that are lighter and faster. You can select the scan that helps you recover files from the Recycle Bin fastest.
Step 4: Click on Search for lost data to start scanning the Recycle Bin.
Step 5: As the algorithms find more documents, the program will show your progress in a window. You can then pause the scan to look at which files have been found.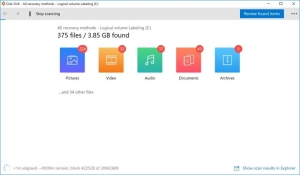 Step 6: Select the files to restore, and then select a suitable location (avoid selecting the Recycle Bin) for the program to save them.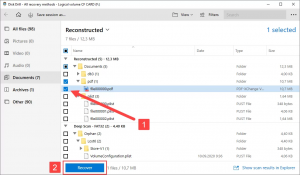 You can use the filter options to narrow down your file search. Also, you can pause the program at any point if you think your file has been found or you need to use the PC.
Your files should now be restored and ready to use!
How can I Increase my Chances of Data Recovery?
Data recovery is not a guaranteed process, as you might have noticed. Many caveats can make it difficult to retrieve your files. However, there are some tips you can follow to help your chances of regaining access to your data:
Stop using the drive as soon as possible. The more you use your computer, the higher are the chances of your files being overwritten. If this happens, you will lose your data permanently.
Don't delete any more files. Sending more files to the bin will only make recycle bin recovery more difficult. Besides, it will also run the risk of overwriting old data and make it trickier for data recovery software to restore your files.
Start data recovery ASAP. The longer you wait to get your files back, the less likely it is that you will be able to retrieve them.
Restore saved files to a different location. Even if your drives are functioning perfectly well, it is best to move recovered files to a new location. This helps avoid deleting them again accidentally while also making sure you know exactly where the files are.
Make regular backups. Data loss is uncommon, but also unpredictable. You never know when your drives might fail or you might suffer a different kind of storage failure. It is best to invest in a backup service, or at the very least, create manual backups on a second drive.
What About Windows 7?
Although this article is written with Windows 10 users in mind, all of the above methods also work for Windows 7. The main fixes for restoring documents from the Recycle Bin that work regardless of Windows versions were:
Directly restoring files visible in the Recycle Bin
Using Windows Backup and Restore
Putting a data recovery software to work
But, as a Windows 7 user, you might be interested in How to Recover Deleted Files in Windows 7 (In 3 Easy Steps).
Key Takeaways
If you just deleted a file and sent it to the Recycle Bin, it might not be too late to restore it. Windows easily retrieves such data through the Recycle Bins's restore and the Windows OS' Backup and Restore.
When these methods fail, you can rely on third-party software that helps with data recovery. These tools can help recover many different file formats, even when they are lost from external storage drives.