Reading Time: 7 minutesLook no further if you want to find out how to recover overwritten files on Windows 10. Unintentionally overwriting files can be a pain but, unfortunately, it can happen to the best of us.
Files can be overwritten regardless of the storage device; whether it's an external hard drive, an SD card, or a USB drive, files can be overwritten. We will cover how to recover these overwritten files on Windows 10 using proven methods below.
How Files are Overwritten
Files can be overwritten in the following ways:
From within an application: This is done when saving a file. If the Save as option is selected and a file name that shares a name with a file of the same type that already exists is selected, then if the save is followed through with, the original file will be overwritten.
From within the file explorer: For a file to be overwritten from within the file explorer, a file has to be copied to a location containing a file of the same type that carries the same name.
Files can be unintentionally overwritten on local hard drives as well as on external storage devices such external hard drives, SD cards, or USB drives. Regardless of where the file is located, it's important to be careful when transferring files. Whenever there's a chance that a file will be overwritten, there is usually a warning prompt that pops up.
Pay attention to these prompts and only go through with the overwrite if you are sure of the action you're taking. With that being said, mistakes do happen. We will show you some effective solutions below.
How to Recover Overwritten Files on Windows 10
If you're trying to recover overwritten files on Windows 10, you have a few methods at your disposal. We will cover 3 of the most effective methods below.
Recovering Overwritten files on Windows 10 with Disk Drill
Recovery with Disk Drill is the easiest method, and it yields the best chance of recovery. When a file is overwritten, the original version of the file isn't actually immediately deleted. The original file remains, but it is earmarked by the operating system for overwriting.
However, if you wait for too long before acting, as other programs create more files, the original file may become permanently overwritten. This means that you should use Disk Drill as soon as possible after accidentally replacing files.
Disk Drill is capable of recovering more than 200 file types, so it can pretty much handle anything you throw at it. Whether you want to recover overwritten photos, music, or documents, this application will stand up to the test.
Step 1. To get started with the process of recovering your overwritten files, first select the storage device that you want to scan, and then on the right of the Disk Drill window, select All Recovery Methods. You can recover overwritten files from hard disks, sd cards, USB drives, etc.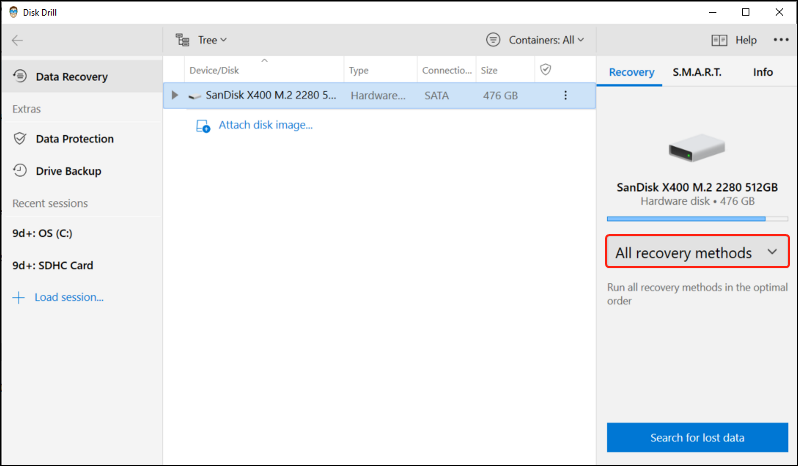 Step 2. Next, select Search for lost data to start scanning your drive. Disk Drill will scan your storage device comprehensively and then display a results page that categorizes recoverable files according to their file type.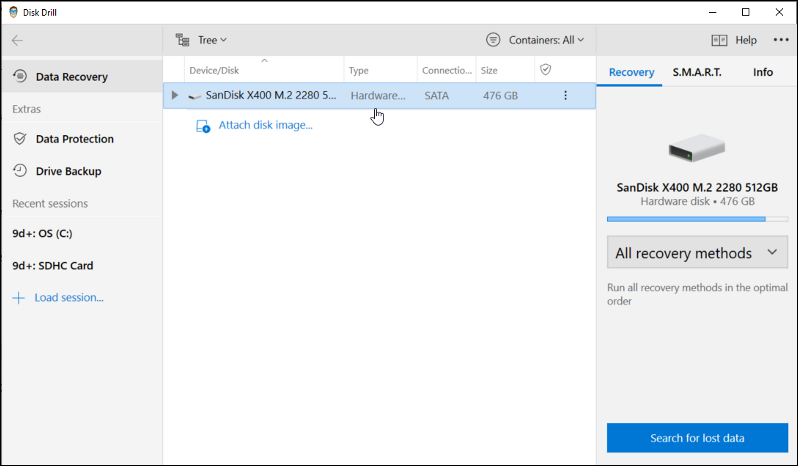 Step 3. Select the file for restoring and simply hit the Recover button to recover it.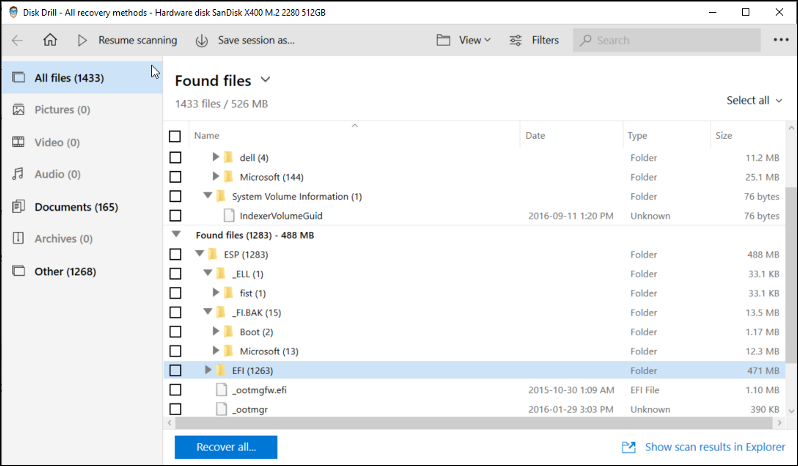 Step 4. Choose the location that you want to save the file to. You should save the file to a location that isn't on the storage device that you're recovering from. This avoids compromising the file in case the save isn't successful for any reason. This also ensures that any other file you may want to recover isn't overwritten.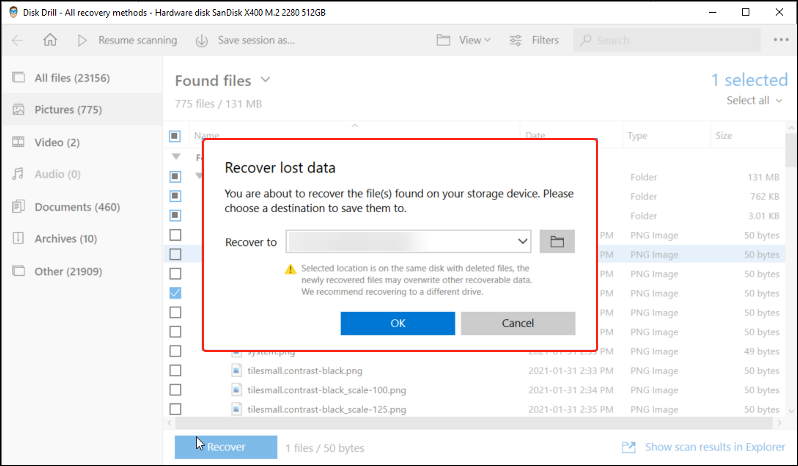 How to Recover Replaced Files on Windows 10 by Doing a System Restore
System restores in Windows 10 can restore your system to the state it was in at a previous time and date. If you have System Restore enabled, then you may be able to revert to a time when the file that you want wasn't overwritten. To do a system restore, you will first need to open Control Panel and then head to System and Security.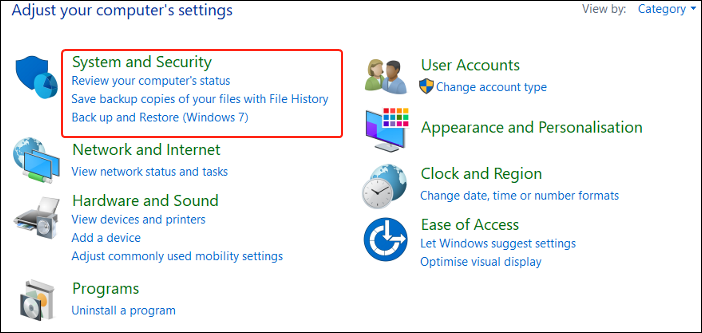 In System and Security, choose System.

In System, choose System Protection.

Now, choose System Restore.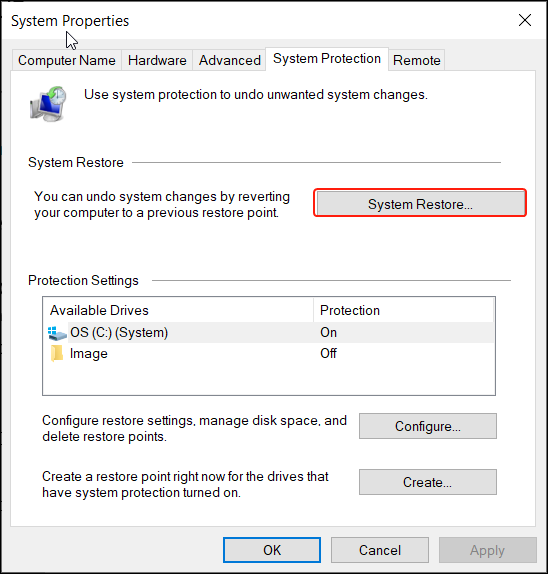 You will then be presented with a list of system restore points that you can choose to restore your system to. Choose a point when your file wasn't overwritten.
Overwritten File Recovery on Windows 10 Using Previous Version Feature
If you right click on a file and select Properties from the context menu, you will be presented with a window containing multiple tabs. Among those tabs will be a tab labelled Previous Versions. This feature allows you to look for an earlier version of an overwritten file.
However, for this feature to work, the file either needs to be a document which had a previous version backed up with the File History feature or the file would have had to have been backed up as part of a System restore point.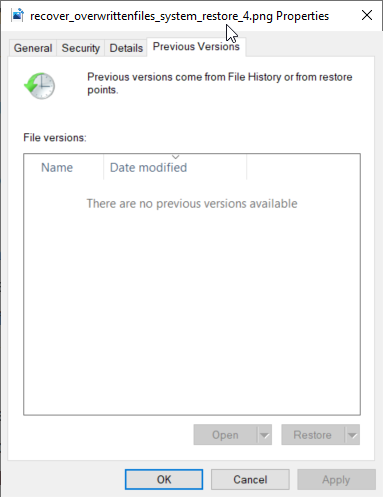 Recovering Overwritten Files by Restoring a Drive Backup
If you keep regular backups, then you may be able to restore a backup from a period when your files weren't overwritten. This comes down to the type of backup that is carried out. If regular full backups that include the files in question are carried out, then you will be able to choose from backups made at different periods.
If this is the case, you should be able to choose a backup that was made before your files were overwritten. Backups can be carried out with applications such as Disk Drill. With a solid backup plan, it should be straightforward to recover overwritten files.
Final Thoughts
Files can be overwritten by mistake on Windows 10, so one should be careful whenever there is a risk of overwriting files. If this does happen to you, there are a few options available to you to retrieve overwritten files. These include doing a system restore, using the Previous Version feature, and restoring a backup of the overwritten files. Data recovery software is also a viable option. In fact, this is probably the easiest method of restoring files.
When a file is overwritten, it isn't immediately deleted. However, for data recovery software to be effective at restoring overwritten files, a data recovery scan should be run as soon as possible to reduce the possibility of the original files being overwritten by new files. As long as this is done, there is a high probability that you will be able to recover your overwritten files.