Reading Time: 7 minutesDespite the growth of cloud storage, USB flash drives remain useful tools. Being extremely portable, these devices provide an efficient means to share and transfer data quickly.
However, this convenience comes at a risk ─ permanent loss of data if something goes wrong. Hence, learning the art and science of how to format a flash drive without losing data can save you not only headaches but also valuable time.
What does formatting a USB actually do?
On the surface, reformatting thumb drives means erasing all the data it holds, including temporary files, hidden documents, and malware.
If you're a Windows user, you have two options ― quick format and full format. Let's understand what happens when you format a flash drive using these two options.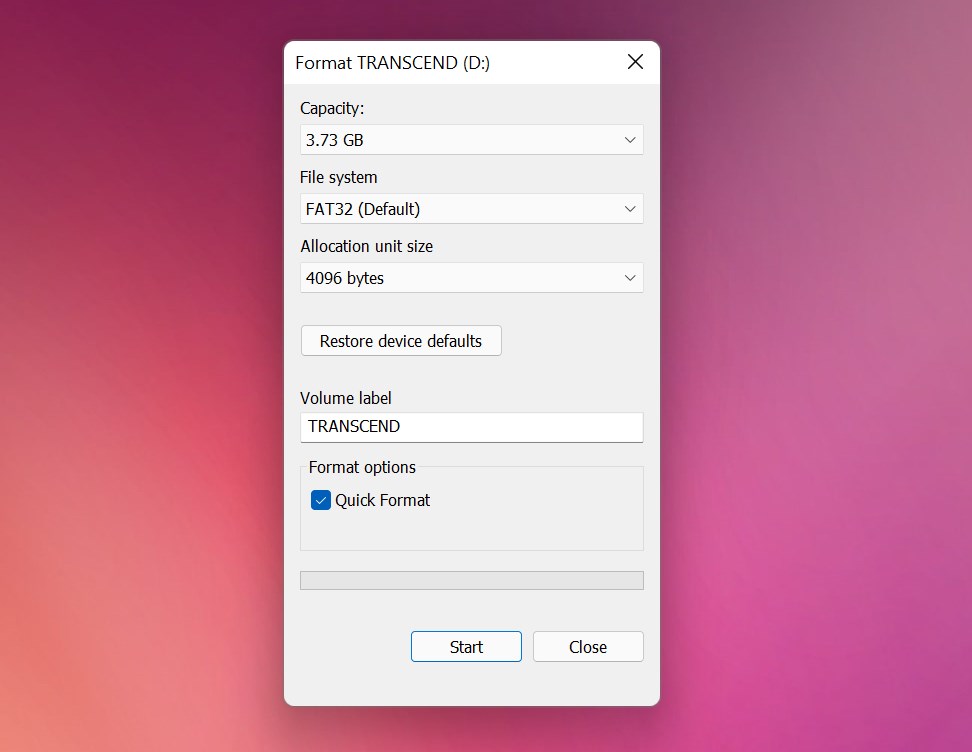 A quick format simply deletes the files on a USB so they are not visible again upon reuse. A full format, on the other hand, not only erases files but also checks the device for bad sectors, or storage space that is defective or damaged.
But freeing up space is not the only reason to format USB drives. These devices run on unique file systems that must be compatible with your OS. To change the default file system, formatting USB flash drives is required.
A file system simply defines how a device organizes and stores data, and both Windows and macOS support different file systems.
Windows can read and write the following file systems: FAT32 and NTFS.
MacOS can read and write the HFS+ and APFS file system, and only read NTFS.
Does formatting a flash drive erase the data?
At first glance, it may seem that there is no way to format a USB without deleting everything. But that's not always the case if you know what happens when you format a flash drive.
A quick format deletes the filesystem identifier or link to the data but the files can still be retrieved. However, in a full format, USB drives are 'zeroed' and all data is permanently erased without any means to retrieve it.
So, the good news is you can still recover data lost after a format. Nowadays, this has become relatively easy with the help of file recovery software.
How to format a flash drive on Windows
Before formatting USB flash drives, it's important to understand why it's required in the first place.
USB flash drives often become corrupted, meaning that even if the device appears intact, your system will not be able to read and provide access to files.
Fortunately, Windows makes it incredibly easy to format USB sticks.
The three most common methods are:
File Explorer
Disk Management tool
Command Prompt
Option 1 – File Explorer
The most well-known method to format USB drives in Windows is through File Explorer.
Step 1: Start by launching File Explorer by pressing Windows + E and clicking "This PC". If your flash drive is already plugged in, you should see your USB drive listed.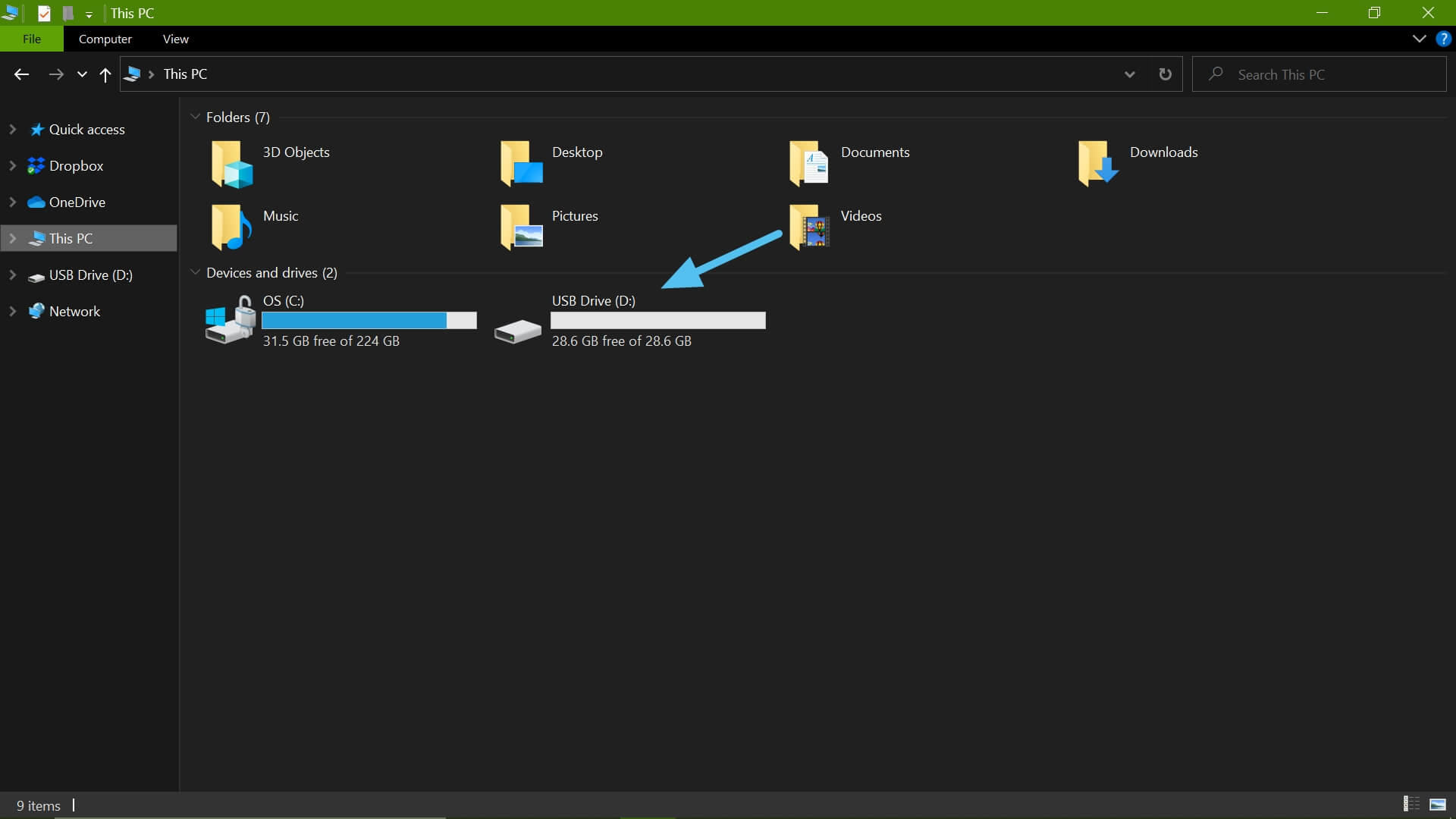 Step 2: To start the formatting process, right-click and select Format.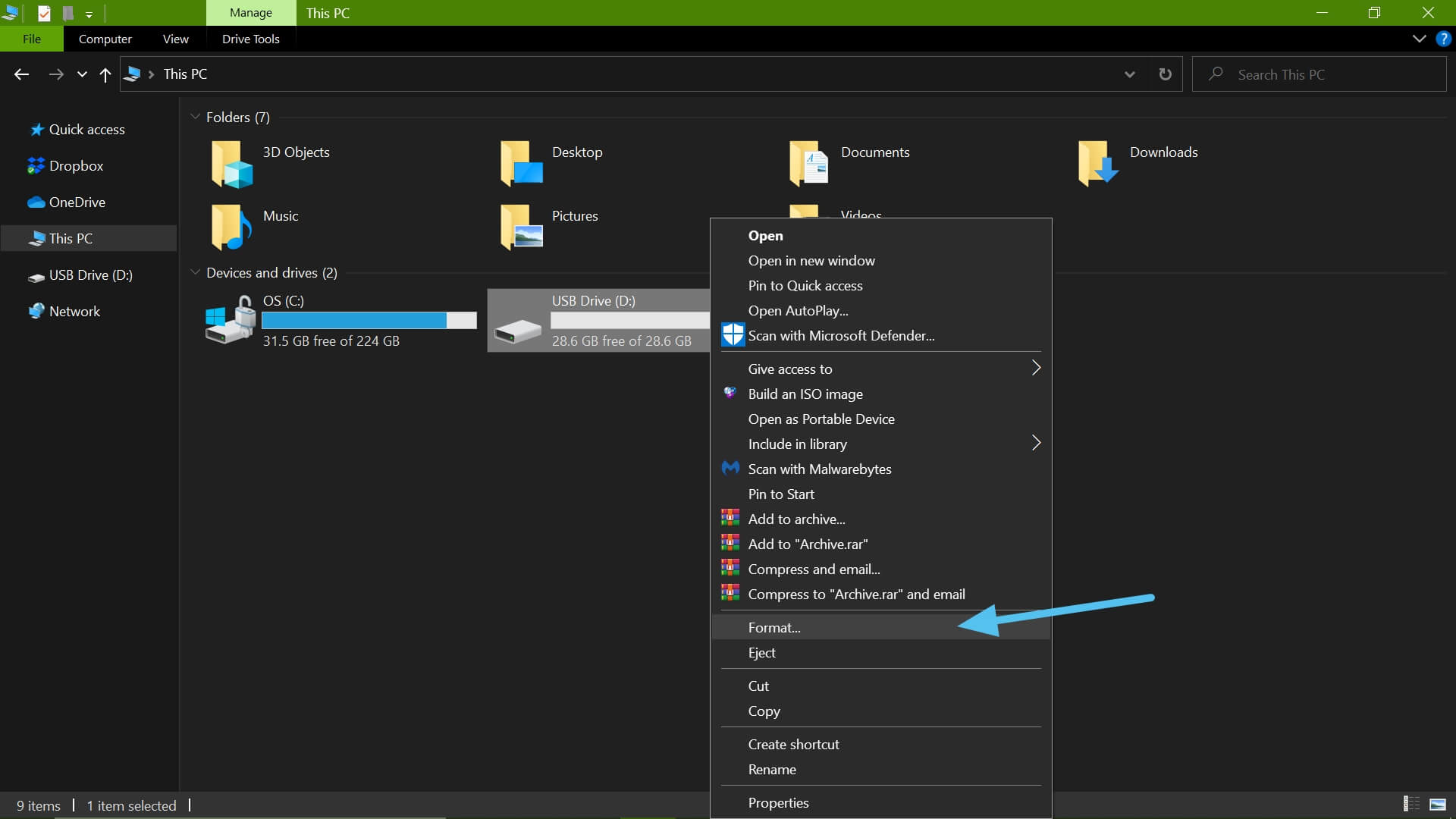 A pop-up should appear with formatting options, including changing the default file system of the USB drive.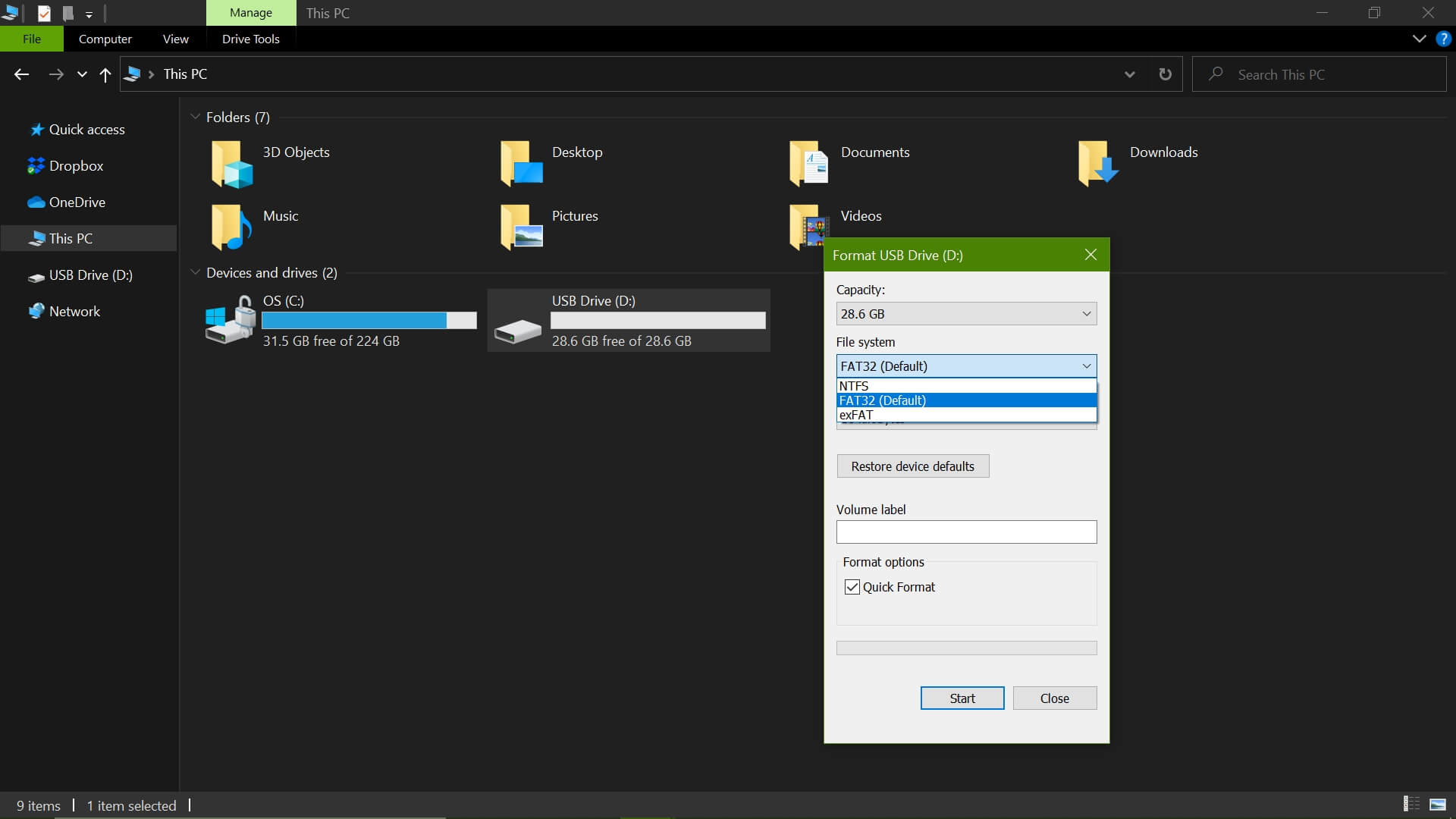 Step 3: Click Start to begin the process. The system will then prompt a warning sign to make sure you want to continue. Select 'Okay' to proceed.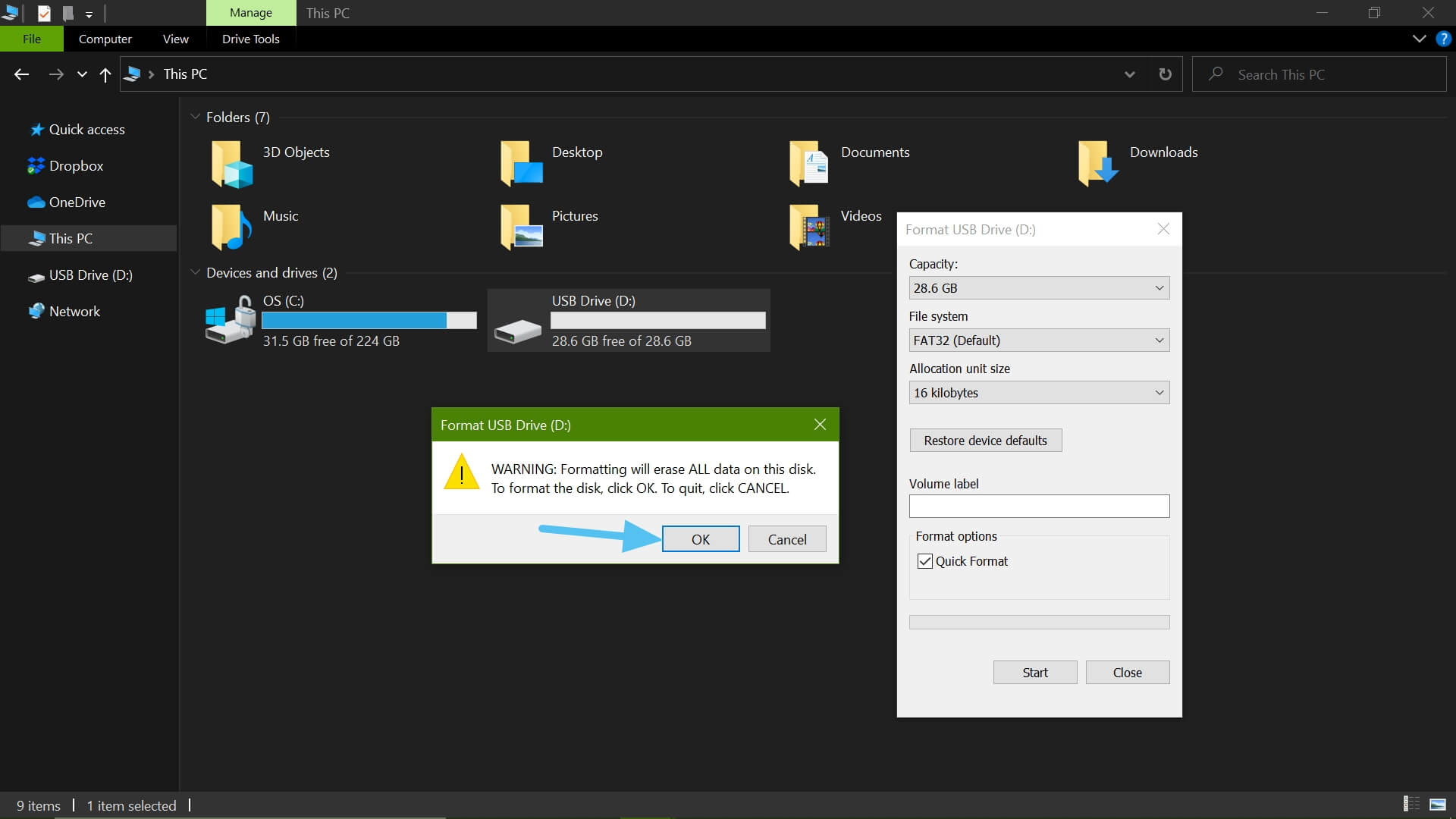 Depending on how much data is on your USB stick, this could take a few seconds to minutes. Once ready, another prompt will inform you that the process is completed.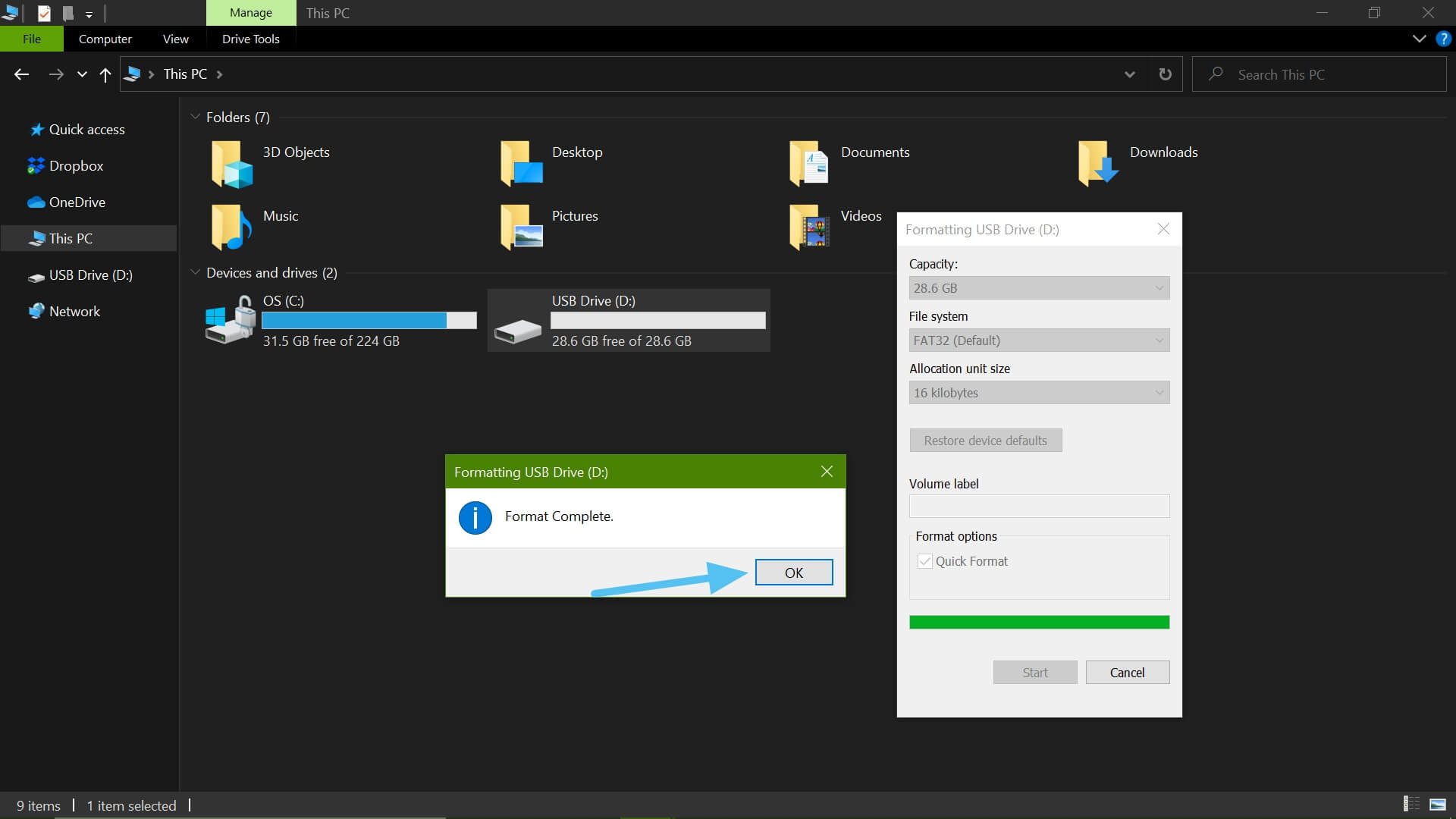 Option 2 – Disk Management tool
Windows also comes pre-installed with a Disk Management tool that allows users to perform various hard-drive related functions, including detachable USB drives, from a single convenient location.
There are two quick ways to access the tool. The first option is to right-click the Windows start button and select Disk Management or type diskmgmt.msc in Command Prompt.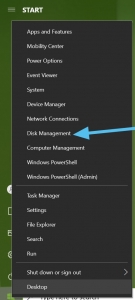 Step 1: Locate your USB flash drive in Disk Management.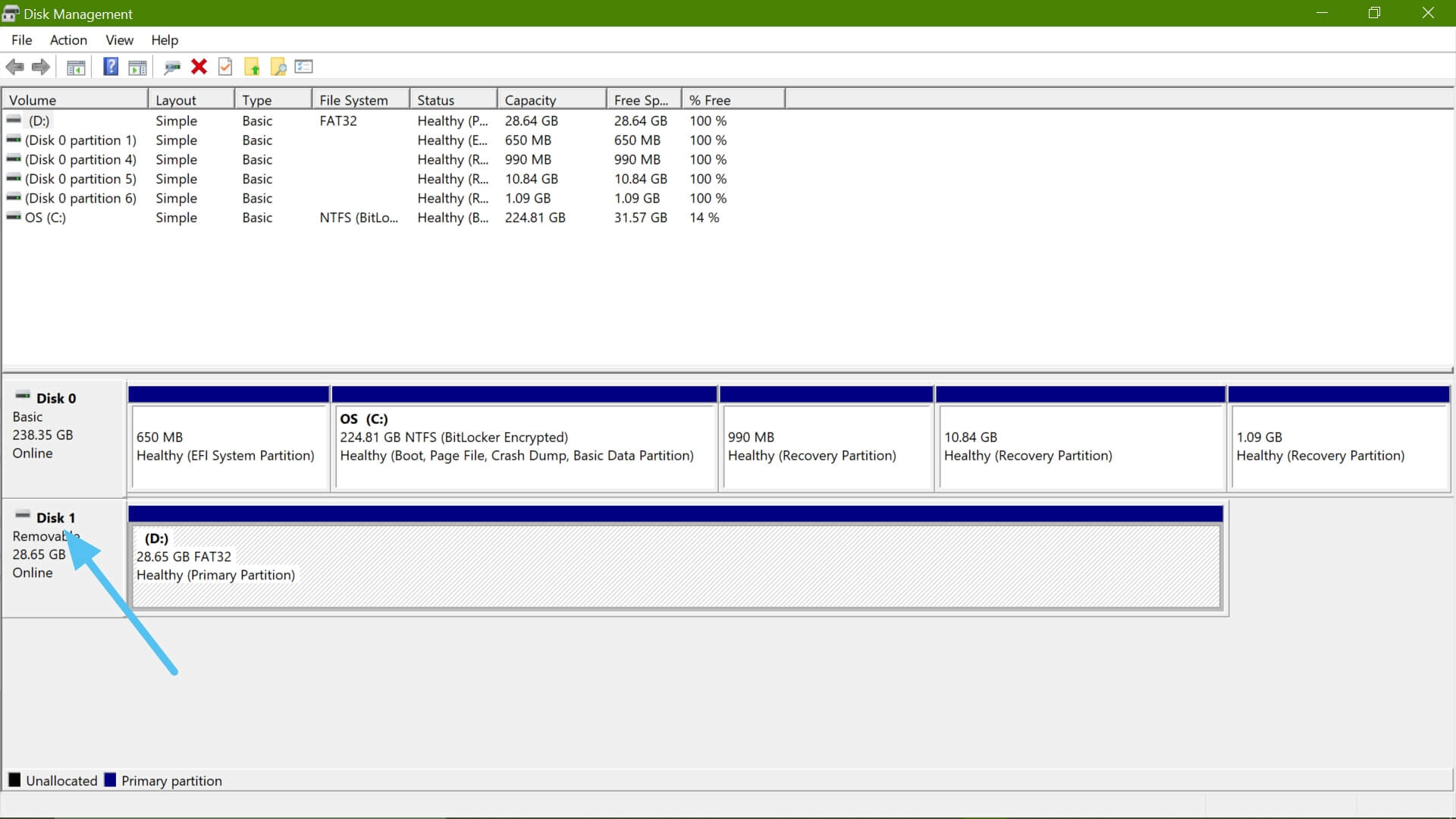 Step 2: Select the USB drive you want to format and right-click to see the Format option.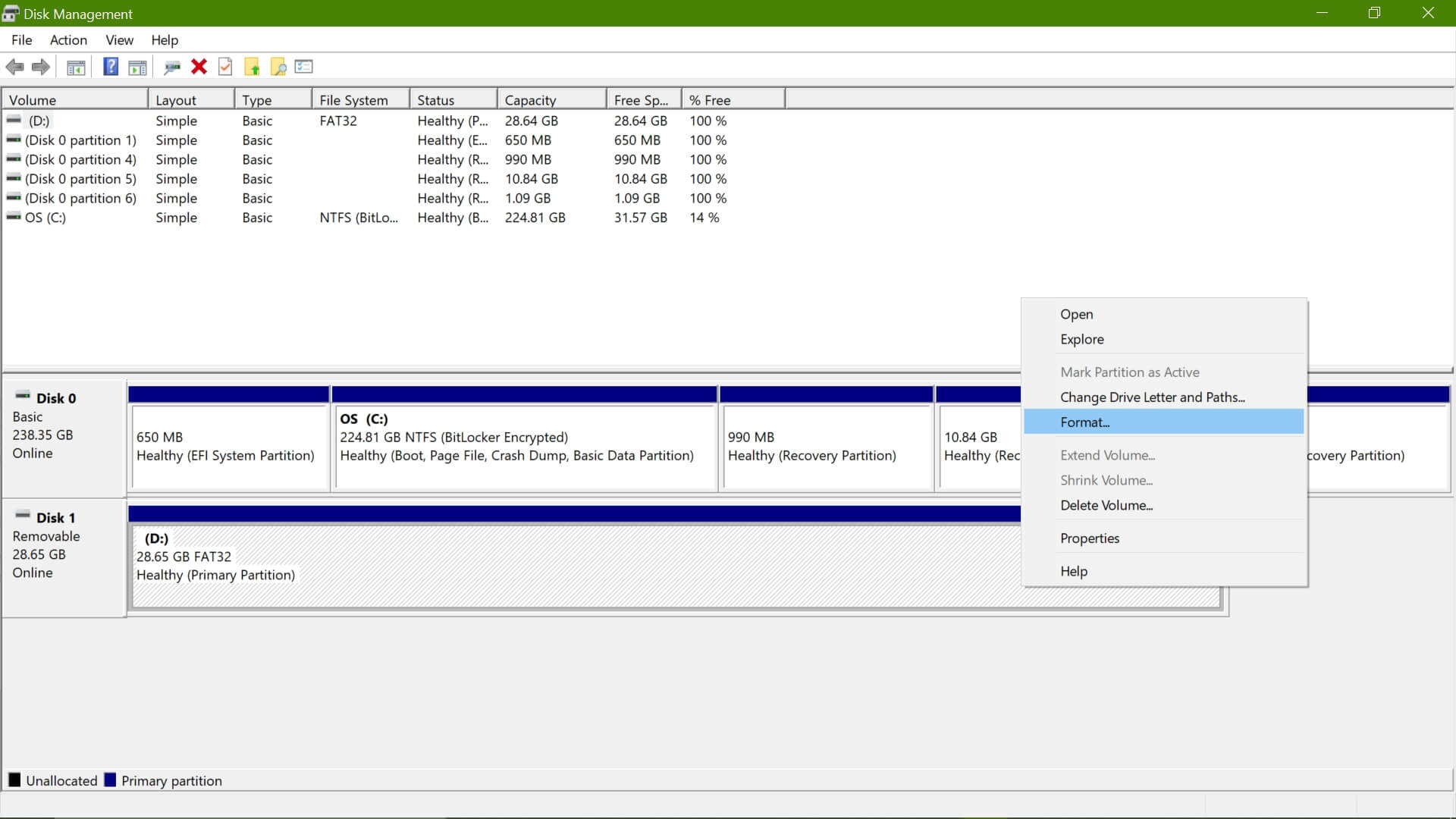 Again, like in Command Prompt, the software will ask you to add a Volume label (name of USB drive) and select which File system you want to format to.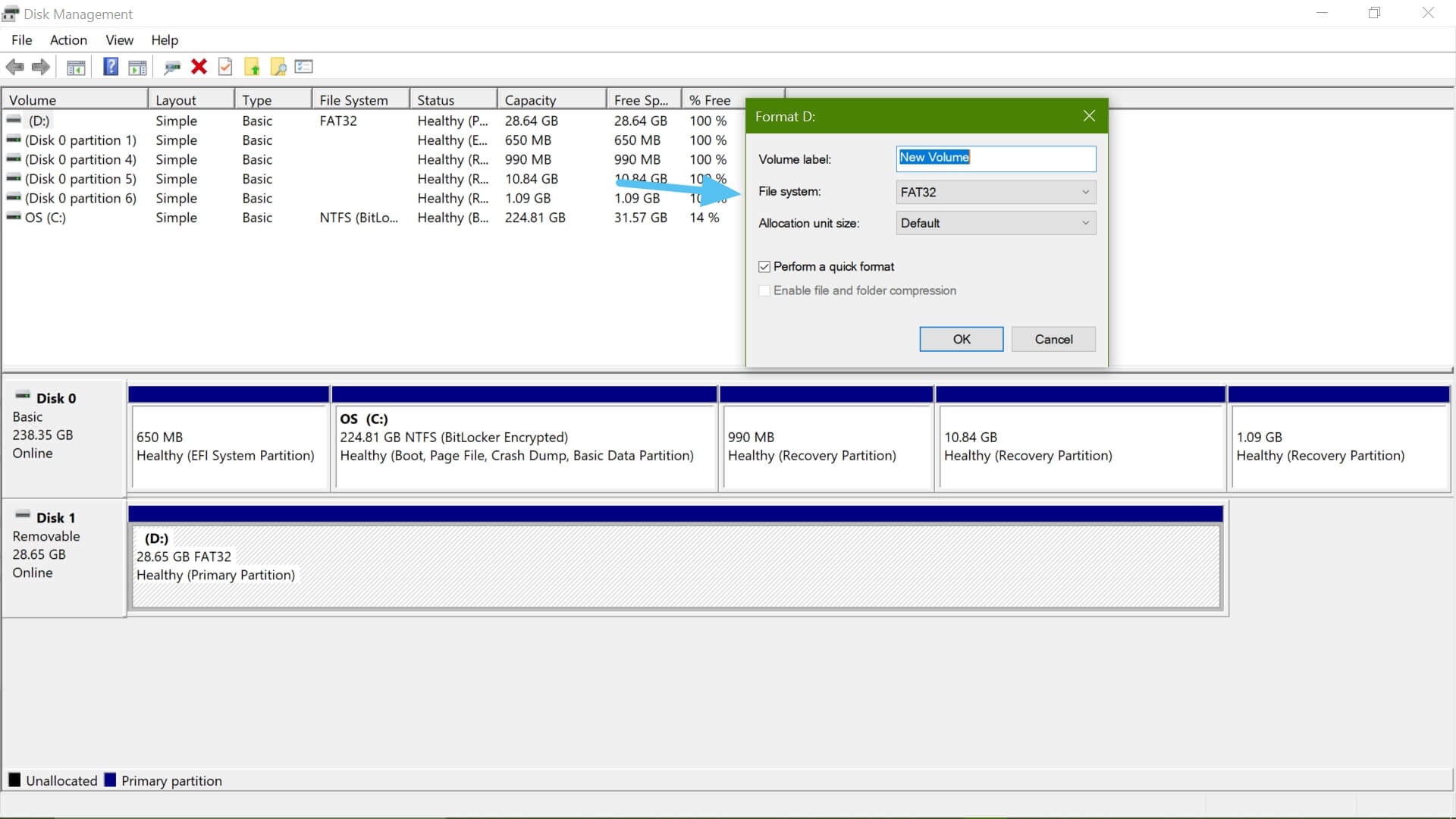 Step 3: Click "Okay" to confirm and begin the formatting process.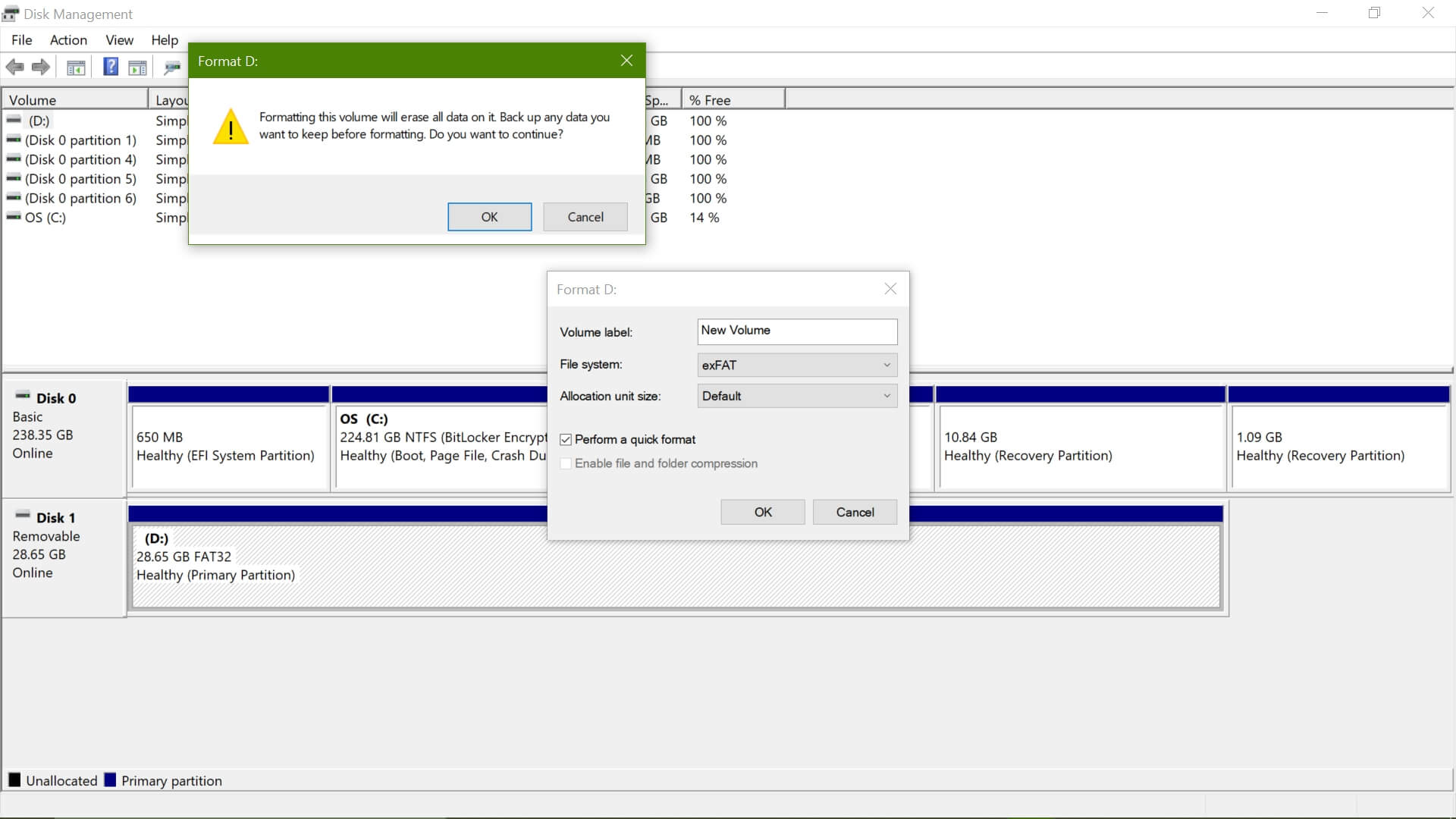 Option 3 – Command Prompt
Command Prompt lets users enter and execute text-based commands to do routine tasks, including formatting USB flash drives.
Step 1: Open Command Prompt by typing "cmd" in the search bar or press the Windows Key + R. Make sure to select "Run as administrator" option when selecting it.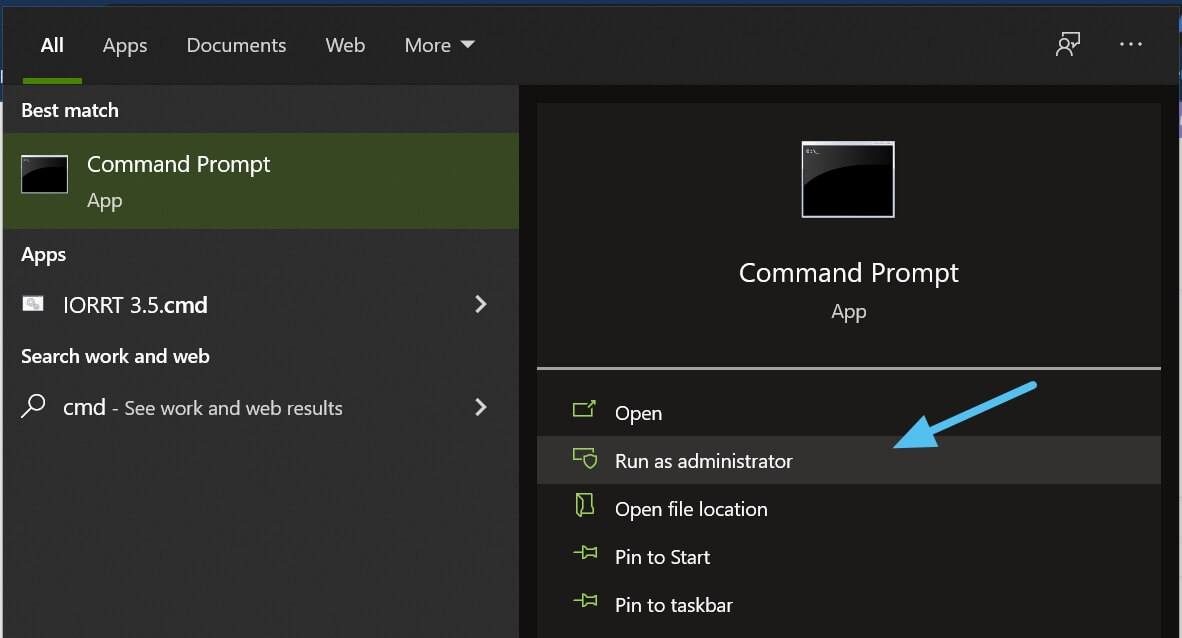 Step 2: Make sure your USB drive is plugged in and type
format /q /x H:
What does the command mean?
Q denotes quick formatting,
X dismounts the drive (similar to when you remove the stick),
H refers to the letter of the drive. If your drive has a different name or letter, use that instead.
Press enter to execute the command and you should see the following pop-up: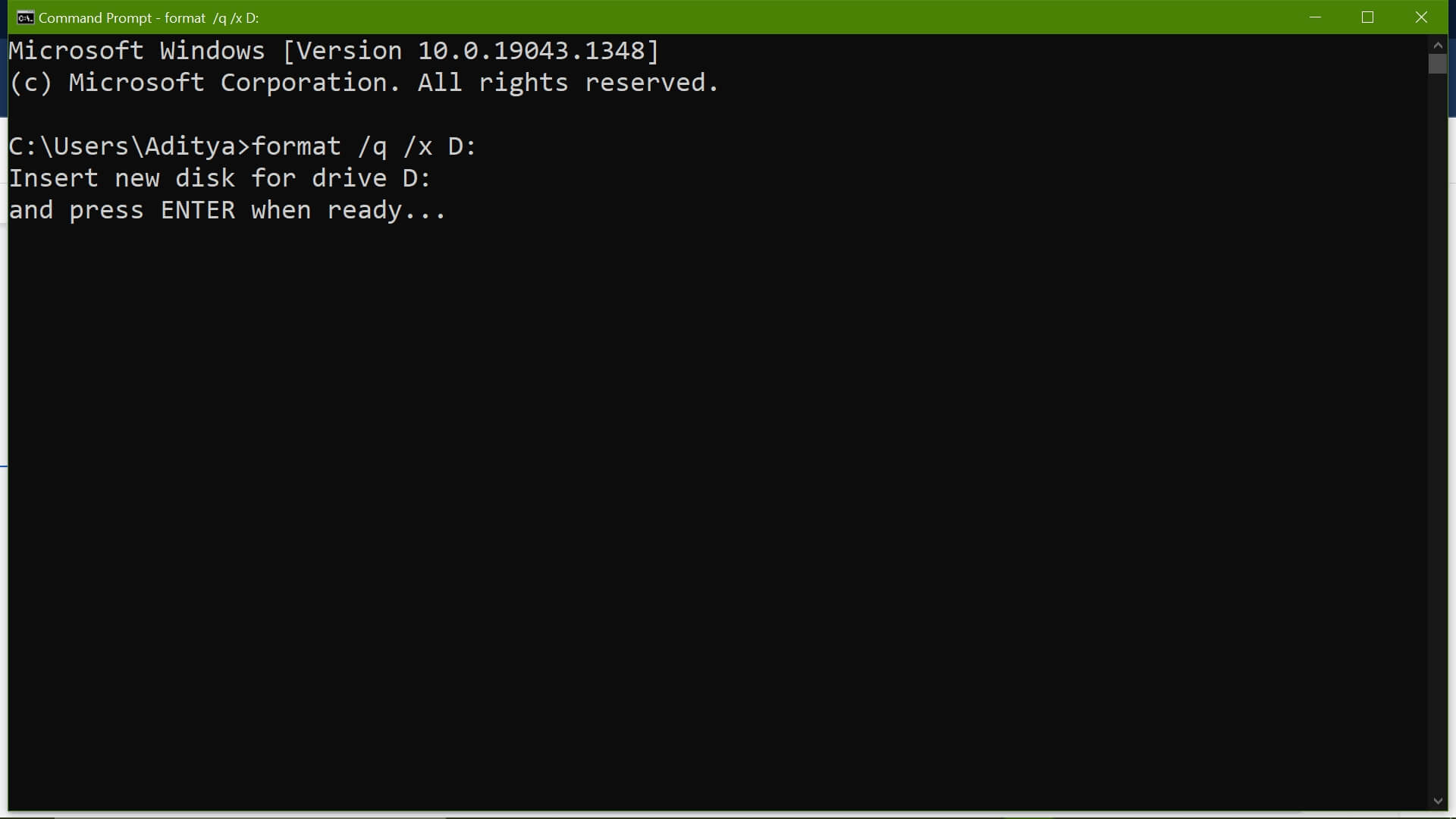 Step 3: Press enter a second time. You will be asked to give the USB flash drive a Volume label which simply refers to the name assigned to a storage device.
To keep the default name, press enter to continue with formatting.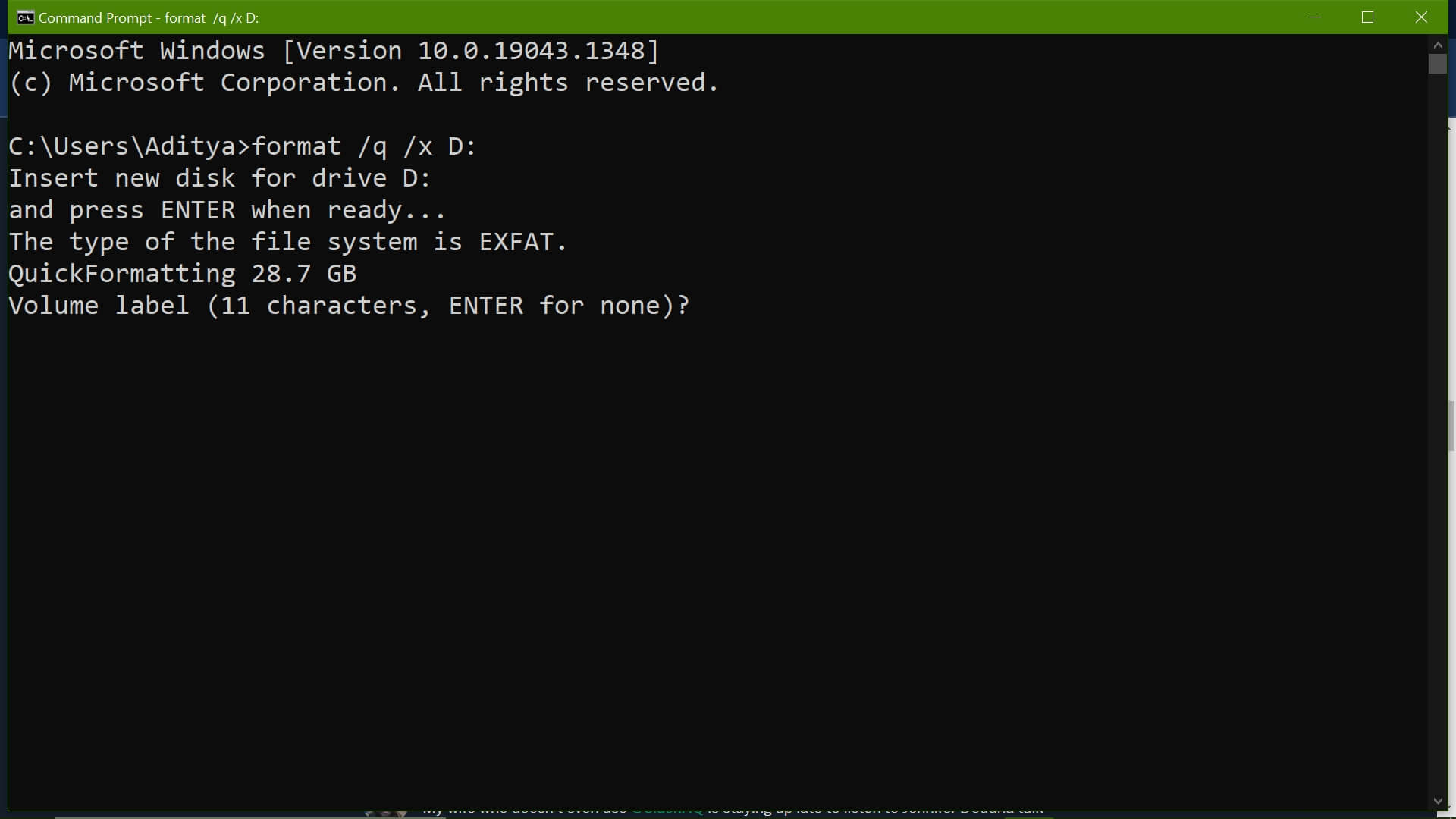 And with that, your USB flash drive is formatted.
How to recover data after formatting USB drive
Forgot to back up data before formatting your USB stick? The good news is not all hope is lost. So, how to format a USB without losing data? Use a tool like Disk Drill.
Step 1: Download and install Disk Drill.
If you're on Windows, use this link to get a copy of Disk Drill. The free version lets you recover up to 500MB of data and is a great way to test out the software.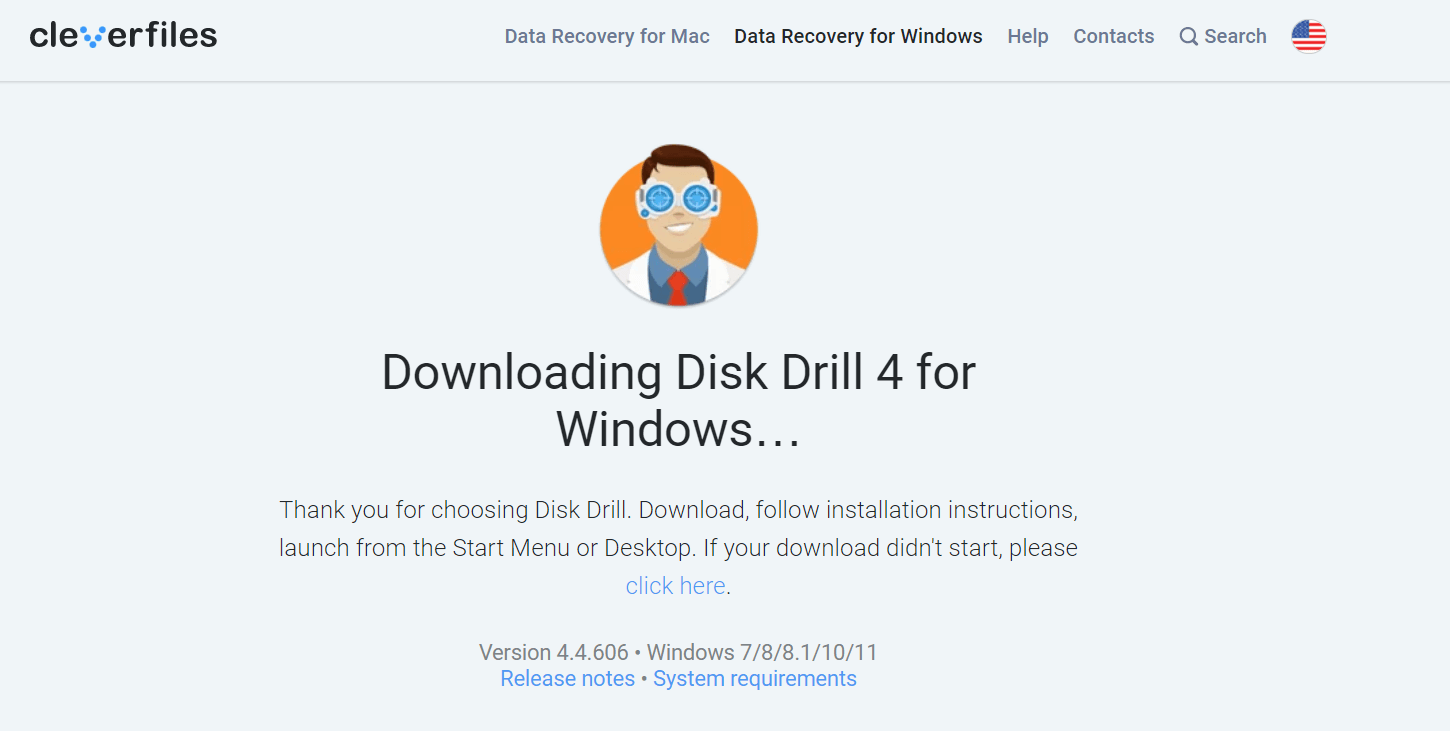 Once the download is complete, install the program.
Step 2: Launch Disk Drill and locate your USB.
Disk Drill displays readable drives in an easy-to-use visual interface. Besides your computer's hard drive, it will also list connected USB devices.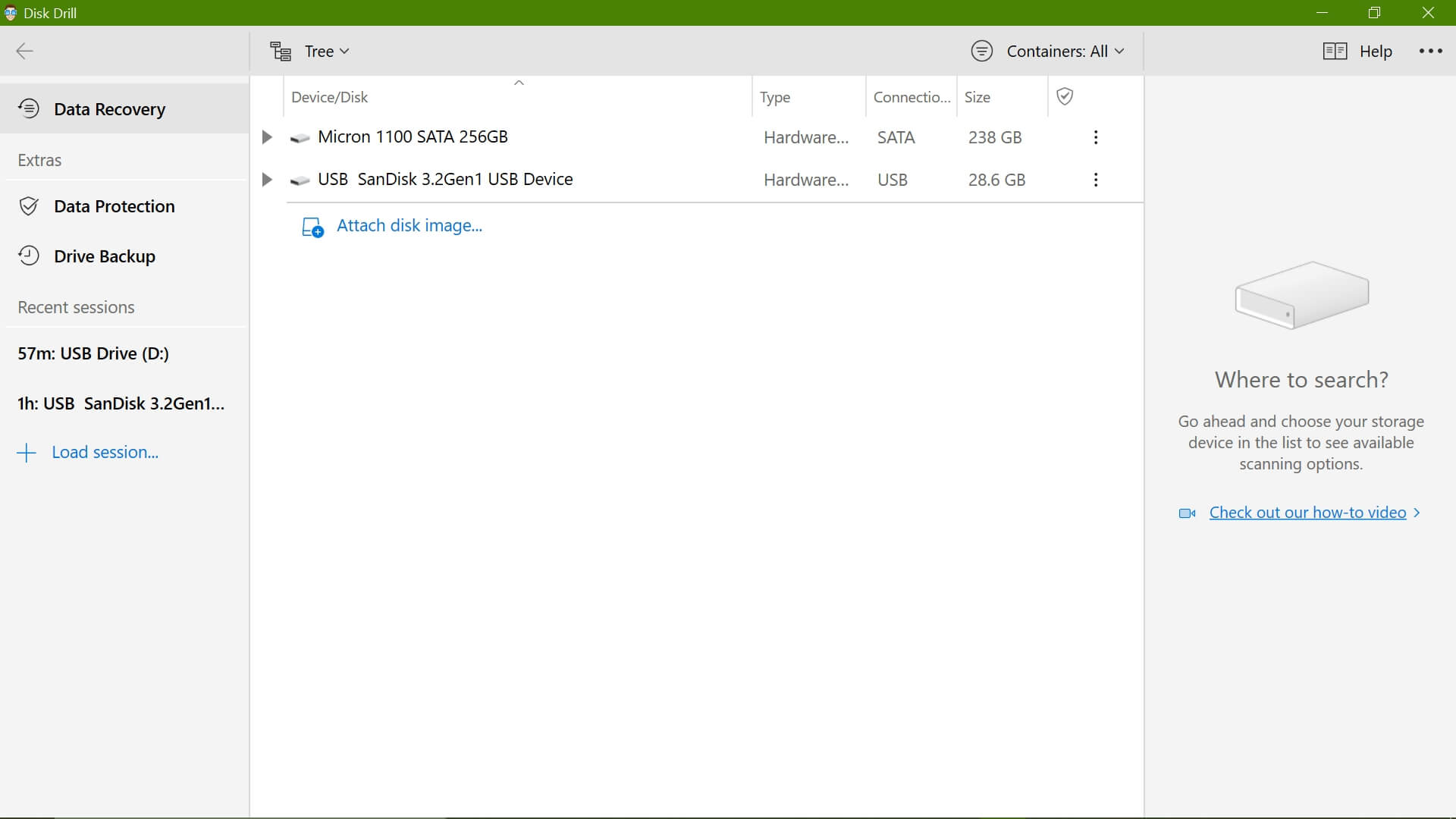 Step 3: Begin the search for loss data.
To recover the lost files, right-click on the flash drive and select "Search for lost data".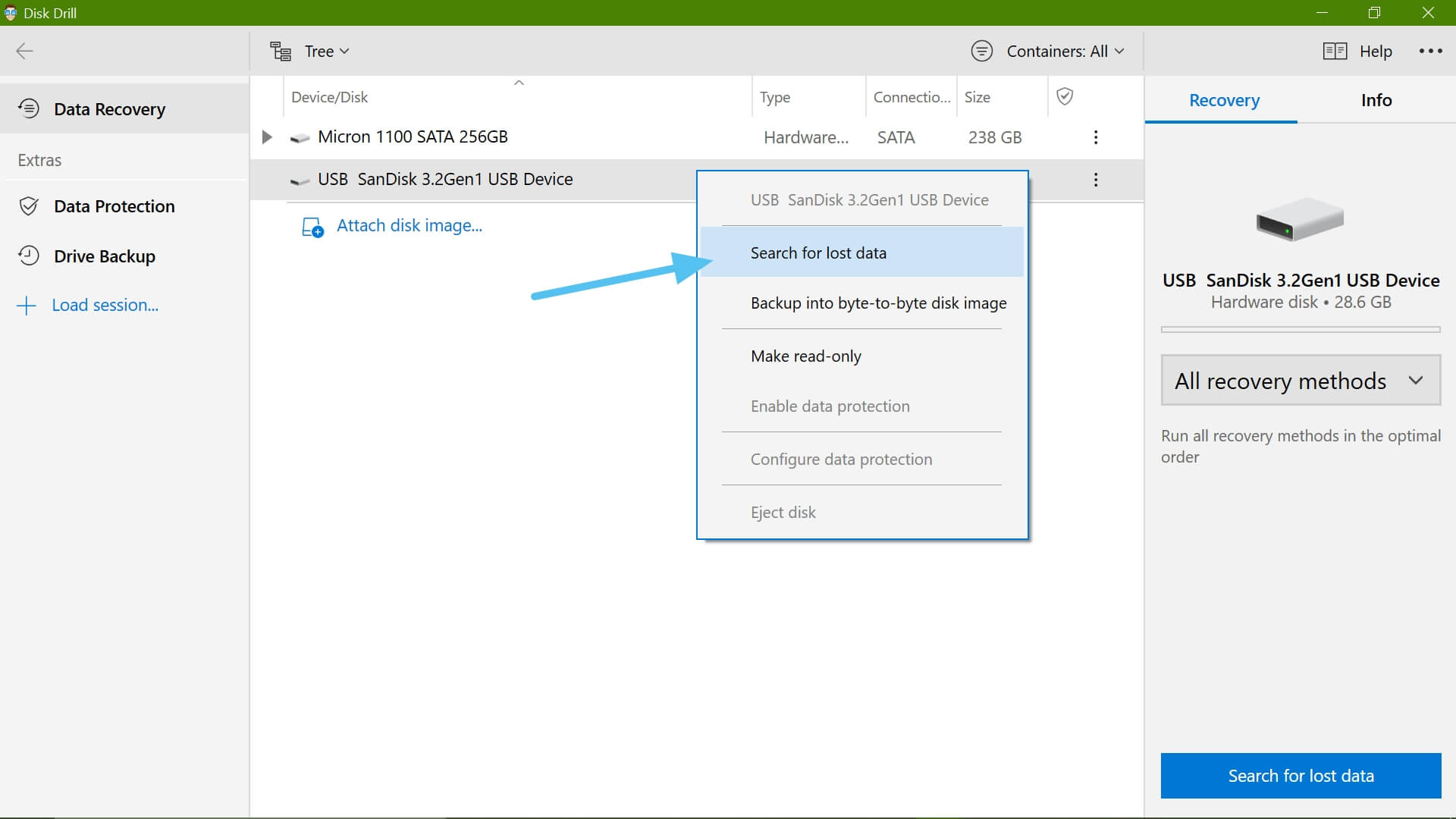 Disk Drill will display the different file types available for recovery, whether it be a text document, photos, or audio and video files.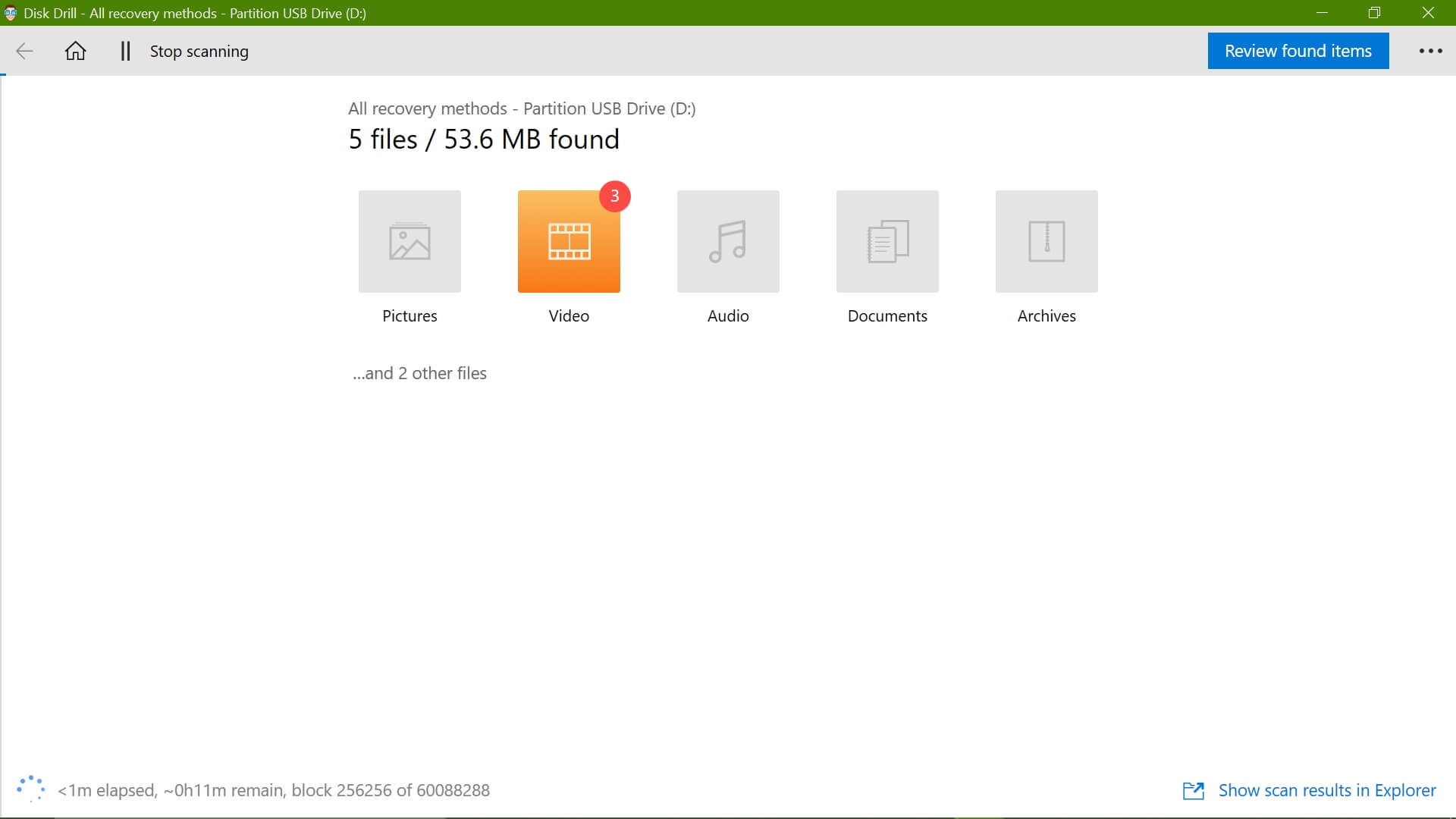 Disk Drill provides live updates of recoverable file types, so sit back and relax.
Step 4: Preview and select files you want to recover.
Once the scan is complete, you'll get an overview of the total number of recoverable files that you can restore. To see a detailed breakdown of each file, select "review found items".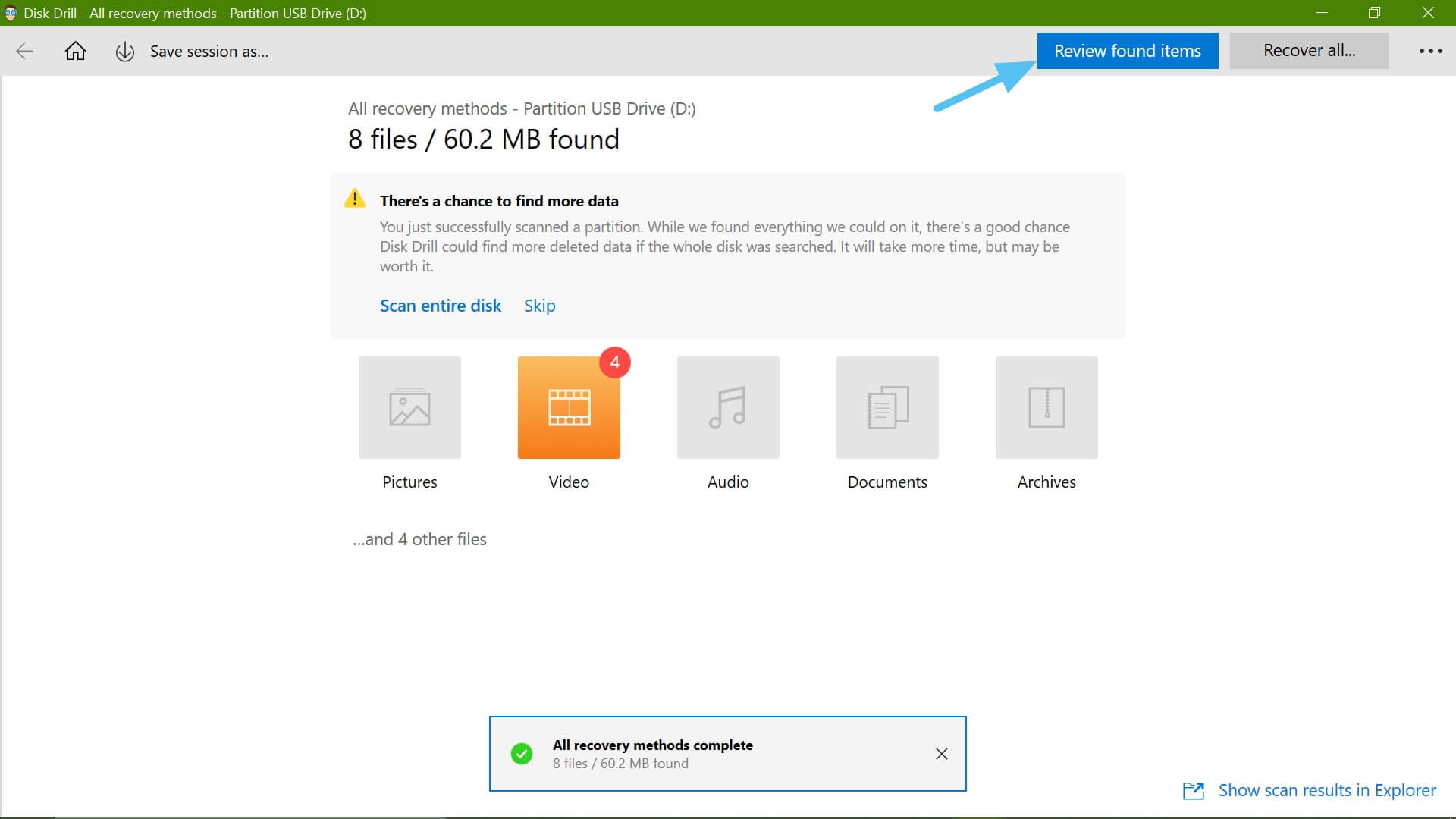 Make sure you have "all files" selected on the navigation bar in the left if you want an overview of every file found by Disk Drill.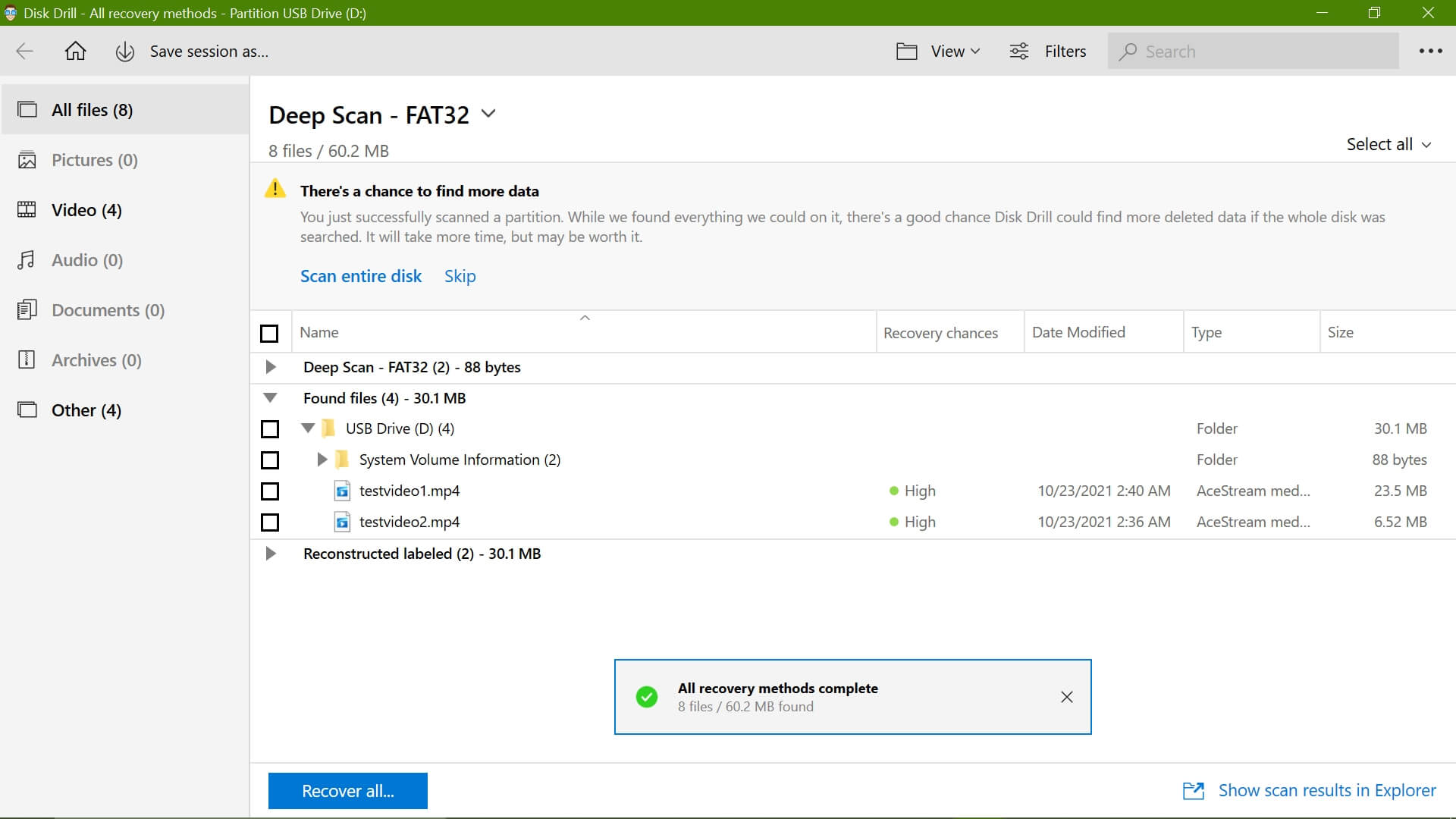 But if you're looking for specific file types, Disk Drill lets you filter for them.
The tool will display the file name, type, and even provide a prediction about the likelihood of recovery.
Step 5: Click recover to restore files.
Once you've selected the files you want to restore, click "recover all".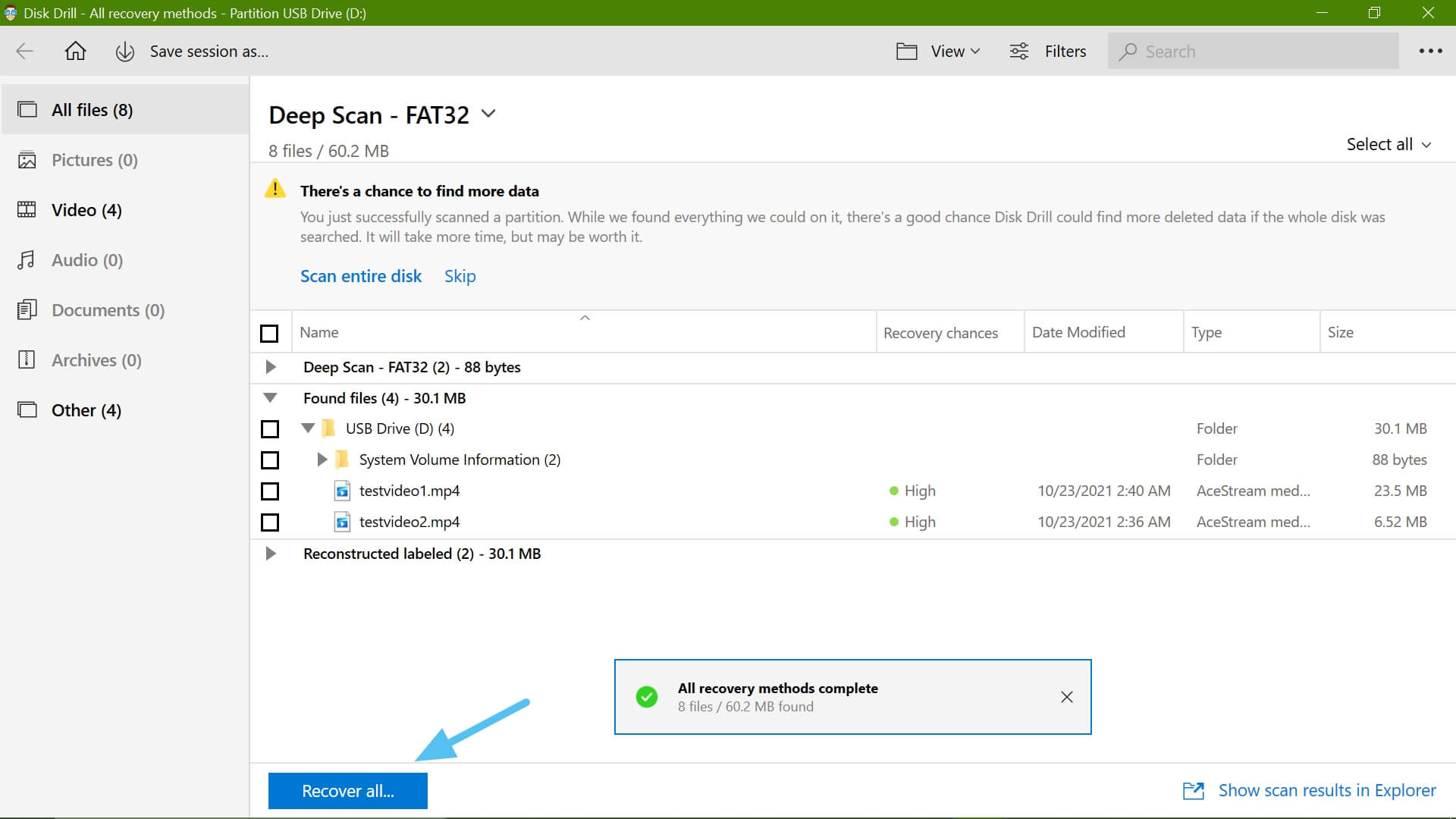 Disk Drill will ask you to provide a location to send the lost data. It's recommended that you put these files in a folder somewhere on your hard drive instead of the USB drive.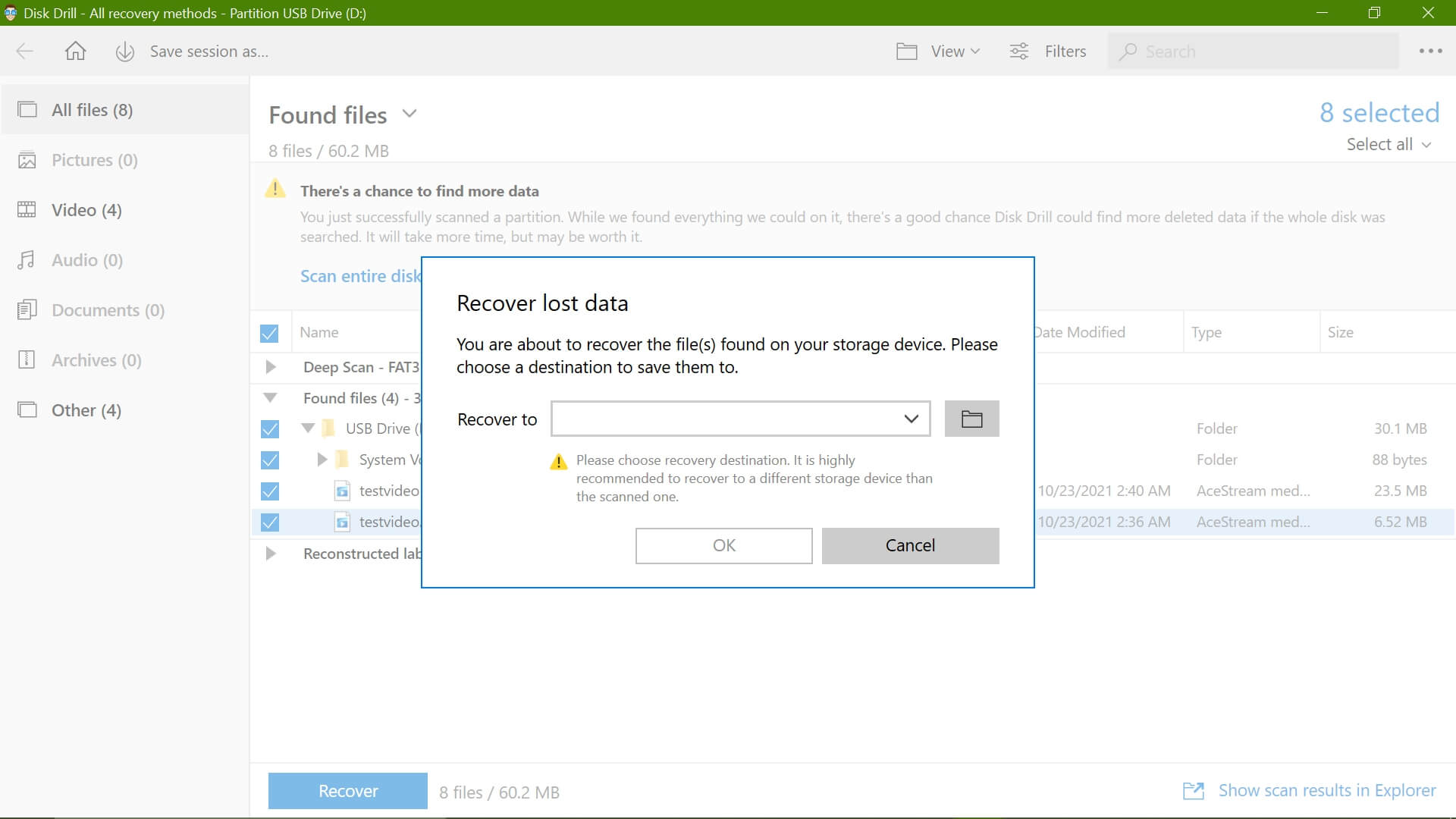 Step 6: The last and final step is to click "okay" and wait for Disk Drill to work its magic.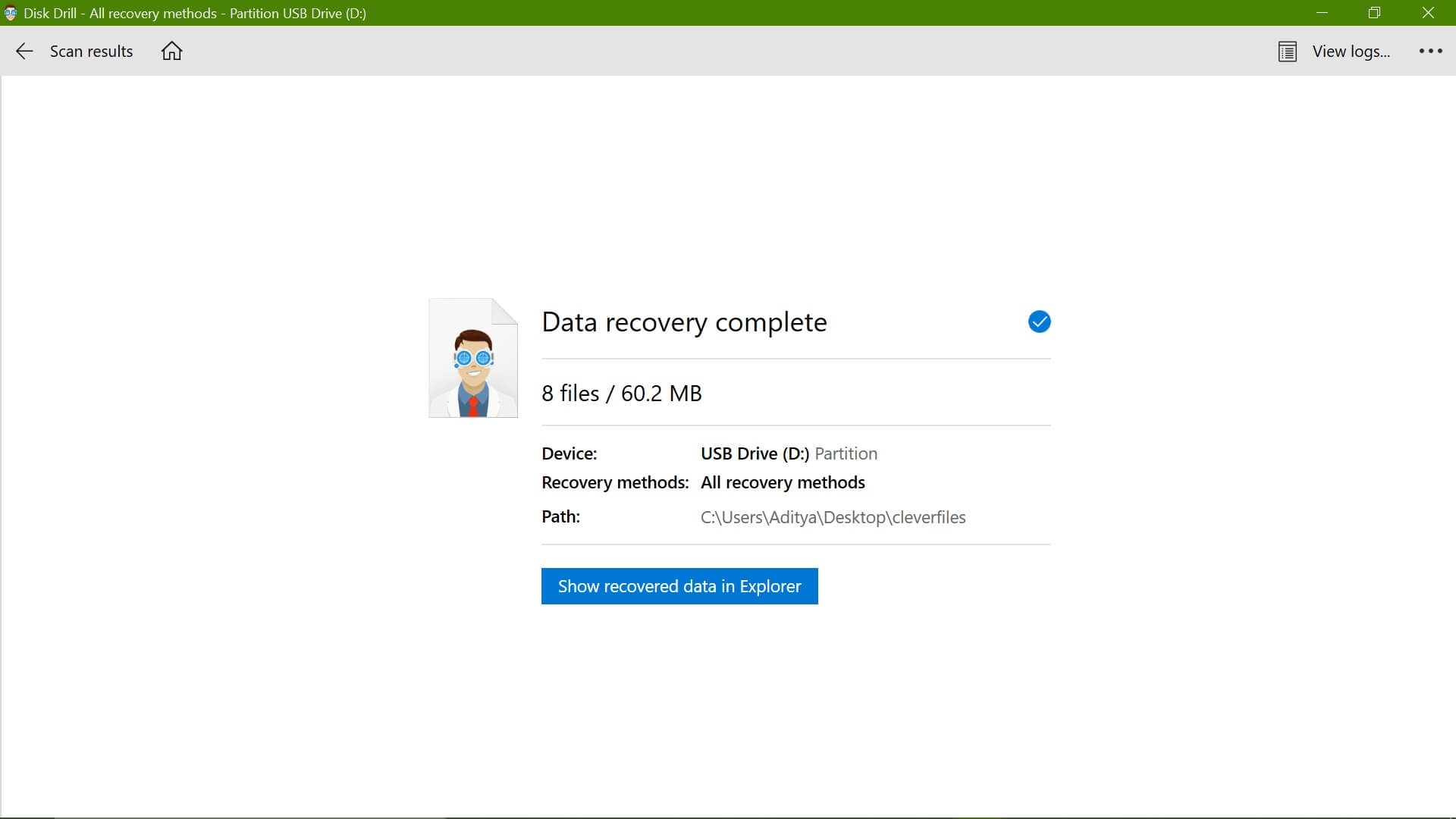 And that's it! You can now access and use your lost files again.